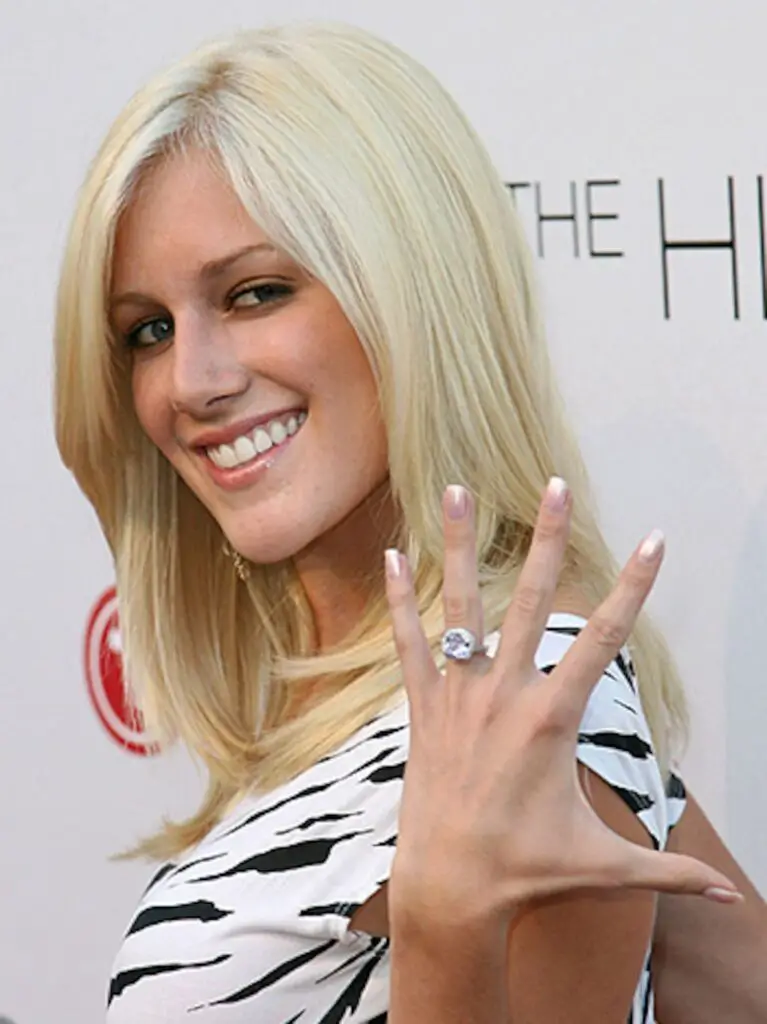 Source: Extra TV
Heidi Montag, the reality TV star who first captured our attention on "The Hills," has once again made headlines by reuniting with her ex-husband Spencer Pratt. As soon as the news broke, fans couldn't help but be pleased for the on-again-off-again pair. 
We've swooned many times over her wedding jewelry, and we can't help but want to take a walk down memory lane at her original engagement ring.
Let's take a look at that cushion cut sparkler. 
What makes Heidi Montag's Engagement Ring so unique?
Heidi Montag's first engagement ring wasn't really an engagement ring at all. 
It was actually a promise ring given to her by Spencer in May 2007 on the beach in Santa Barbara. Shot as a bit for MTV's The Hills, the producers then cut the scene into what appeared to be a proposal. 
Spencer picked out what looked like a pink cushion-cut diamond with a white-diamond halo and a plain band, but sources have since claimed that the pink diamond is really a lavender, lemon amethyst. 
The cushion cut, known for its soft, rounded edges and larger facets, enhances the diamond's brilliance and fire (even if it isn't a real diamond).
Why is the cushion-cut diamond so popular?
The cushion cut has long been a favorite choice for engagement rings, thanks to its soft, rounded edges and larger facets that amplify the diamond's sparkle. This vintage-inspired cut dates back to the 19th century and has gained renewed popularity in recent years due to its romantic, timeless appeal.
The halo setting adds an extra touch of glamor, making the center stone appear even larger. The band, crafted in platinum, showcases a delicate split-shank design adorned with micro-pavé diamonds. This modern twist on a classic style adds a unique and eye-catching element to the ring, perfectly complementing Heidi's fashionable persona.
This statement-making sparkler is certainly hard to miss, fitting for someone who's always been in the spotlight.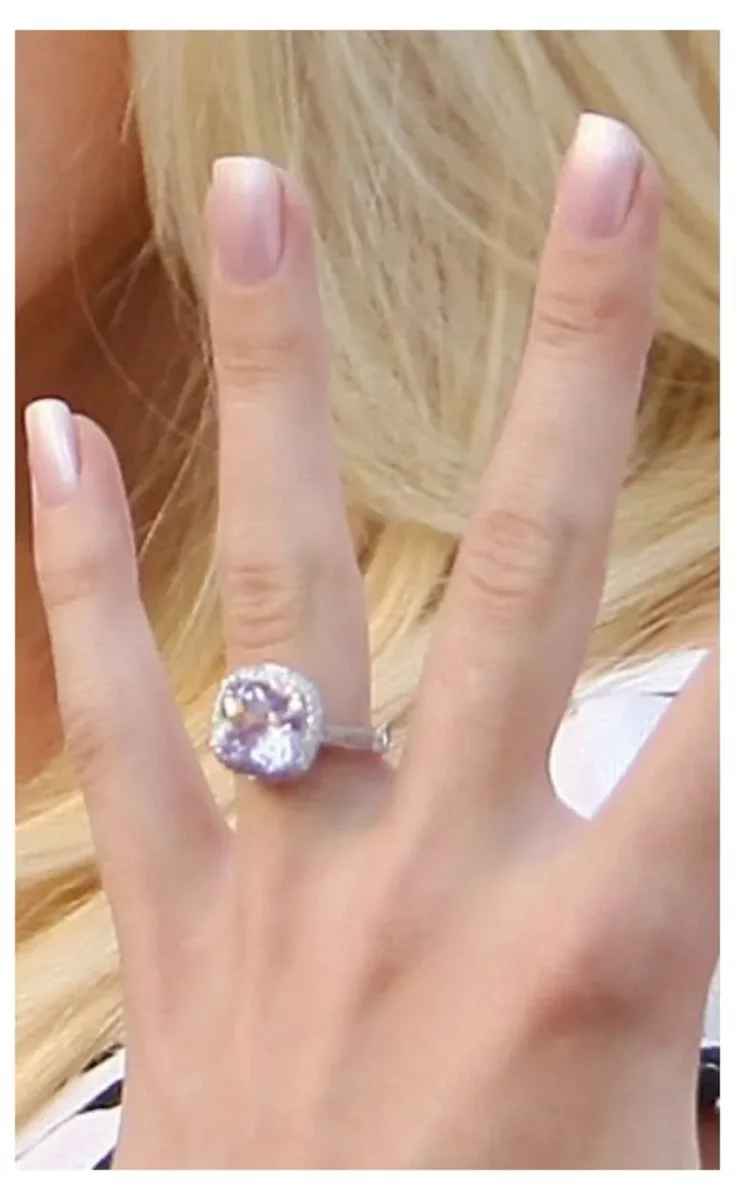 Source: Glamour
Where did Heidi Montag's engagement ring come from?
Here's where it gets a little fishy. 
Given its intricate design and exceptional craftsmanship, you would expect it to be from a luxury jewelry brand known for creating exquisite engagement rings. Some of the most iconic jewelry designers include Tiffany & Co., Cartier, and Harry Winston, all of which have crafted remarkable rings for celebrities and royalty alike. 
Instead, Spencer picked her ring from 'Ice' at Brentwood Gardens. 
Did Heidi Montag choose her engagement ring herself?
Yes, Heidi chose the ring herself while the pair were shopping in at Brentwood Gardens. 
It makes sense, as the ring's unique design is in perfect alignment with Heidi's glamorous and bold personality, it's possible she had a hand in selecting the sparkler.
How much did Heidi Montag's engagement ring cost?
Given the size, cut, and quality of the center diamond, as well as the intricate design of the ring, you would expect Heidi Montag's engagement ring to come with a hefty price tag. While the exact cost hasn't been disclosed, experts believe it could be valued anywhere from $100,000 to $200,000.
If it's real that is.
If it is in fact a lavender, lemon amethyst and not a pink diamond, it would be closer to $3,000. 
Despite the questions over the authenticity, Heidi Montag's first engagement ring perfectly encapsulates her glamorous and bold personality. Unfortunately, this engagement didn't last long. Less than a month later, reports were beginning to surface that the engagement was a fake. Instead of setting a wedding date, the couple broke up in front of their audience on the season finale of The Hills in December 2007.
The couple did eventually get back together, sealing the deal with a second engagement ring.