Every week we pick the best and worst engagement rings to emerge from the land of the rich and famous. In this edition, we compare two VERY different ring styles…
Engagements happen on a daily basis in showbusiness. Naturally, every bride – whether famous or not – thinks that their own engagement ring is the most beautiful in the world. The rest of us, however, may or may not feel the same. We scour the web every week for the latest celebrity engagement news, and choose what WE feel are the best and worst. It's all done in the spirit of fun, we mean no harm – and of course we wish the best to all of the happy couples! Here are our picks for this week.
The Best: Ronda Rousey
We've featured former UFC champion Ronda Rousey in this head to head before, but since she got married recently, and because we love her ring so much, we had to give it one more look. After suffering a couple of career-faltering defeats on the UFC circuit, Ronda took a step back to get some perspective. During that time, her fellow UFC athlete and boyfriend Travis Browne cheered her up… by proposing! The pair married in Hawaii in August, right around the time that Floyd Mayweather was defeating the biggest name in UFC right now, Conor McGregor. How's that for moving on?
For a bad ass fighter who wouldn't hesitate to floor someone if she needed to, Ronda's engagement ring from Travis is surprisingly delicate. However, it does have some sharp corners that we're sure could cause some extra damage in a fight – not that she needs any assistance. Travis chose a beautiful princess cut solitaire diamond, in a simple prong setting. There's an ever so slight touch of glitz in the form of a pave diamond band and setting, but the band is so thin and the diamonds so small that it still looks beautifully feminine.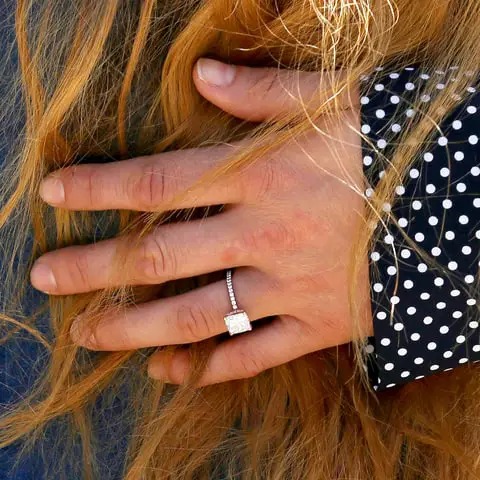 Our Verdict: Guess what? Ronda wins again. We love that this ring is simple, modern, and at the same time an always stylish classic. It's a no-fuss design but it still steals the show – much like Ronda herself!
The Worst: Holly Marie Combs
Holly Marie Combs is a familiar face on TV screens around the world. You'll know her as Piper Halliwell from Charmed or in more recent years as Ella Montgomery from Pretty Little Liars. She's been a successful working actress since 1985, and she is equally experienced when it comes to love and marriage. She wed her first husband, Bryan David Smith, in 1993 but sadly divorced four years later. Having lived the single life for a while, she then married her Charmed co-worker David Donoho and the couple had three children together. They parted ways in 2011. It seems that third time's the charm however (sorry not sorry) – because now she's set to walk up the aisle again.
The lucky man is a bit of mystery. Despite being photographed on more than one red carpet together, nobody knows anything about Holly's new fiance other than his name – Mike. And Holly herself isn't forthcoming with the details either; when announcing the news of the engagement on Instagram she gave nothing away, sharing a picture of her ring with the simple caption 'Yes. just yes'.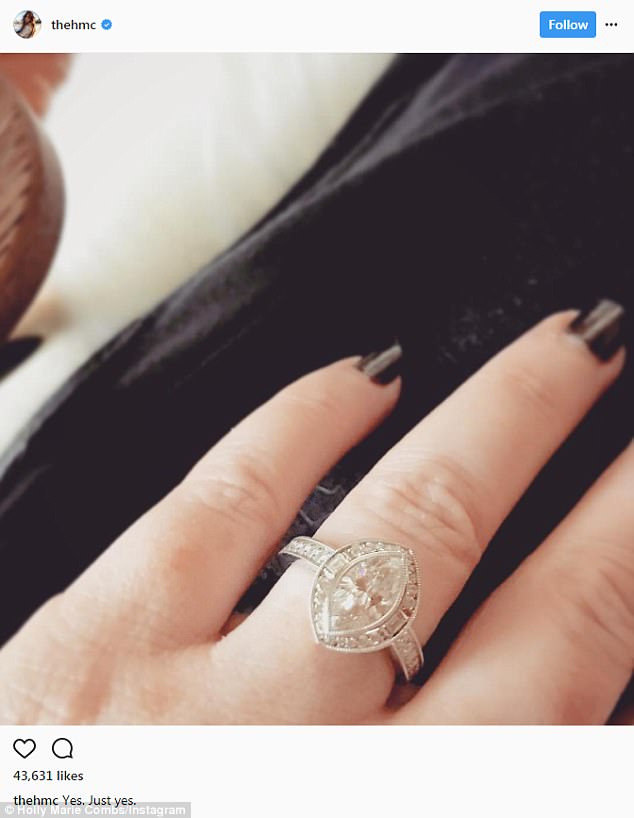 What we do have, however, is a pretty awesome engagement ring to gawp at. If nothing else, this proves that Mike has great taste. He chose a ring with a sizeable marquise diamond as the centrepiece, with a pave diamond halo and a pave diamond band to boot. We're sure Holly was 'charmed' (okay we'll stop with the puns now).
Our Verdict: Definitely a statement engagement ring, and who could say no to all those diamonds? It's a stunner, but we just can't resist the simple modernity of Ronda's bling. Sorry Holly, but we wish you all the happiness in the world with your mystery man.