Every week we pick the best and worst engagement rings to emerge from the land of the rich and famous. In this edition, a country star and an exotic blogger go head to head…
Engagements happen on a daily basis in showbusiness. Naturally, every bride – whether famous or not – thinks that their own engagement ring is the most beautiful in the world. The rest of us, however, may or may not feel the same. We scour the web every week for the latest celebrity engagement news, and choose what WE feel are the best and worst. It's all done in the spirit of fun, we mean no harm – and of course we wish the best to all of the happy couples! Here are our picks for this week.
The Best: Maren Morris
Texas born and Nashville based, you can't get more country music than Maren Morris right now. The singer, songwriter and record producer is the current CMA New Artist of the Year, and already has an impressive four albums under her belt. She's had a busy couple of years of recording, touring and picking up awards, but somehow she found time to discover love along the way.
Maren met fellow country music star Ryan Hurd when both were still up and coming artists who were on a writing session. Ryan chronicled their first encounter in his song 'love in a bar', which has the lyrics 'we found love in a bar in the back of a patio corner / away from the lights it was us and Corona / and hearts on fire light the cigarette you smoke'.
The pair were friends for around two years before romance blossomed, but things kicked into a higher gear last July when Ryan decided to put a ring on it. Maren announced the proposal with a simple Instagram shot of her sitting on Ryan's knee, with a bottle of Corona in one hand and a stunning ring on the other. So let's get some details…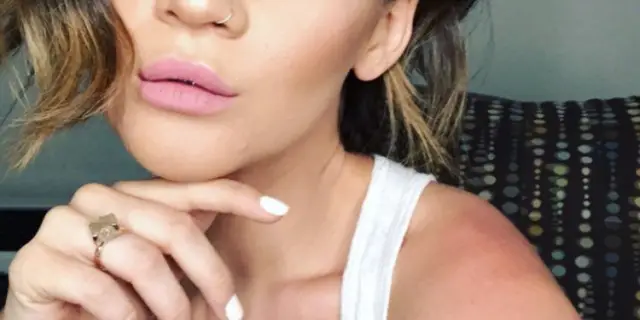 Ryan says 'I know what she likes and I had somebody in Canada put it together. The stone is from New York City, it's from an uncut diamond, and then the rest of it's cast just custom for her. I couldn't just buy something, I had to make it something that fit her'. You're looking at a diagonal set, square shaped rough diamond in a prong setting and yellow or rose gold. The diamond has a yellow-ish hue, and it's a very contemporary, untraditional look.
Our Verdict: We called it months ago: rough diamond engagement rings are set to be a huge up and coming trend. This one is ultra contemporary and a real statement maker, and we just love it.
The Worst: Martine Cajucom
Who is Martine Cajucom, we hear you ask? Oh, just the most popular fashion blogger in the Philippines and the creative director of Sunnies Studios, a huge sunglasses brand with over 40 stores throughout the country. Her new fiance is Cliff Ho, who you may recognise from Fox International. He's a Melbourne born DJ and TV host who has rubbed shoulders with some of the biggest celebrities on the planet including Kanye West, Miley Cyrus and Usher (to name just a few).
The couple were on a picture perfect getaway to Bali when Cliff chose his moment to ask the big question. Funnily enough, just as they sat down to dinner Martine joked that she hoped he was planning on proposing that night, because the scenery, weather, atmosphere and everything else was literally 100% perfect. Little did she know that was exactly Cliff's intention! The waiter arrived and handed Martine a 'menu', which turned out to be a lovingly crafted scrapbook of the pair's favourite memories, starting with the first night they met. And then came the ring…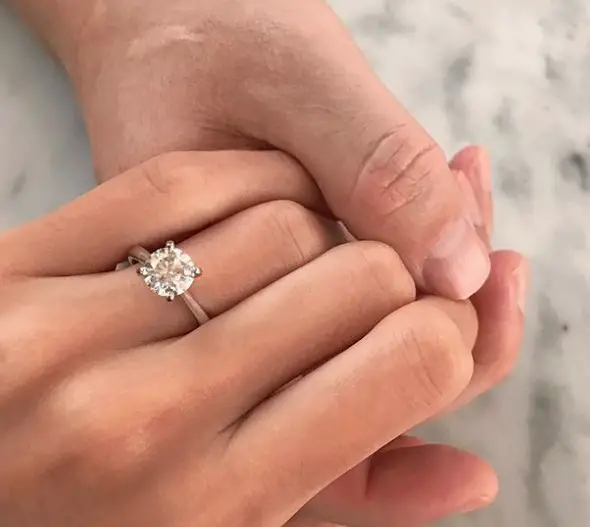 This is a timeless and always stylish round brilliant solitaire, in the traditional prong setting and a subtle contemporary twist in the form of a rose gold band. The diamond is a rather delicate size compared to some celebrity rings; we reckon it's around two to three carats.
Our Verdict: There's nothing wrong with this engagement ring, in fact it's a true classic. And we love the rose gold band too. But this week was a real game of opposites, and we just had to side with the edgy style of Maren's ring. But we still love yours too, Martine!