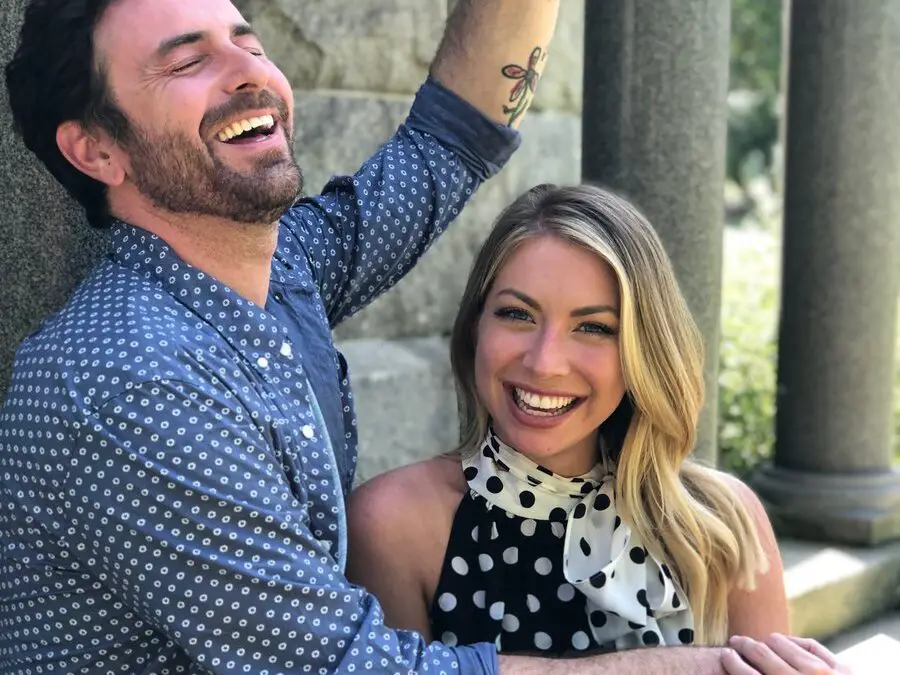 When Vanderpump Rules star Stassi Schroeder's boyfriend, Beau Clark, got down on one knee and proposed in the middle of a cemetery, little did she know that the ring he held in his hand had a history dated back to the 1900s. 
The 3.5-carat ring features a stunning European round-cut diamond surrounded by 24 smaller stones, all set in platinum. Clark's grandfather acquired this mesmerizing piece in the 1940s or '50s, passing it down to his aunt before it found its way to Schroeder's finger.
Here's everything you need to know about the beauty.
What Kind Of Ring Is Stassi's Engagement Ring?
Stassi's ring is a brilliant round cut. This classic cut is characterized by its 57 or 58 facets, carefully designed to maximize the diamond's brilliance and sparkle. The brilliant round cut is known for its symmetrical shape and is the most popular choice for engagement rings and other diamond jewelry due to its timeless and versatile appeal. As it turns out, it was also popular in the 1940s…
The combination of the 3.5 carat center diamond and the smaller stones creates a harmonious design, showcasing the craftsmanship that went into its creation. The use of platinum in the setting not only adds a touch of elegance but also provides exceptional strength and durability, ensuring that this cherished piece of jewelry will remain a testament to their love for generations to come.
And What Does Stassi Think Of It?
Speaking exclusively to PEOPLE, the newly engaged couple shared their excitement and revealed that the ring holds a piece of history like no other. "It feels like wearing a piece of history on her finger," Schroeder gushed. "It's beautiful. I feel like it's like Cinderella's glass slipper or something in a ring. It's like, straight out of Downton Abbey. I've never really been someone who's dreamt of my engagement ring because I love all jewelry… any stone, any shape. Beau kind of asked me, 'What do you like?' I'm like, 'I kind of like everything. I know that doesn't help, but I feel like you'll make a good decision. Whatever you think is representative of us. I think that you'll make the right choice.' So I knew no matter what I would love it. But I never thought I would get something this awesome and big."
The ring's cabochon-cut sapphire and its captivating design have Schroeder constantly mesmerized. "I feel like an ahole," she admits humorously. "Like, I'm just turning into an ahole the more it's on my finger."
Clark even playfully compares the ring to the mystical horcruxes from Harry Potter because of its effect on Schroeder. "I keep calling it a horcrux because she said like, the minute she put it on, she starts acting all weird. I'm like, 'Switch hands, take it off. Let me hold it for a little bit.'"
While the proposal took place in a cemetery, it couldn't have been more perfect for the couple. Schroeder has a love for the macabre. She has a fascination with serial killers and an appreciation for the history and love she finds in cemeteries. "I like going to each grave and each tomb or mausoleum and reading the names and seeing the dates, and imagining who those people were, what their lives were like, what they were wearing, if they were bratty or fun, you know? If they liked to drink a lot of alcohol," she explains.
Who would have thought it, but it sounds like it was the perfect place for a proposal…
In the end, Stassi Schroeder's engagement ring is more than just a dazzling piece of jewelry. It's a symbol of love, history, and the perfect representation of a unique and extraordinary love story.