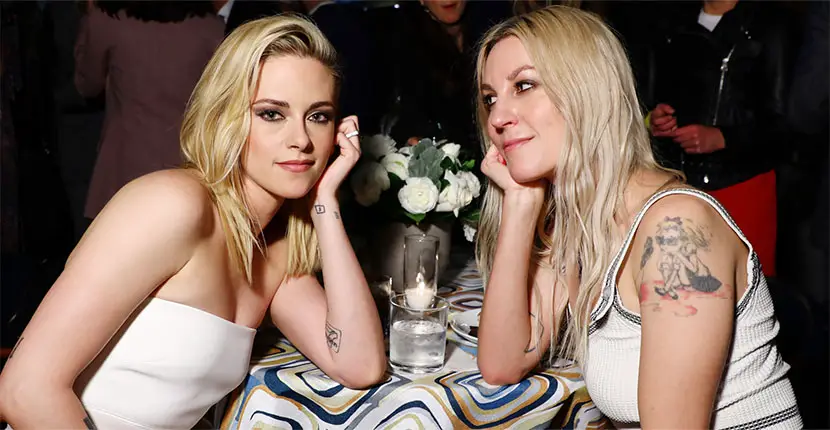 Source: The Adventurine
I'm sure you've heard of Kristen Stewart. 
She lived every millennials' Twilight dream, dated Robert Pattinson (and broke his heart) and only went on to become a Charlie's Angel. The Twilight alum has a cult following — a cult following that went crazy when she announced her engagement to her girlfriend, Dylan Meyer.
The couple got engaged in 2019 but kept the news private until early 2020 when Kristen Stewart was seen wearing a unique engagement ring on her finger. 
As far as engagement rings go, it's not your usual bling.
It's unique, that's for sure. Free of stones or sparkle, let's take a closer look at the silver-toned band that has got everyone talking.
What does Kristen Stewart's engagement ring look like?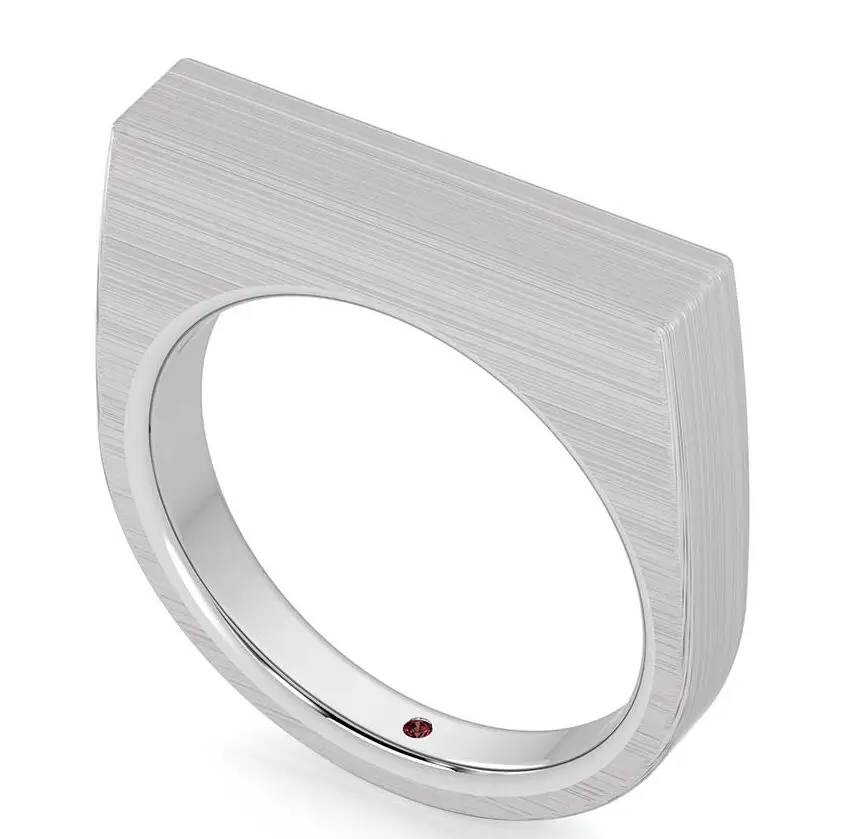 Source: Taylor and Hart
Kristen Stewart's engagement ring is as far from a classic design as you can get. 
We're not talking modern twist here, we're just talking modern. 
The simple engagement ring looks to be made of platinum and features a brushed finish. With a flat table top design, the ring has a straight surface that drops off into the curve of the band, giving a modern and architectural feel. 
And that's about it. There's no stone, no facets, no pave. Just a perfect minimalist design. 
Minimalist engagement rings have been gaining popularity in recent years, as more and more couples seek out simpler and more understated designs. They don't have to be as unconventional as Kristen's: simple rings often feature clean lines and focus on the beauty of the stone itself, rather than elaborate settings or embellishments. Think, classic solitaire diamond set on a thin band with no additional adornments. The rise of minimalist rings reflects a growing preference for clean, uncluttered aesthetics in both fashion and design, and shows that sometimes less really can be more.
How much did Kristen Stewart's engagement ring cost?
While the cost of Kristen Stewart's engagement ring has not been publicly disclosed, experts estimate that it could be worth around $4000. The value of the ring is based on the quality and size of the diamond and the designer who created it.
Who designed Kristen Stewart's engagement ring?
It's not been publicly disclosed who designed Kristen Stewart's engagement ring, in fact, the couple haven't really talked about the ring at all. It's surprising, given how open they have been about their relationship.
Kristen and Dylan met on the set of a film and have been an item ever since. Dylan is an acclaimed screenwriter, co-writing and producing movies such as the Netflix film XOYO and the sci-fi series Miss 2059.
Only two weeks into their relationship Kristen told Dylan that she loved her. 'It was really late, and we were in some dingy bar,' Kristen later recounted in an interview with Howard Stern, 'and I was just like, "Oh man, I'm so in love with you. Done." She went on to describe the love she shares with her now financée: 'We're so similar but different. She's a writer and she's brilliant.'
In years to come, maybe we'll find out more about the chic ring. For now, we're just happy in the knowledge that the ring is a symbol of love and commitment between Kristen and Dylan Meyer. With its unique design, this ring is sure to remain a talking point for years to come.