Disnerds, rejoice!
Are you a wannabe Belle (aren't we all?)? Do you dream of losing a glass slipper and having your Prince charming return it to you? Or are you still waiting for a prince to come to your beautiful frozen castle? Well, whatever your fairytale (and Disney movie) of choice may be, you'll be glad to know there's now an engagement ring especially for you!
Zales has created the engagement ring collection of our dreams – a range inspired by some of Disney's most iconic female characters. There are eight designs to choose from, based on Belle from Beauty And The Beast, Cinderella, Rapunzel, Snow White, Ariel from The Little Mermaid, Elsa from Frozen, Aurora from Sleeping Beauty and Tinker Bell from Peter Pan.
The Enchanted Disney collection ranges in price from just $199 (yes, please!) to the slightly more costly – and princess-appropriate – $7499. Metal options include silver and rose/white/yellow gold, with some of the designs featuring mixed metals. $7.5k may seem like a lot, but trust us – these are not gimmick rings.
From hidden snowflake details to stunning rose-shaped settings, each ring has subtle references to its chosen story. But they're still expertly made with fine quality materials, and they actually look like real deal engagement rings… because they are, duh. The collection also includes other items of jewellery and even rings for men. Matching Disney wedding rings – how's that for a dream come true??!
There are a few different ring designs for each Disney character, but here's a couple of our favourite engagement rings from the collection…
Tinker Bell Engagement Ring
In 14k white and yellow gold, this design has a princess cut diamond at the top surrounded by a round diamond halo and pave band with more graduated diamonds. A side-on view however reveals a 'pixie dust' undercarriage in yellow gold, shaped like stars. Too gorgeous!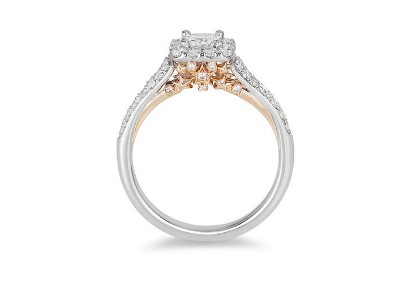 Belle Engagement Ring
Of course, a Belle-inspired engagement ring could only ever look like a rose. In 10k rose-gold, this ring is sculpted into a rose bloom shape and interspersed with diamonds for a dash of princess-worthy glamour. It even has diamond leaves!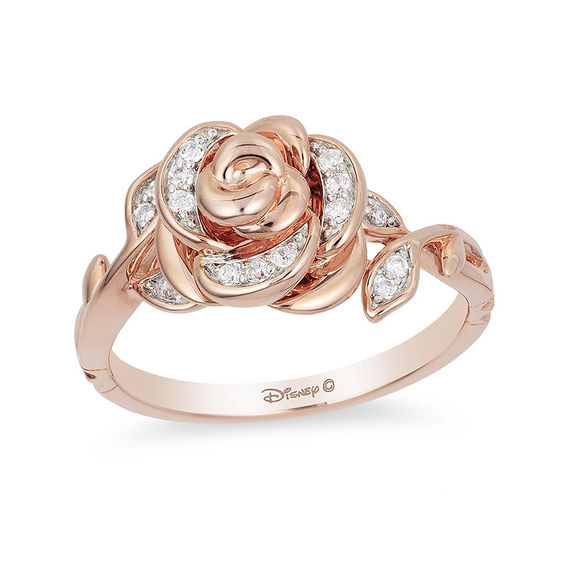 Snow White Engagement Ring
Created in 14k white and rose gold, this ring has a beautiful hidden detail – Snow White's trademark hair bow sits under the setting. Sitting on top is an emerald shaped diamond surrounded by round diamonds in a hexagon-shaped setting. The fine detail on this one is stunning.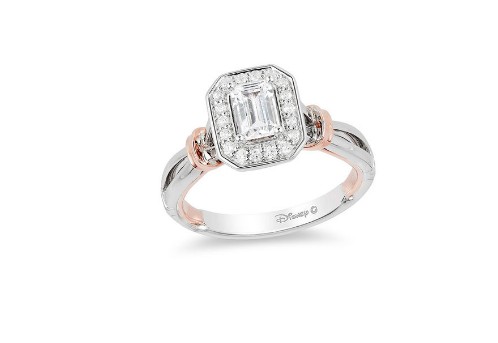 Elsa Engagement Ring
Our favourite of the bunch, the Elsa engagement ring is inspired by – what else – a snowflake. In 14k white gold, a round diamond sits in the centre surrounded by icy 'branches' detailed with beading and tiny round diamonds. The milgrain and diamond band is laid out in three rows for undeniable Frozen-style sparkle.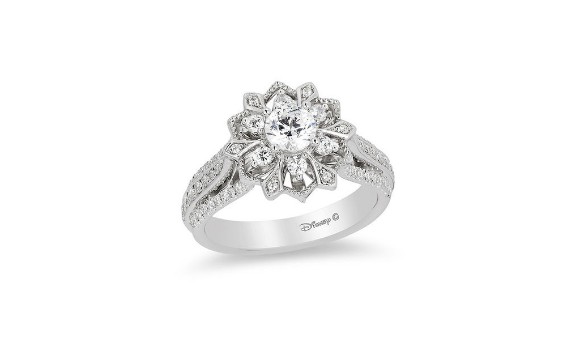 Cinderella Engagement Ring
Destined to be a perfect fit, the Cinderella engagement ring is created in 14k white and yellow gold. In an every so popular three stone design (thank you Meghan Markle), you're looking at three round diamonds on top in a yellow gold prong setting, flanked with a pave diamond band. The setting is cleverly designed to resemble Cinderella's crown.