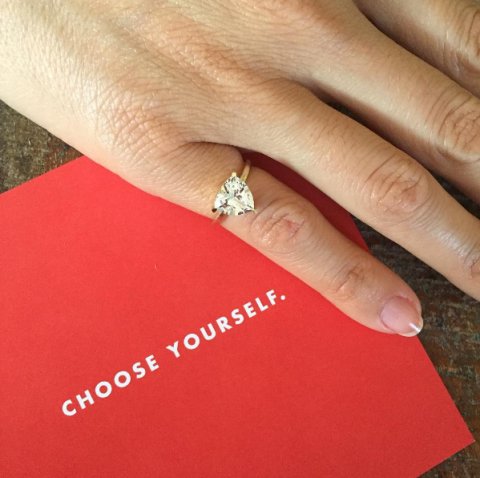 Despite its anti-engagement ring premise, we can't help but get on board with this trend…
There's a lot of pressure on young people these days, and young women in particular. Pressure to look good, get good grades in school or college, get a good job after you graduate, get a long-term romantic partner, get married, get a house, progress up the career ladder… and all while having your every move documented on social media for everyone you know to look at. The list of bogus ways to measure your self-worth is endless and constantly being added to.
So rather than encouraging all of this social pressure, one company has decided to help girls love themselves a little more. Fred and Far began in early 2015 after one of its founders, Melody, realised they she achieved all of the above. Instead of feeling fulfilled however, she says that 'with each one my commitment to others grew, while my connection with myself dissipated.' In other words, she gave so much of herself away that there was nothing left for her.
Enter the Self Love Pinky Ring. Melody and Co-Creater Samira started what they call 'the pinky ring revolution' or 'the self-love club'. They chose to wear a ring comparable to an engagement ring in both style and sentiment on a new finger – their pinky fingers – to symbolise their commitment to celebrating and loving themselves and all they have achieved.
Wearing a Self Love Pinky Ring represents a promise to 'choose yourself, honour yourself, and remember yourself on a daily basis'. Nice idea, right? Lots of people think so, including a rake of celebrities such as Amber Rose and Lucy Hale. In fact, Fred and Far's nice little idea has seen such a skyrocket in popularity that they're experiencing two week delays in shipping to keep up with demand.
The ring they've created is equally as beautiful as the sentiment that goes with it. With prices starting at a very affordable $150, you can choose between sterling silver or white, yellow or rose gold and top it off with a trillion-cut white sapphire. Better yet, the white sapphire is 100% conflict free and the whole thing is made in the USA, so you can make your pinky promise with a guilt-free conscience.
We still think there's nothing better than a dreamy, glittery engagement ring, but the Self Love Pinky Ring is definitely within its reach. Plus you don't even need to be engaged to wear one!