Guys, we're not sure if you know this, but every girl who tells you 'oh, I haven't really thought about what kind of engagement ring I want' is lying. They have definitely thought about it, and they have definitely looked to Instagram, Pinterest and other social media for inspiration. And do you know what they've (probably) found there? Celebrity engagement rings, and lots of them.
Depending on her personality, she has likely pinned certain famous bling and would ideally like a similar style for her own engagement ring. We've broken these personality types and their celebrity sisters down into very general terms below (so take it all with a pinch of salt). Enjoy!
The Alternative Bride
If your other half shuns tradition in favour of the unique, she'll definitely want an engagement ring that's a little left-field. Luckily plenty of celebrities have gone in the same direction! We suggest a bold art deco style or a unique coloured gemstone ring. Ashlee Simpson's Edwardian-style ruby and diamond navette ring – designed by jeweller to the stars Neil Lane – is a safe 'ringspiration' bet. So is Scarlett Johannson's fabulous vintage ring, a perfect example of art deco style with it's round diamonds and rectangular setting.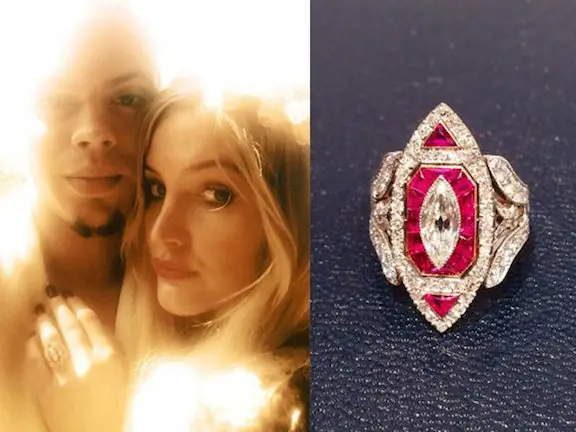 The 'Extra' Bride
Does she love a bit of drama in her life? Is she fond of saying 'go big or go home?' Then pretty much any celebrity engagement ring will be her go-to! However, we recommend the Kardashian sisters as a starting point. Kim's bling from Kanye West made headlines all over the world when it was stolen during a robbery in Paris. It was actually an upgrade to her original ring, which was a stunning 15-carat Lorraine Schwartz-designed gigantic diamond solitaire. With a platinum band, naturally.
The Traditional Bride
It may not come as a shock to hear that most celebrities don't opt for a traditional engagement ring. Why settle for something 'normal' when you have all that cash to splash? Not all a-listers are like that however. If your girl is the romantic, traditional type, she's probably been drooling over Mila Kunis' ring from Ashton Kutcher. As simple as they come, it's a modest (by comparison with her red carpet buddies, at least) 3-carat round diamond on a classy yellow gold band. Timeless and chic.
The Glamorous Bride
Classic and chic, the glamorous bride prefers quality over quantity and knows exactly what she wants. She's probably interested in a ring with plenty of diamond sparkle, but with understated, iconic style. We have an inkling that she's a fan of Natalie Portman's eco-friendly, diamond-encrusted dazzling ring, which she wears with not one but TWO custom-made wedding bands for a touch of extra glam. Jessica Biel's bling from Justin Timberlake is also worth a look for it's vintage-inspired style with personal and beautiful detailing.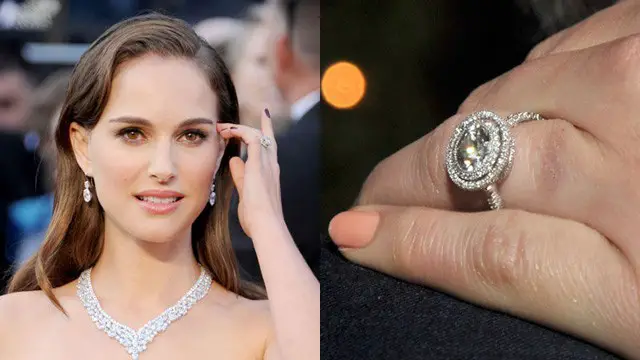 The Fashion-Loving Bride
There's no doubt about it. Brides who love nothing more than poring over Vogue or searching for the latest catwalk trends will be looking towards one woman for bling-spiration: Victoria Beckham. This former Spice Girl turned fashion darling has had a staggering 14 engagement rings over the years, all from devoted husband David (although she allegedly bought some for herself). There's a huge array of styles to choose from, and no doubt your fiancee-to-be has scrutinised them all.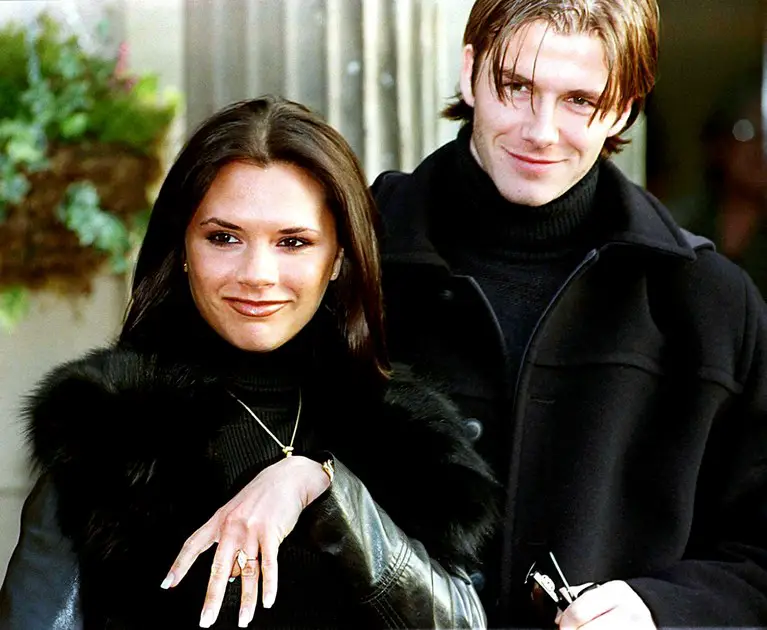 The No-Fuss Bride
If she's not especially alternative, traditional, fashion-conscious, glamorous OR extra, and she likes to keep things as low-key as possible at all times, we know exactly whose ring she admires most. Amanda Seyfried raised eyebrows on gossip sites all over the internet when she debuted a most unusual ring choice for a celebrity – simple, plain band with no diamond, no fuss, no nothing. There's a lot to be said for paring things back in this age of overloaded everything. Why not give it a try?