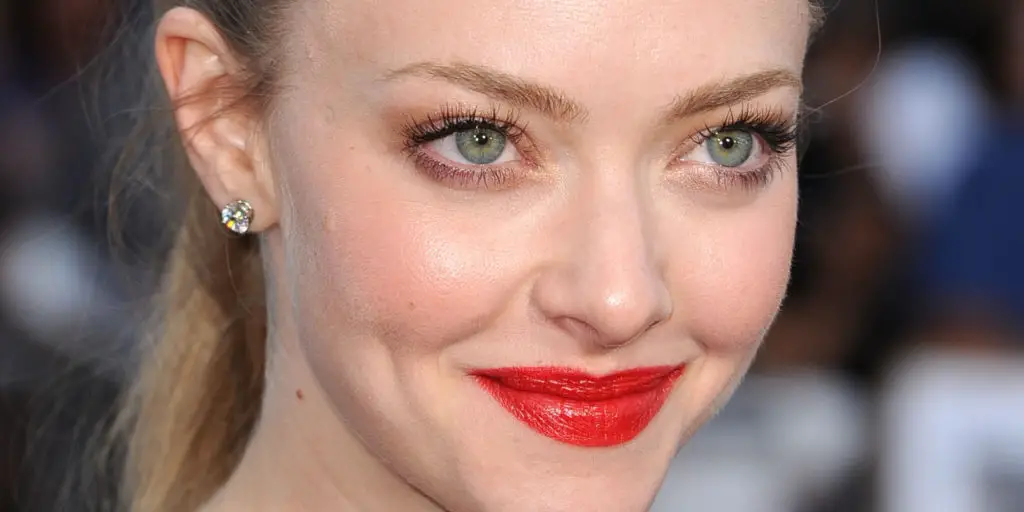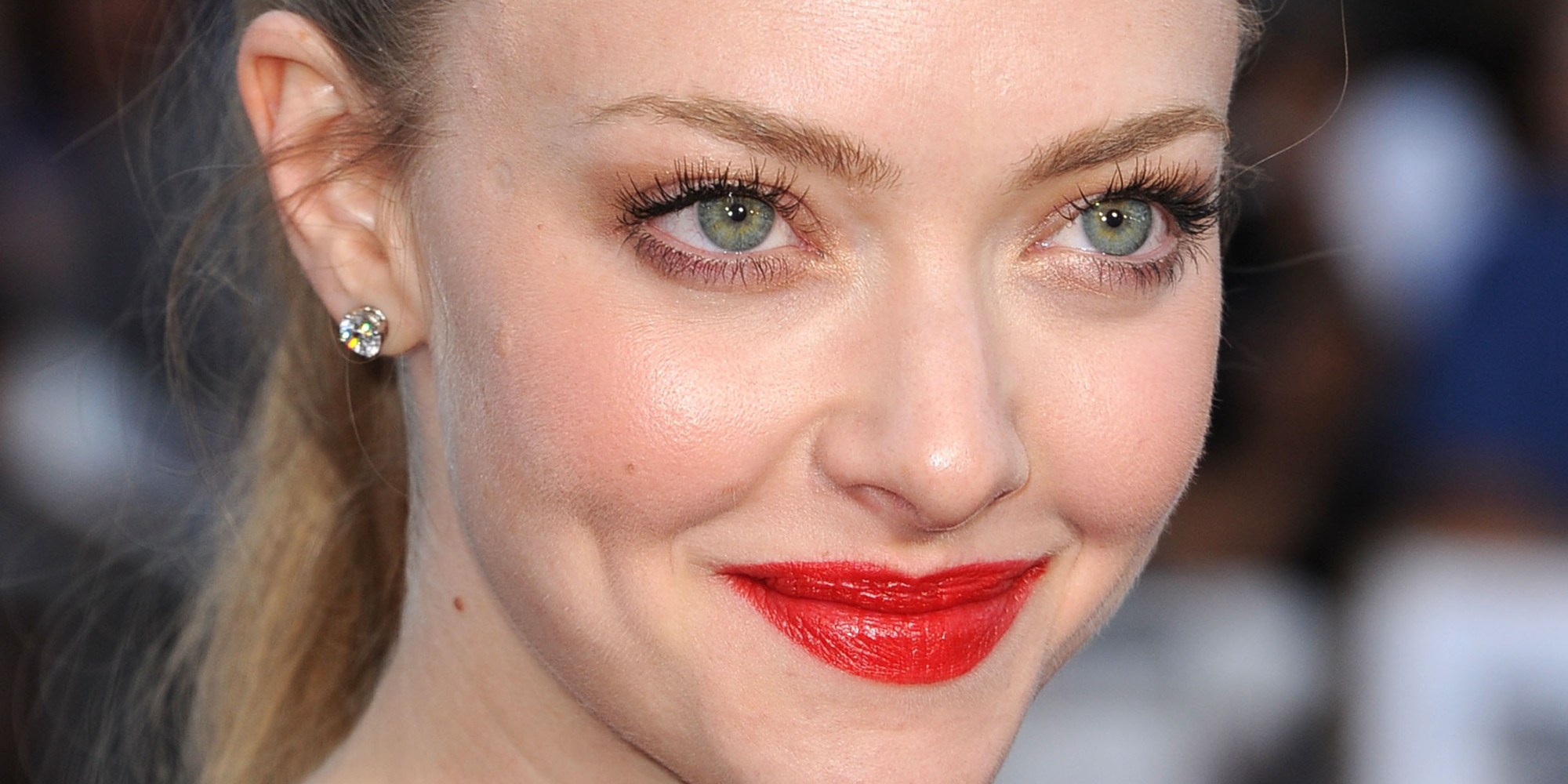 2016 may have been the year to forget in some respects. Several music icons died, the biggest humanitarian crisis in history got even worse, and there was major political upheaval pretty much everywhere. But amongst all the doom and gloom everyday life goes on, and plenty of people shared happy moments like engagements! To take your mind off the end of a not so great year, we've hand-picked the very best celebrity engagement rings of 2016. Take a look at our list and get distracted by shiny things for a few minutes!
Best Bling Ring: Kylie Minogue
Pop star and actress Kylie Minogue officially announced her engagement to actor Joshua Sasse in February 2016, and her ring is probably the most unique and the most dazzling we've seen this year – by a long shot. The centrepiece is an emerald cut diamond that looks to have a touch of a blue tint, surrounded by a double halo of sparkling pave white diamonds. It could just be the camera flashes, but if it is a blue diamond it's extremely rare, and astronomically expensive.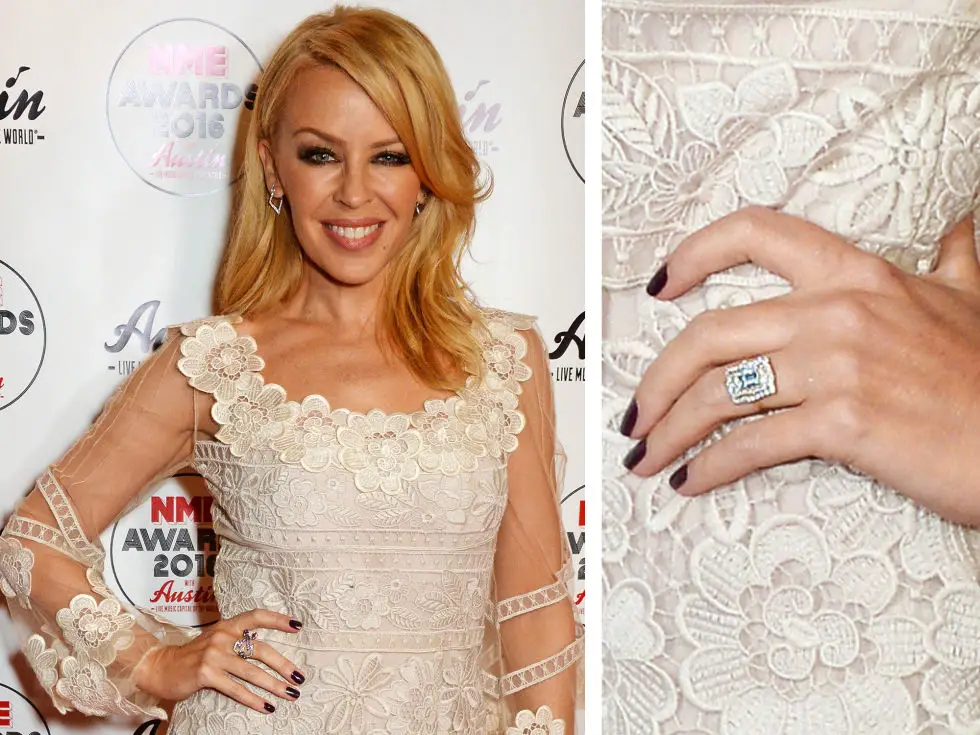 Best Coloured Gemstone Ring: Hilary Swank
Sadly the actual engagement is no more, but oscar winner Hilary Swank's engagement ring from tennis star Ruben Torres was hands down our favourite 'alternative' ring this year. Ruben presented his beautiful bride with a cushion cut emerald from Columbia, his native country. Set on a yellow gold band, it had a pave diamond halo and a shank split three ways. A beautiful vintage style that we absolutely adore.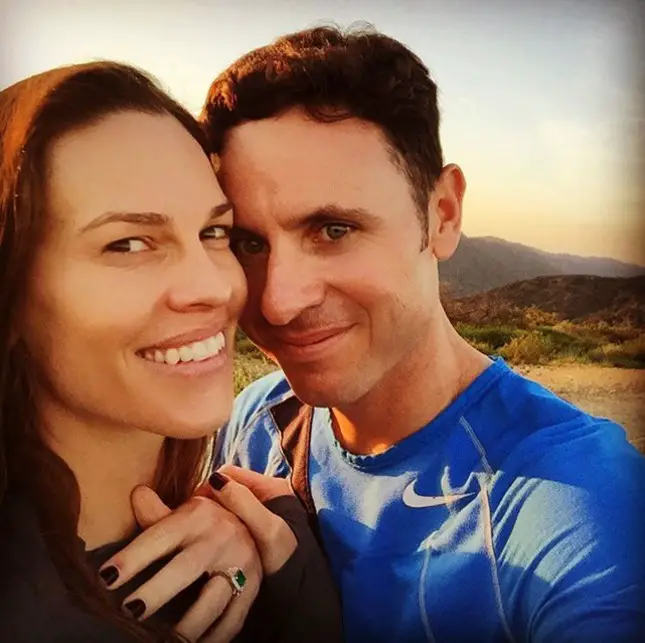 Best Low-Key Ring: Laura Prepon
The Orange is the New Black actress got engaged to her actor beau, Ben Foster, back in October and showed off her engagement ring at the premiere of her latest film 'The Girl on the Train'. It's simple, beautiful and very un-Hollywood; a round brilliant diamond solitaire in a simple prong setting, on a yellow gold band with pave diamonds. It's just the right amount of glamour and class, and we couldn't be more in love with it.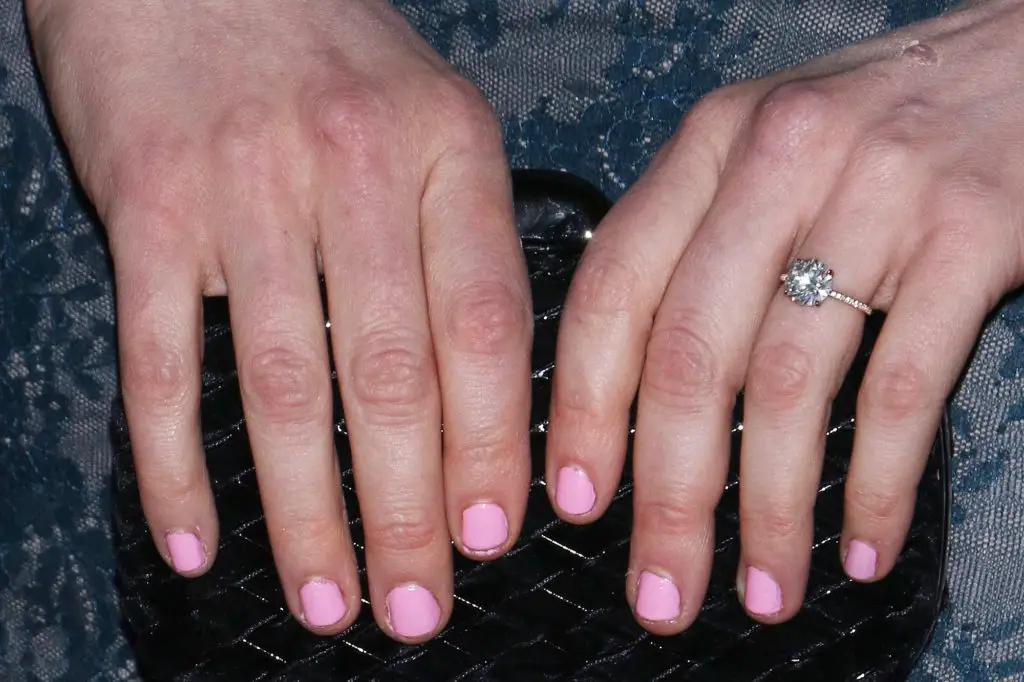 Best Trend-Setter Ring: Alison Brie
Alison Brie isn't just everyone's girl crush – she's also got a very crushable engagement ring from Dave Franco (James Franco's little brother, in case you didn't already know). The couple got engaged in 2015, but we just couldn't not include this ring in our list. It's a classic round diamond stone with a double pave halo, all set in rose gold. Supposedly it cost $100,000. Alison may not have started the rose gold trend, but she certainly perfected it with this ring.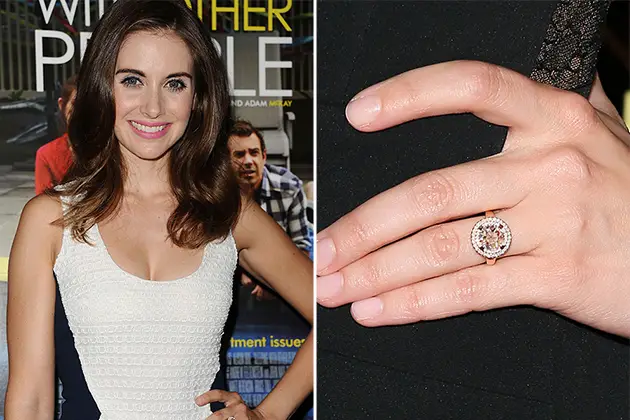 Best Traditional Ring: Diana Agron
Glee star Diana Agron got engaged to Mumford and Sons rocker Winston Marshall during the 2015 holiday season, but it wasn't until February that we got a glimpse of her classic and timeless engagement ring. It's a large and VERY bright rose cut diamond (somewhere between 4 to 6 carats), in a prong setting with a warm yellow gold band. As celebrity engagement rings go, you don't get more traditional than this.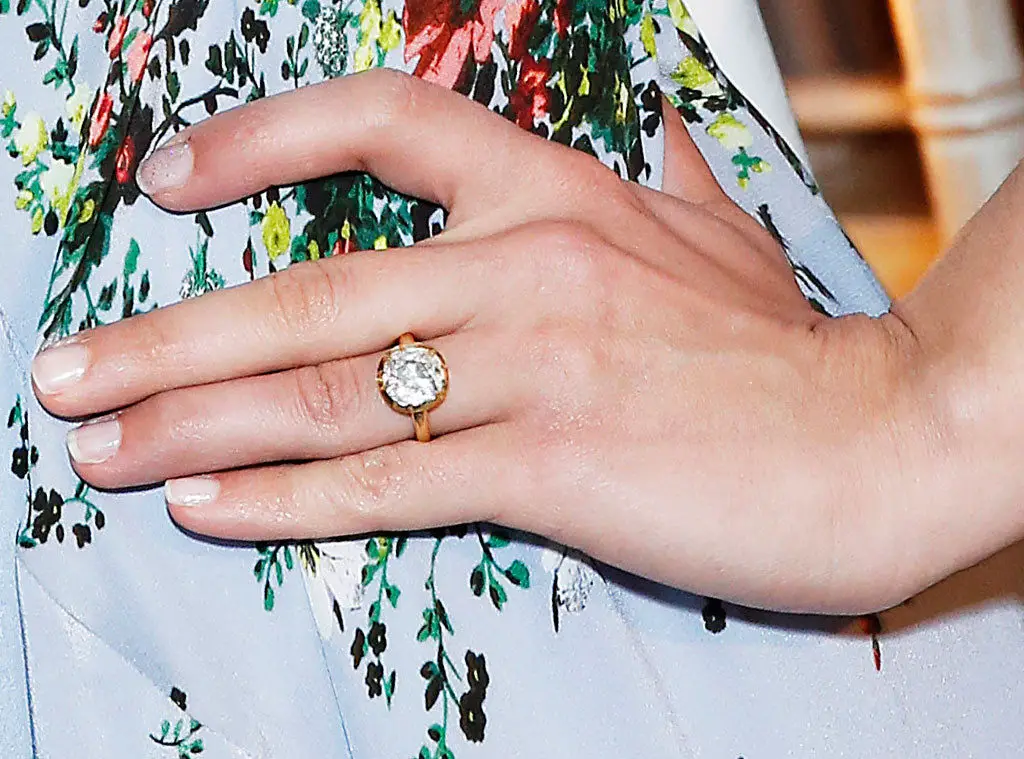 Best Alternative Ring: Amanda Seyfried
Amanda Seyfried and Thomas Sadoski were long time friends who finally fell in love last year. After six months of dating Thomas popped the question, and the rest of Hollywood waited for another dazzling celebrity engagement ring. Then Amanda stepped with a simple silver band on her finger; not a diamond or any other gemstone in sight! She's previously said that she'll never wear a white wedding dress because she's done it so many times on screen already, so her thoughts on engagement rings are clearly the same. And we really respect her for that.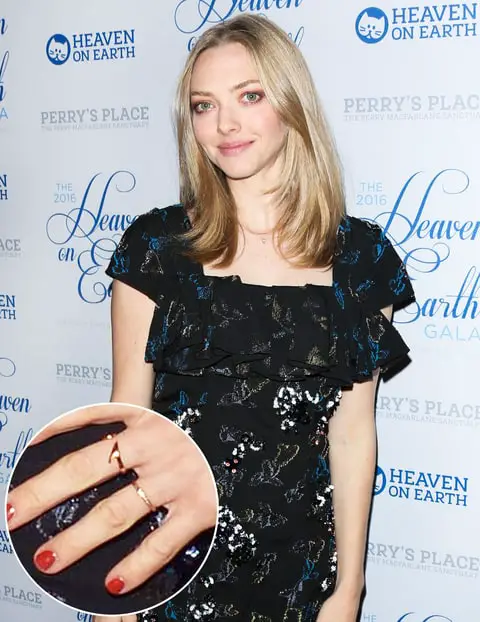 Best Overall Ring: Pippa Middleton
Where to start with this beauty? Like her sister Kate, Pippa's engagement ring from beau James Matthews has sparked a massive trend of brides in search of a similar style. One glance makes it easy to see why; it's nothing short of stunning. It's an art-deco inspired design featuring a 4-carat asscher cut diamond in the centre, with an octagonal shaped setting covered in pave diamonds. In our view, this is the number one engagement ring of the year.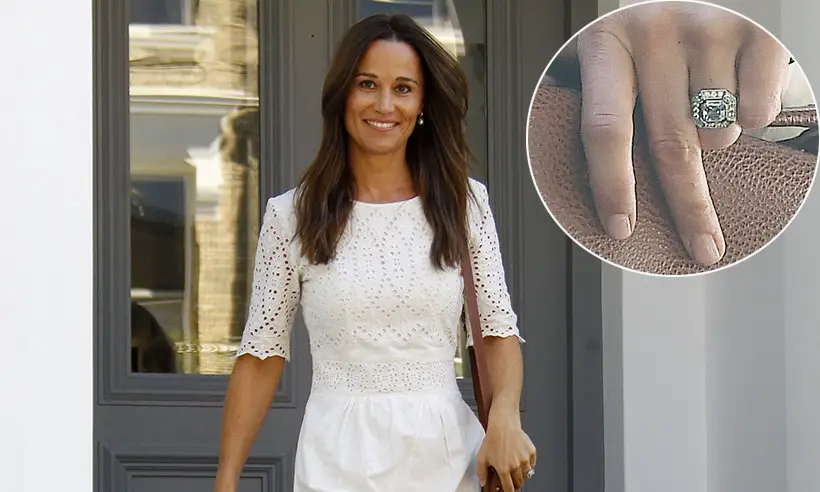 Congratulations to all the happy brides to be!