Celebrity engagement rings. We love looking at them, using them as inspiration, and yes, we'll admit, sometimes judging them. Since they're usually pretty rich, there's a huge variety of fabulous engagement rings among the Hollywood elite.
Some celebrity engagements have resulted in happy marriages, and some don't even make it to the wedding day. But all of them are drop dead gorgeous. Here is just a selection of our favourites, along with the love story behind them.
Alison Brie
The Story: Hollywood's newest newlyweds and one of the most low-key celebrity couples we've seen, Alison Brie and Dave Franco tied the knot last month after a two year engagement and three year relationship before that. The couple said the ceremony was intimate and fun, and that they were so opposed to the idea of a big flashy wedding that they almost eloped! Fun fact; they bonded over their mutual love of cats (Dave has two).
The Ring: Hands down our favourite celebrity engagement ring, Alison Brie's bling is classic but on-trend, and glamorous but understated. It's a round brilliant diamond (most likely around 2 – 3 carats) surrounded by a double pave halo, on a rose gold band. One look and you'll fall in love, we swear.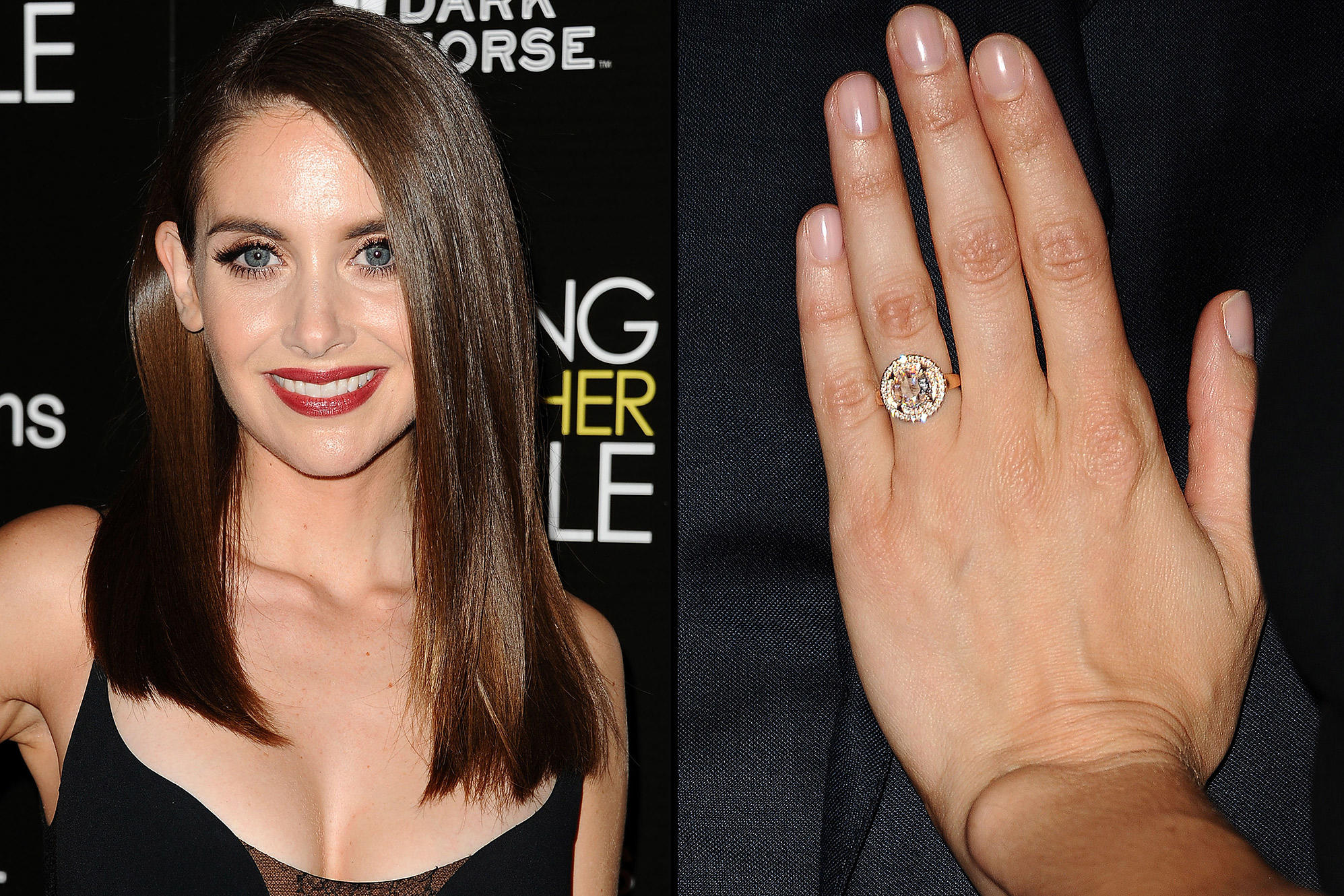 Scarlett Johansson
The Story: Sadly Scarlett Johansson recently announced her divorce from Romain Dauriac, her husband of two years. The pair seem to be very amicable still, both living in New York City to co-parent their daughter, Rose. Romain and Scarlett met through a mutual tattoo artist friend and bonded over a love of art, so it's no surprise that this engagement ring is awe-inspiring.
The Ring: A truly unique design, Scarlett's ring is a stunning Art Deco piece consisting of three rose-cut round diamonds on a statement rectangular setting. Several smaller diamonds adorn the rest of the setting for a look that's glamorous but alternative. A beautiful combination of Hollywood glitz and avant-garde art.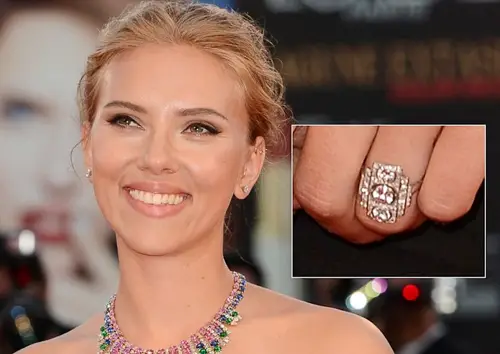 Pippa Middleton
The Story: Pippa Middleton first came to the world's attention as a bridesmaid to her sister Kate, when she married Prince William in 2011. Since then she's built up a reputation as an expert events planner and style icon. She got engaged to long-term beau James last year, and when she stepped out with this ring on her finger, the whole world instantly felt a pang of jealousy.
The Ring: Another Art Deco inspired engagement ring, Pippa's rock is an enchanting radiant cut diamond in a hexagonal, diamond encrusted setting. It's worth an alleged £250,000, and you can expect to see similarly styled pieces in jewellery store windows everywhere. We'll admit it; we actually like it better than Kate's ring.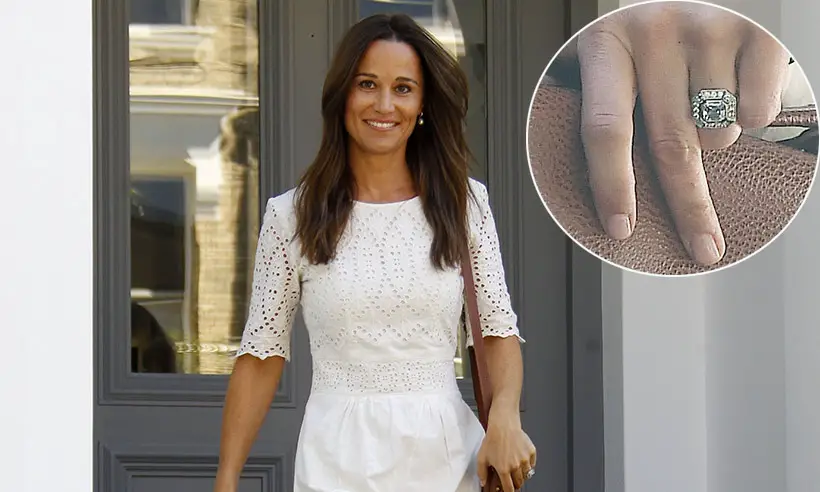 Jessica Biel
The Story: Jessica Biel and husband Justin Timberlake are one of those 'relationship goals' couples that we can't get enough of. The pair began dating in 2007 and would talk on the phone for hours while JT was on tour – according to Biel, the pair didn't even get to kiss for a very long time in the early stages. Absence makes the heart grow fonder it seems, because the pair married in 2012 and look as in love now as they did 10 years ago.
The Ring: Justin personally designed Jessica's engagement ring with the help of jeweller Leor Yerushalmi. This detailed piece is white gold and black rhodium plated, with a huge cushion cut diamond as the centrepiece and two aquamarine accent stones at the sides – Jessica's birthstone. Oh, and it's got a double pave halo and diamond pave all around the band, too.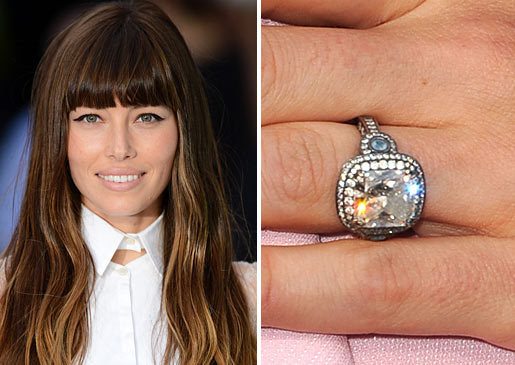 Olivia Wilde
The Story: Possibly one of the best looking couples in Hollywood, Olivia Wilde and Jason Sudeikis didn't really follow the traditional relationship path. Their first date was 6 months after they were first introduced, and they didn't kiss until the fourth date. They now share two kids together and are engaged, but a wedding date has yet to be set. This couple doesn't seem to rush anything, and we love them for it!
The Ring: Olivia's engagement ring combines yellow gold, alluring green emeralds and dazzling white diamonds for a timeless look that's also thoroughly contemporary. The diamond is a round brilliant cut and is surrounded by a halo of emeralds, adding an elegant colour accent to the piece.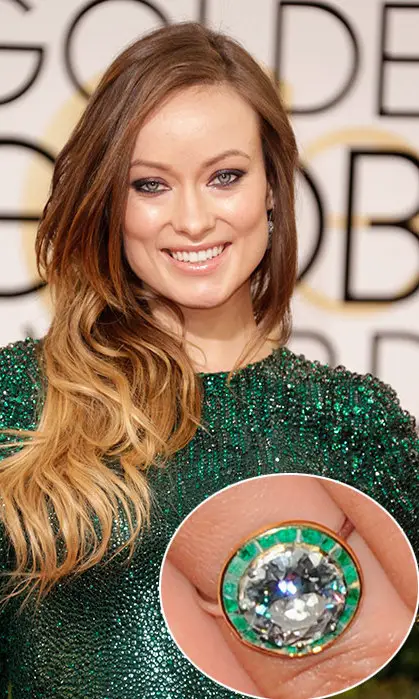 Blake Lively
The Story: Blake Lively first met her now husband Ryan Reynolds when they co-starred in The Green Lantern way back in 2010. Although both in relationships at the time, they sparked a close friendship that endured until, when the time was right, they fell in head over heels in love with each other. Apparently it all began on a double date, when their respective partners were left feeling pretty awkward as sparks flew across the table between them. Oops.
The Ring: Ryan certainly knows how to pick a good engagement ring. He proposed with this incredible oval shaped pink diamond, weighing in at 7 carats and designed by celebrity jeweller Lorraine Schwartz. A pink diamond of that size is not easy to find, so you can bet this baby cost somewhere around $2 million.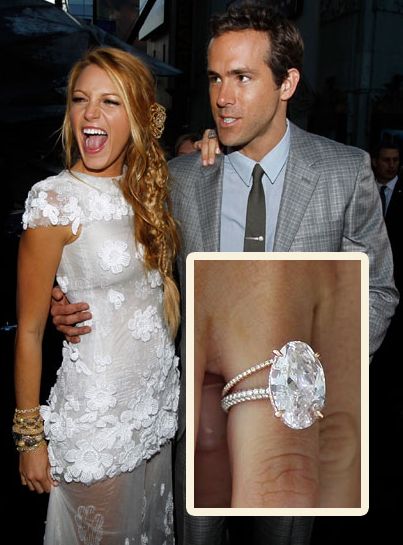 Kylie Minogue
The Story: Kylie Minogue's love life has always been under intense media scrutiny, which can't make life easy when you're starting a new relationship. Her most recent beau was British actor Joshua Sasse who she met on the set of Galavant. Unfortunately the pair have now parted ways and Kylie has returned the ring. We're genuinely sorry we won't get to see it again.
The Ring: This is one engagement ring with a bling factor that we can get behind. It's an emerald cut diamond with a double halo, resting on a classic yellow gold band. In some snaps the centre stone seems to have just a hint of blue, which could make it a fancy colour diamond (and very rare). Either way, still one of our absolute favourites.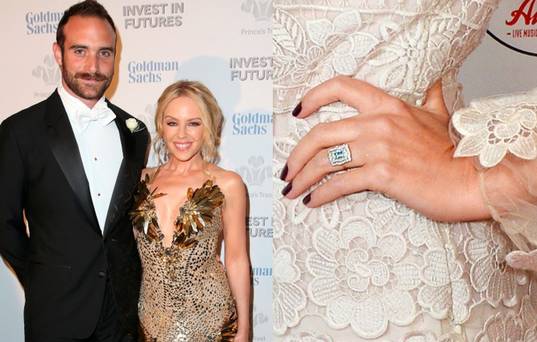 Eva Longoria
The Story: Desperate Housewives star Eva Longoria and media mogul Jose Baston were a Latin American power couple… for a time. Sadly, they broke up last year. Apparently Eva wasn't a fan of her engagement ring (we can't possibly see why she wouldn't be), so maybe they weren't as right for each other as they thought. Their wedding was still pretty swish, though – Victoria Beckham designed Eva's gown and Ricky Martin entertained the crowd!
The Ring: Jose proposed with a blood red ruby in an oval cut, surrounded by round white diamonds and set in a yellow gold band. The design makes it look like a beautiful flower, and the colour is so intense that we have no doubt this is a top quality gem. It's a shame Eva didn't love it as much as we do!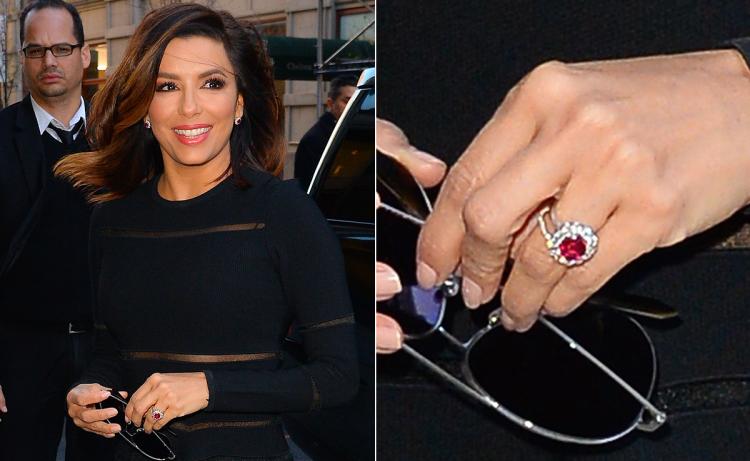 Jennifer Lopez
The Story: Jennifer Lopez and Ben Affleck were the 'it' couple of the 2000s, even getting the nickname 'Bennifer' from the media. They met as co-stars in the flop film Gigli and got engaged in 2002, but Ben called off the wedding and, according to Jen, crushed her heart. Three days after they broke up long time friend and future husband Marc Anthony reappeared in her life, while Ben went on to meet and marry Jennifer Garner.
The Ring: Ben gave Jennifer a gorgeous pink diamond engagement ring. It's a princess cut with emerald baguettes on the side, clocks in at 6.1 carats and is worth around about $1.2 million. It has a delicate and very feminine colour, and we really, really love it.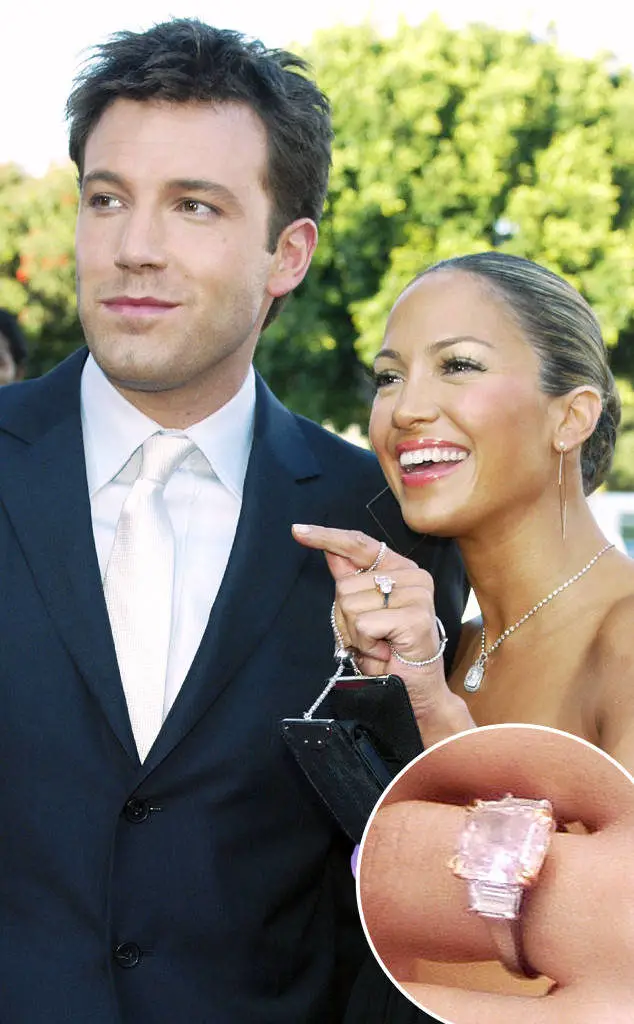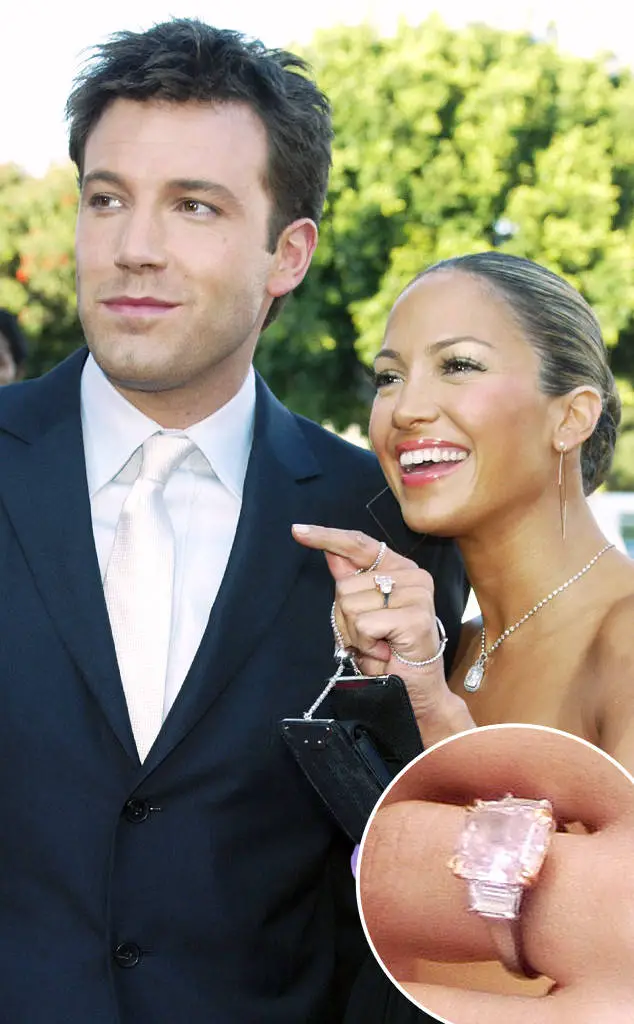 Jennifer Lopez Again
The Story: What can we say? The girl has good taste! After her break up with Ben Affleck, Jennifer Lopez embarked on a stormy relationship with musician and singer Marc Anthony. After having twins and sharing 10 years of marriage they went their separate ways, but lately the rumour mill is hinting that they could be rekindling their romance…
The Ring: Jennifer is clearly a fan of fancy colour diamonds, because her engagement ring from Marc Anthony had a blue diamond. In a similar style to her previous bling, it's cut in a princess shape and is accented with white diamond baguettes. The whole piece totals 8.5 carats.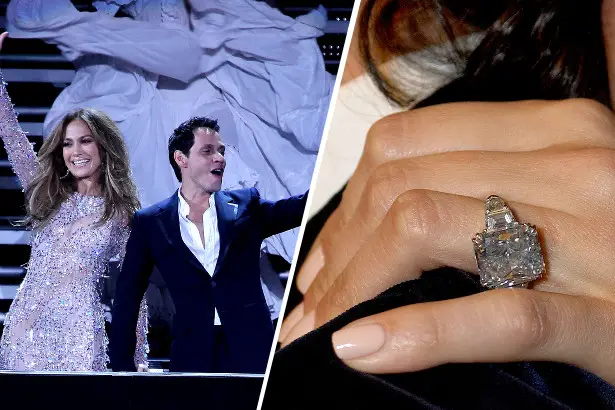 Miranda Kerr
The Story: Miranda Kerr and Orlando Bloom are proof that staying friends after a relationship can and does work. The couple started dating in 2007 despite Miranda 'hating the idea of dating a movie star'. They went on to marry and have a son together before separating in 2013, but remain very close friends – they even double date with their new partners, Snapchat boss Evan Spiegel and singer Katy Perry.
The Ring: Miranda's engagement ring from Orlando is feminine, youthful and absolutely gorgeous. Made up of round brilliant white diamonds, it forms a flower shape on a yellow gold band, with the centre stone larger than the rest. Perfect for girly brides.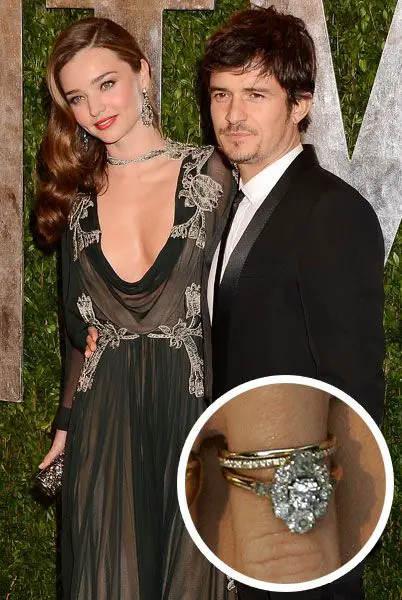 Natalie Portman
The Story: Natalie Portman and husband Benjamin Millepied met while Natalie was working on her Oscar winning role in Black Swan, and Benjamin was her choreographer. After the film wrapped their relationship blossomed from a professional to a romantic one, and now they have two children together and live in Benjamin's native France.
The Ring: Designed by Jamie Wolf in partnership with Benjamin, Natalie's engagement ring honours her environmentally friendly beliefs. It's made with recycled metal and 100% conflict free diamonds (possibly even lab grown rather than mined diamonds, though this hasn't been confirmed). It's a round brilliant diamond with a double halo and a pave band, and she adds extra style points with two curved stack bands.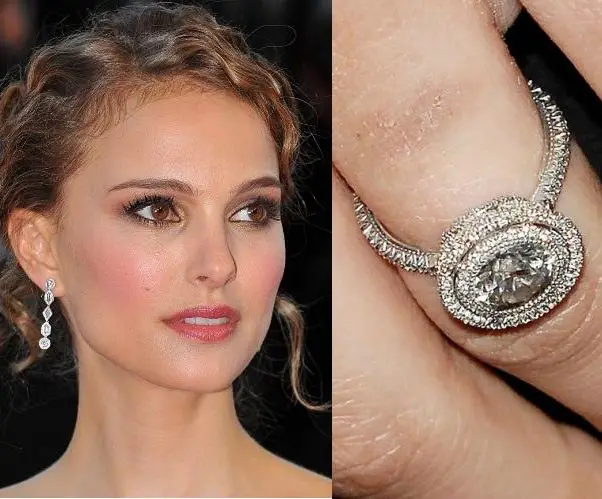 Miley Cyrus
The Story: Miley Cyrus and Liam Hemsworth (Chris Hemsworth's brother and Hunger Games star) are childhood sweethearts, having first met when they were 18. They got engaged in 2012, but ended up parting ways a year later. Fast forward to Christmas/New Year 2015 and things seem to be very much back on. Whatever happens, they're definitely best friends.
The Ring: This stunning engagement ring is by Neil Lane, and designed to look like a stunning antique (mission accomplished). It's a 3.5 carat round diamond in a heavily detailed yellow gold setting. MIley recently said that while she loves the sentiment and symbolism of the ring, it's not really her style. We'll happily take it off your hands, Miley.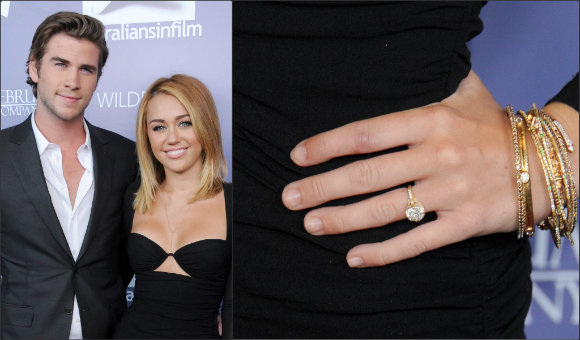 Charlene Wittstock
The Story: Prince Albert of Monaco and his wife, Charlene Wittstock (or 'Her Serene Highness the Princess of Monaco') had one of the scandalous weddings in recent memory – but mostly because the media portrayed it that way. In the run up allegations emerged that Albert had fathered illegitimate children, and Charlene alleged tried to flee Monaco three times to escape the marriage. Whatever happened, they're still together and have a beautiful pair of twins.
The Ring: Designed by Repossi, Charlene's engagement ring is a very regal three carat, pear shaped diamond with heavily detailed and diamond encrusted shoulders. It's valued at around £50,000 and is pure Monaco glamour.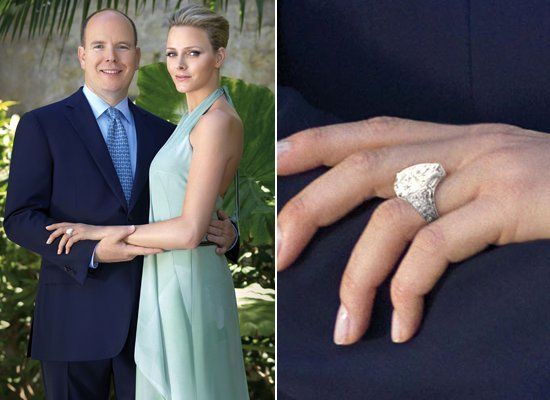 Nicole Richie
The Story: Nicole Richie (Lionel Richie's daughter and former reality TV star, for those who don't know) was the ultimate party animal in the 2000s. Then she met rocker Joel Madden of Good Charlotte. Rather than turn into even more of a wild child, their relationship caused Nicole to settle down and start a family, and she's never looked back from peaceful family life since!
The Ring: Nicole's engagement ring has a vintage look with a unique design. It has a large four carat round diamond at the centre, with a stunning hexagonal setting adorned with pave diamonds. It's valued at least $200,000 and it's worth every penny.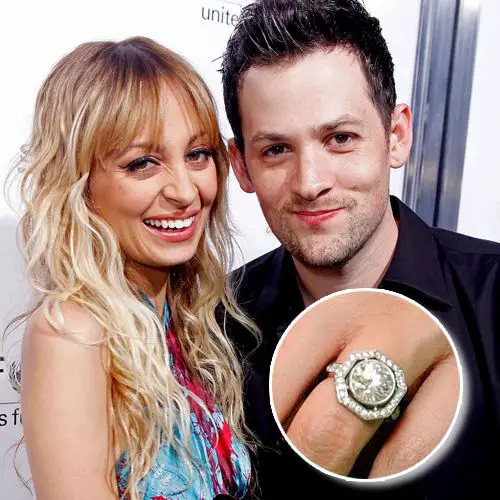 Carrie Underwood
The Story: A match made in American Dream heaven, country music star Carrie Underwood and NHL player Mike Fisher have been happily married since 2010 and have welcomed one little boy into the world. The pair met at one of Carrie's concerts in 2008 during a fan meet-and-greet and have been inseparable ever since. How lucky is Mike, getting to meet and then marry his favourite country star?
The Ring: A Jonathan Arndt creation, this jaw dropping engagement ring has a total of 12 carats, and the centre stone alone is 5. You're looking at a round brilliant canary yellow diamond with a white diamond halo and a pave band. LIke Natalie Portman, Carrie wears hers with a curved wedding band that only makes the engagement ring seem even more glamorous.
Jessica Alba
The Story: After an ill-fated broken engagement when she was in her early twenties, Jessica Alba got it right second time around with her Fantastic Four co-star, Cash Warren. She says that right after she met cash for the first time, she called her best friend and said 'I met this guy and I feel like I've known him forever and I'll know him for the rest of my life'. Turns out she wasn't wrong! The couple married in 2008 and now have two children together.
The Ring: If you're looking for the most beautiful 'Hollywood' style engagement ring possible, this is it. Jessica wears a so glitzy it's blinding cushion cut diamond surrounded by the daintiest of pave halos, with the band also sporting some pave action. It's super glittery, but also has plenty of class.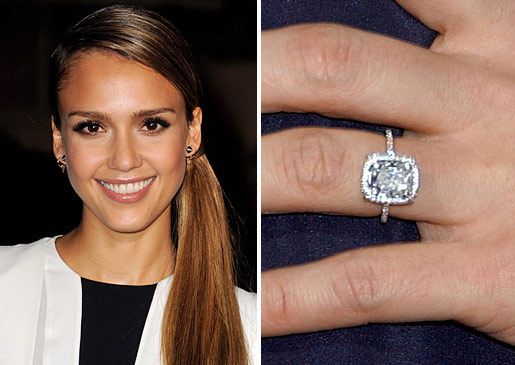 Kristen Bell
The Story: At first glance, vegetarian, philanthropist actress Kristen Bell and wild child funny man Dax Shepard don't seem like a very compatible couple. But they've been together for ten years now, so this is clearly proof that opposites attract! Kristen and Dax got engaged in 2009, but didn't marry until 2013 because they wanted to wait until California legalised gay marriage, so their wedding would be equal to anyone else's. Nice! 
The Ring: Neil Lane produced another stunner of an engagement ring for Kristen Bell. The centrepiece is a 3 carat, emerald cut, fancy yellow diamond (wow) and it's offset with a platinum setting and white diamond accent stones at the side. The band and setting is also full of intricate detail, which we love.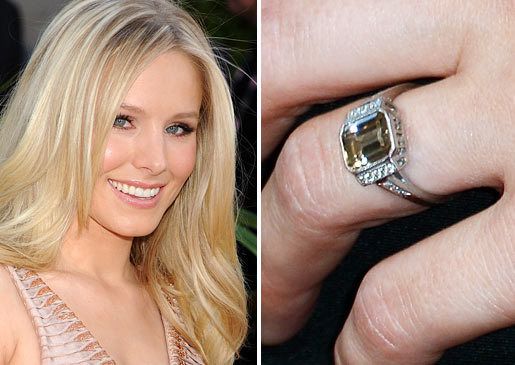 Dianna Agron
The Story: Another unlikely couple, Glee star Dianna Agron's new husband is none other than Winston Marshall from British indie rock group Mumford and Sons. This couple are no strangers to marching to their own drum beat, and opted for an exotic traditional Moroccan wedding in October of last year.
The Ring: Dianna's engagement ring is the ultimate in classic chic. Simple and elegant, it's a traditional round diamond solitaire with a yellow gold band. No fuss and no bling, just the perfect amount of style and class. Much like Dianna herself!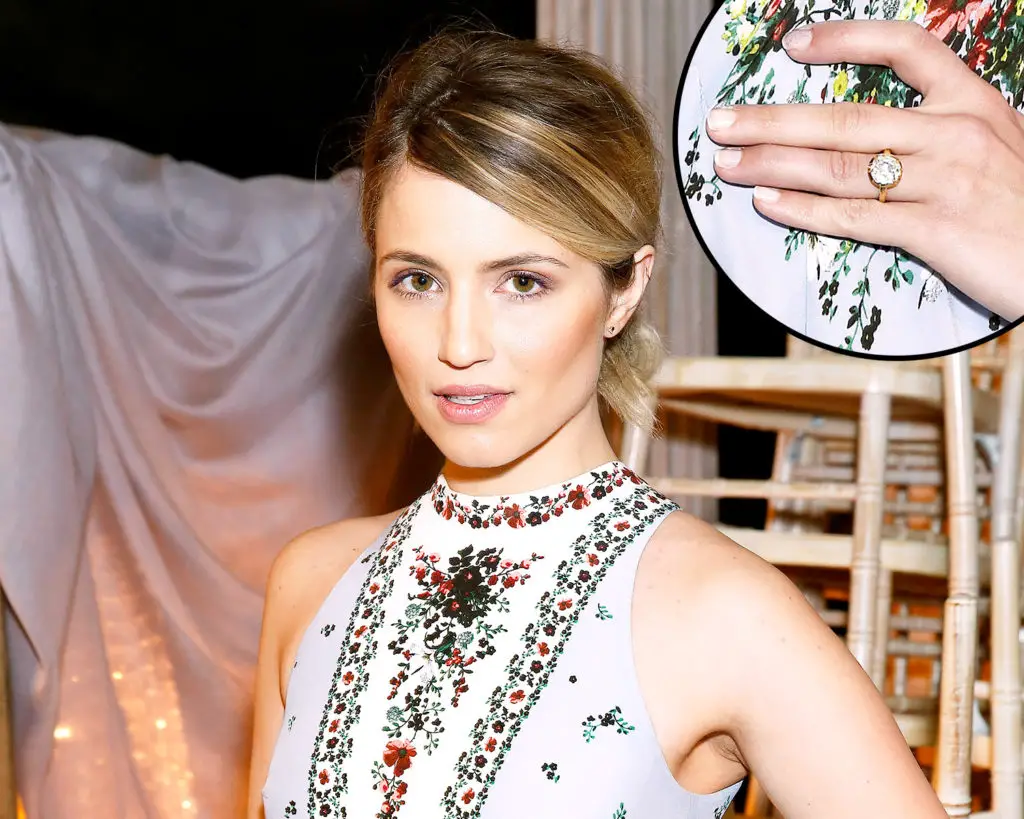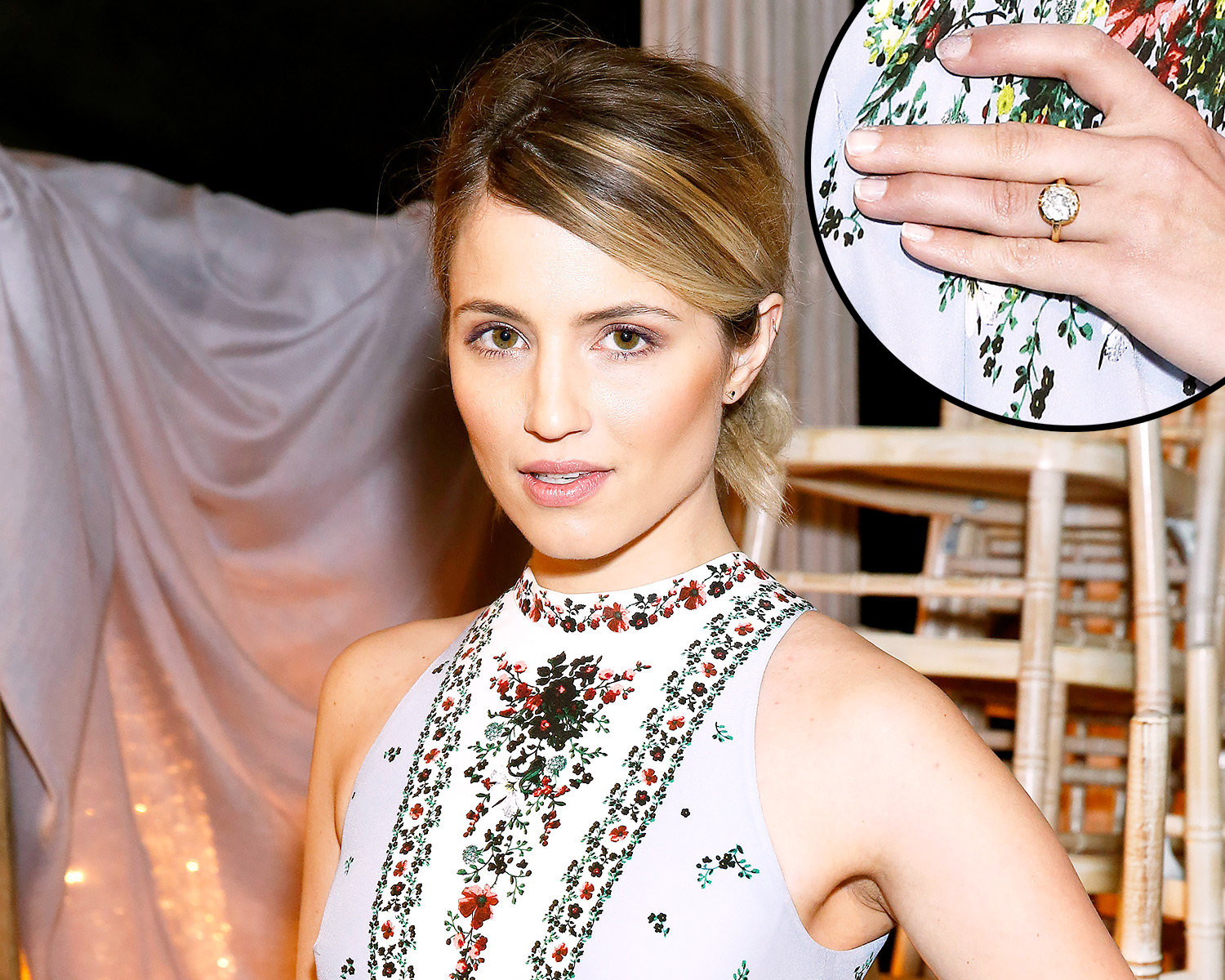 Penelope Cruz
The Story: Spanish actors Penelope Cruz and Javier Bardem first met while filming Jamon Jamon back in 1992, but it was another 15 years before their working relationship blossomed into a romantic one! The couple are notoriously private about their relationship, with one exception – when Javier accepted Best Actor award at Cannes, he looked right at Penelope (in front of the whole world, don't forget) and said 'I owe you a lot and I love you so much'. Penelope was as surprised as the rest of the audience and her face instantly lit up with a smile – and a few tears. How cute!
The Ring: We love Penelope's engagement ring because it's like a sweeter, pared down version of Kate Middleton's. It's an oval sapphire surrounded by 12 round diamonds, making a floral shape. A yellow gold band finishes off the look. It looks like a vintage piece, and it could well be.