It's actually two centuries old for a start, but it's making a big comeback these days…
People who have never been engaged often don't realise just how complicated engagement rings can be! From the 4Cs of diamonds to choosing your gemstone shape to selecting the right band for you, there are a lot of tiny but crucial decisions to make. Once you've chosen your diamond or precious gemstone, the next most vital decision is the setting it will sit in. Do you choose the traditional prong setting, a secure bezel setting, or something entirely different?
In recent years we've seen a rise in the numbers of brides choosing cluster engagement rings, or rings with multiple small stones arranged to give the appearance of a large single diamond. That means that a lesser-known setting is also making a comeback; the invisible setting.
This clever little setting was developed in 19th century France, and is designed in such a way that no metal can be seen in between diamonds that are placed side by side. Instead, they look as if they're held in place by magic! In fact, tiny grooves in the girdle of each stone slip into an intricate metal framework, leaving the table of the stones unobscured by any metal. Hence, the setting is 'invisible'.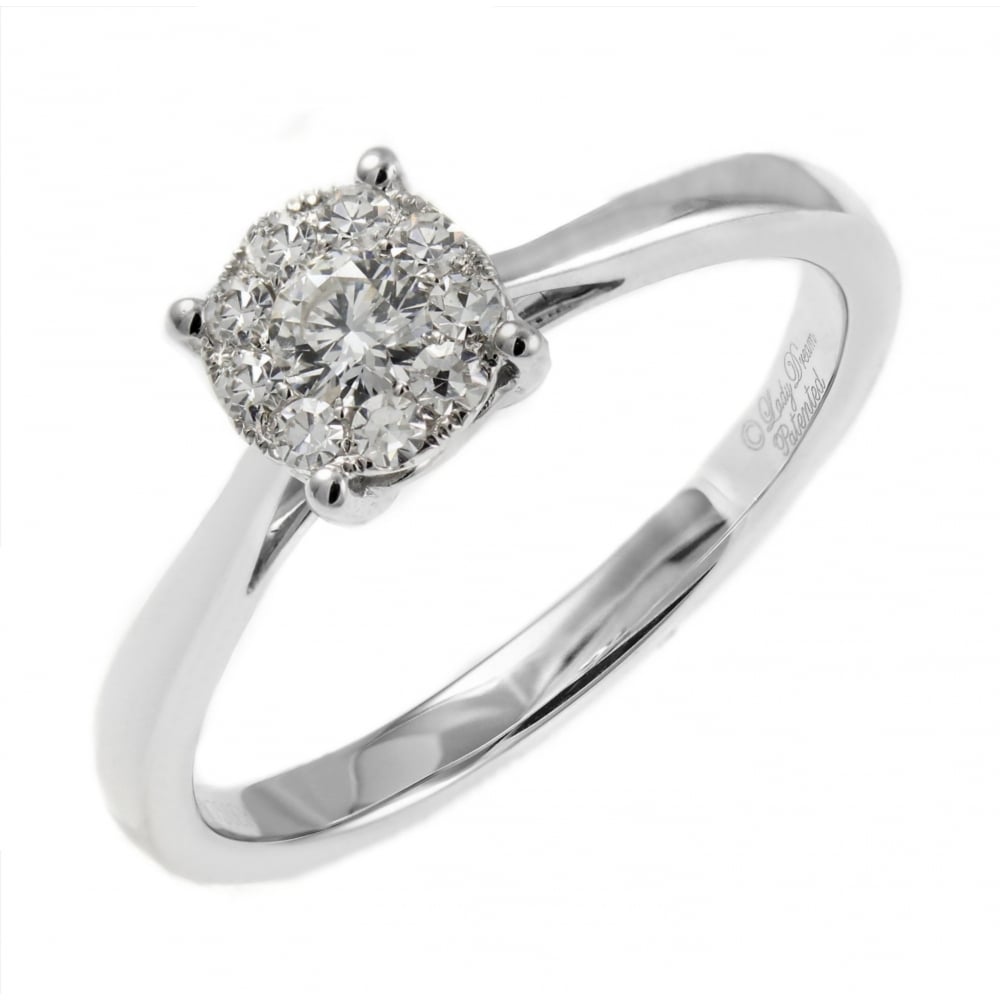 This type of setting only works with straight edge or princess cut stones – sorry, fans of the round brilliant cut. But that's not a bad thing – the straight edges of square cut diamonds can easily be fitted together to create the illusion of a much larger centre stone. You can't do that with round diamonds! Want a heart shaped diamond? Team a diagonally-set princess cut with two half moon stones on top. Bingo.
This also makes for a cheaper overall cost, because several small stones will often work out cheaper than one big one. This is because larger stones demand higher quality for that special diamond sparkle – with smaller stones, inclusions and slight flaws won't make too much difference to the overall radiance. So basically it's win win!
If you have your heart set on a large diamond, then you can still make use of the invisible setting in other way – i.e. in the form of a pave-style band. Using an invisible setting in this way means you can select larger stones for your band, adding even more glitz and glamour to your engagement ring design. You can even have a double or triple row of stones without adding too much thickness to your band.
We can't wait for invisible set engagement rings to become even more popular!