They're nothing new, but they've suddenly seen a huge upsurge in popularity…
Pear shaped diamonds are having a moment, that's for sure. Maybe Margot Robbie or Blake Lively's pear shaped engagement rings gave the look some trend-setting credentials. Maybe Pinterest or Instagram had something to do with it. Or maybe it's just because they're so undeniably pretty. Who knows? Either way, we're delighted to see this engagement ring style back in the spotlight. Here's what you need to know about it…
The pear shaped diamond first emerged all the way back in 1458, believe it or not. A Flemish jeweller by the name of Lodewyk van Bercken decided to combine the best qualities of round brilliant and marquise shaped diamonds, and this dainty teardrop shape was the result. Van Bercken was a talented jeweller, diamond cutter and polisher, and was the man who instigated symmetry and facet placement into diamond jewels. Basically, he knew what he was doing.
The pear shaped diamond initially got a positive reaction from the general public, but stakeholders were unhappy with the amount of rough diamond lost to achieve the cut. Fast forward a few centuries and pretty much everyone has changed their tune! If you're on the hunt for the perfect pear shaped engagement ring, here's a few important things to note…
Protect the tip: The pointed tip of your pear shaped diamond is the most vulnerable part. It can be more likely to chip or break, which will ruin both the value and the appearance of your beautiful ring. If you've opted for a prong setting, choose a design with a prong at the tip. Don't worry, it'll be difficult to find an pear shaped engagement ring without one.
Focus on colour: You've heard about the 4Cs, right? If you haven't, they are colour, carat, cut and clarity. With pear cut diamonds, their unique shape means that larger weights (one carat or above) can appear darker at the point. If you want the most sparkle and the whitest of white diamonds, you may want to sacrifice either a large carat weight, a perfect cut or flawless clarity for a high colour grade.
Think about proportion: This is largely a personal choice, but your pear shaped diamond's proportions matter in more ways than just appearance. As you may know, diamonds are cut and proportioned in such a way to refract the most light, which emits the most brilliance (or sparkle). With that in mind, the ideal ratio for pear shaped diamonds is 1.55 to 1.75. That said, if you prefer a 'fat' or a narrow pear shape, go for it!
And now for some design inspiration. We've had a quick look around the web and found some pear shaped engagement rings to instantly fall in love with. Take a peek…
Karl Lagerfeld's Pear Engagement Ring
It doesn't look like this design is available anymore, but we couldn't help but let our jaws drop on seeing it. The rounded pear diamond contrasts with the angular halo setting, and the band features a split shank that plunges into a v-shape for a splash of drama. A statement ring perfect for brides who like bold style.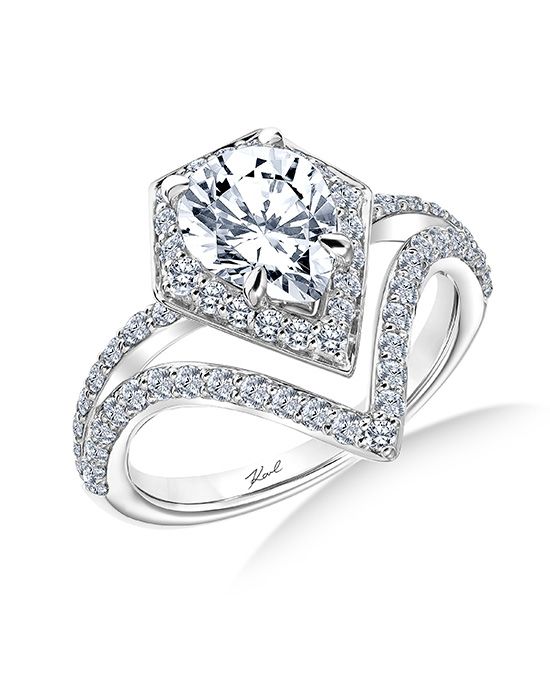 Aquamarine Pear Engagement Ring
Who said your pear shaped engagement ring had to have a diamond? The 'Islene' ring by Davie & Chiyo has an ethereal aquamarine as the centre stone, complemented by a diamond halo and pave band. The rose gold metal makes it even more beautiful. Perfect for vintage brides.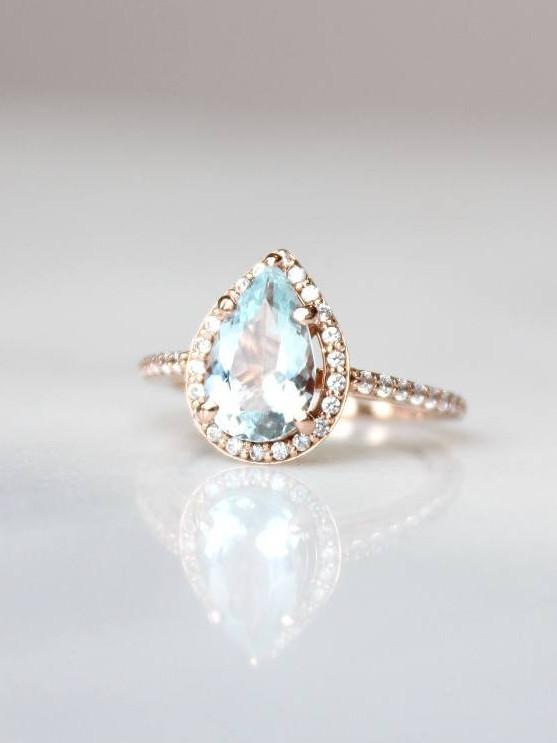 Pear and Baguette Engagement Ring
For brides in search of some timeless glamour, this is the engagement ring for you. The tapered baguette diamonds at the shoulders provide the perfect accent to the pear-shaped star of the show, and the platinum setting ties it all together perfectly.