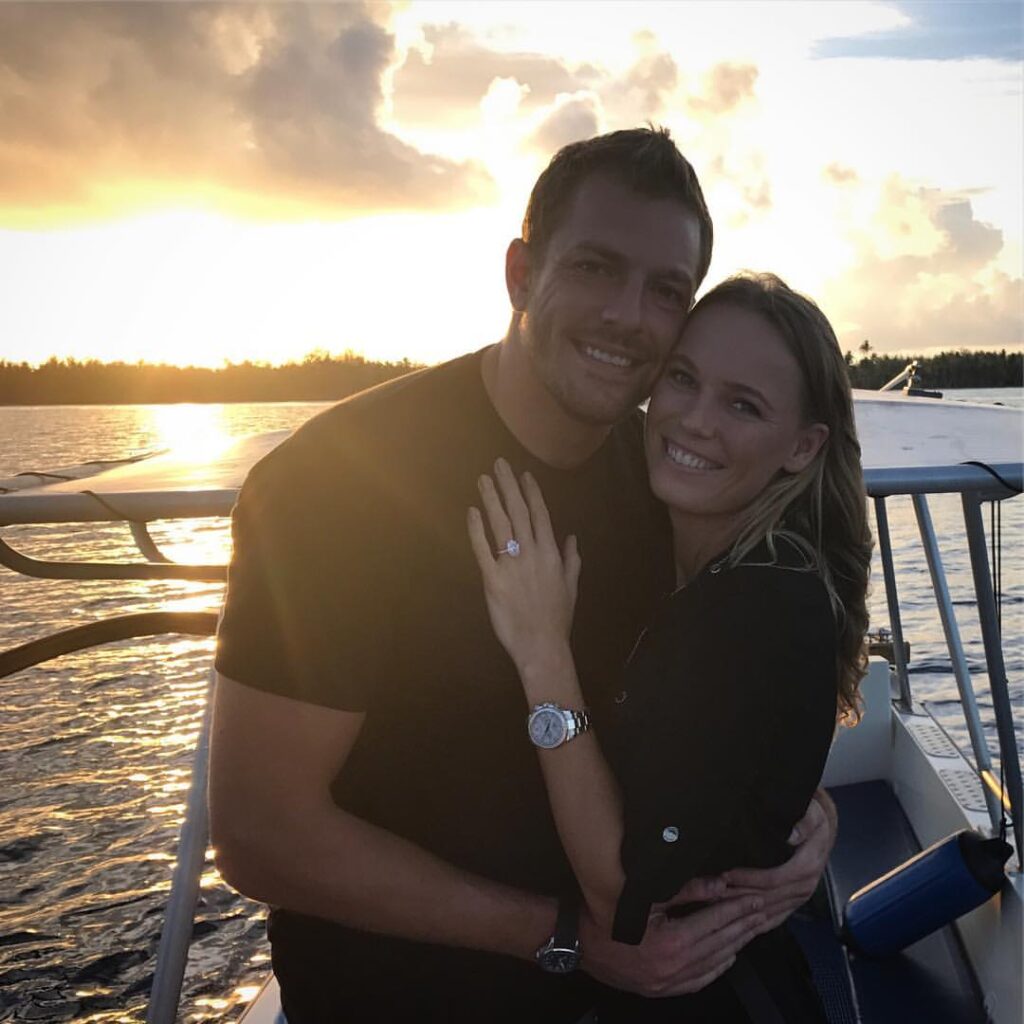 Tennis superstar Caroline Wozniacki has announced her engagement to basketball star David Lee. Love is all around, in more ways than one.
The future bride shared her news with fans by posting a ring selfie from her romantic getaway to Bora Bora. She expressed that it was the "happiest day" of her life and she was ecstatic to marry her soulmate.
Whilst the sentiment is beautiful, or lingering focus remains on the sheer beauty of the sparkling stone she's now wearing on that finger.
Let's talk about the ring…
What Does Caroline Wozniaki's Engagement Ring Look Like?
Caroline's ring is an oval diamond set on a diamond pave band.
Oval diamonds are known for their graceful and elongated shape, which gives them an elegant and timeless appearance. Their elongation often creates the illusion of longer and more slender fingers when worn on the hand. Oval diamonds also offer a distinctive alternative to the more traditional round brilliant-cut diamonds. But not too alternative: oval diamonds strike a balance between the classic round shape and more unique, fancier shapes like pear or marquise. Think tradition with a twist.
Other stars to sport oval-shape engagement rings include Blake Lively and Ashley Greene to name but a few.
Caroline's center diamond is a D color and flawless in clarity, and they didn't stop there. The small diamonds dotting the band were shipped in from overseas to be handpicked under microscopes to match the center stone in color and quality.
Talk about attention to detail…
Who Designed Caroline Wozniaki's Engagement Ring?
Caroline's ring was designed by New York City-based jeweler Hamra Diamonds. 
The jeweler revealed details about the beautiful piece that made us fall in love with it all over again, explaining that  "the ring is super unique in the fact that it totals at 8.88 carats. It was a focus when we were making the ring and originally sourcing the diamond. The reason it was so important is because 8 is Caroline's favorite number… David really wanted to make sure we got that done."
I mean, come on!