Over the last few months, we've noticed a resurgence in popularity in the east-west engagement ring. It's not a new phenomenon, but it's fast becoming an Insta favourite. Confused? Let us tell you what you need to know…
An east-west engagement ring is a ring design where the stone is set east-to-west rather than north-to-south. It doesn't apply to round gems, but pretty much any other shape works. In marquise, pear, emerald or oval shaped stones, the effect is especially dramatic. Basically, it means that the stone is set horizontally across the finger instead of pointing towards the fingernail.
With brides choosing more unusual stone shapes and non-traditional ring designs, it makes total sense that we're seeing more and more east-west engagement rings around. It's a fresh take with a design focus that alternative brides will love, AND it makes your stone appear larger than it really is. They're also a little less of a scratching hazard when the pointy end isn't facing outwards!
Like we said, east-west rings are nothing new – and some a-list Hollywood celebrities have actually been wearing them for decades. One beautiful example is Catherine Zeta Jones' engagement ring from Michael Douglas. Hers is a big ol' marquise diamond with tiny diamonds set around the band and setting. Super classy.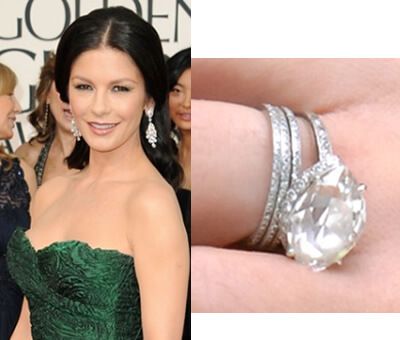 Another star rocking this trend is Portia De Rossi, also known as the devoted wife of Ellen DeGeneres. Portia's ring is another marquise, set in a stunning twisted band encrusted with diamonds the whole way.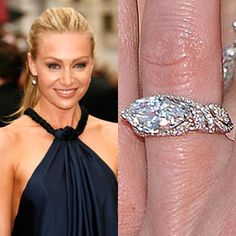 For a more understated look, we love the asymmetric vibes of this simple pear solitaire east-west design. It's part of a collection of east-west rings from Tacori, each one prettier than the last. We're betting they're not the last jeweler to introduce such a range.