Diamonds are still a girl's best friend. It's just a different kind of diamond nowadays, that's all…
If you've been keeping on top of the latest trends in engagement rings, you'll probably know that brides to be are having a bit of a 'colourful' moment right now. Ever since Kate Middleton stepped out with the stunning sapphire engagement ring given to her by Prince William, we've all been looking for a little pop of colour in our engagement rings.
But it's not just blue sapphires; rubies, emeralds, and basically any coloured gemstones have all seen a notable spike in popularity over the last few years. The same goes for fancy colour diamonds; yellow diamonds, pink diamonds, champagne diamonds and even blue diamonds are all coveted by (albeit not so affordable for) many brides.
Enter the most alternative gemstone choice of all; black diamonds!
Although not as rare as pink or yellow diamonds, natural black diamonds are still hard to come by. Compared to their fancy colour counterparts, they're usually the (slightly) cheaper option. Why? Unlike other coloured diamonds which get their colour from chemical impurities, black diamonds get their unique hue from a huge amount of inclusions. These inclusions break up the light entering the diamond so much that to the human eye, it looks black.
However, finding a diamond with that many natural inclusions is very uncommon. Which means that most of the black diamonds you see on the market aren't in fact naturally black – they've been artificially treated to create that alluring black hue. These diamonds started off as very, very low quality white diamonds, and these treatments can often make the already unstable stone even more fragile. Just something to beware of if you find a black diamond with a price that seems too good to be true.
If you're cool with the above, then black diamonds are a truly unique choice. Perfect for glamorous goths or trend-setting fashionistas, they lend an edgy look to your bling. And if you go down the treated diamond route, they can be surprisingly affordable; prices can start at around $200 per half carat for a treated black diamond, or anywhere from $1000 and up per half carat for a natural black diamond. As always, those are very rough guidelines and price depends on diamond quality, size, and a whole host of other factors.
Here's a couple of black diamond engagement rings that caught our eye: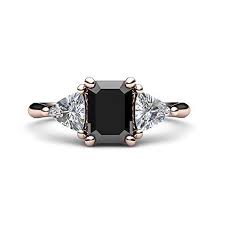 A black diamond centre stone with trillion cut white diamonds to the sides; this design is ultra contemporary, but the yellow gold band gives it a timeless look.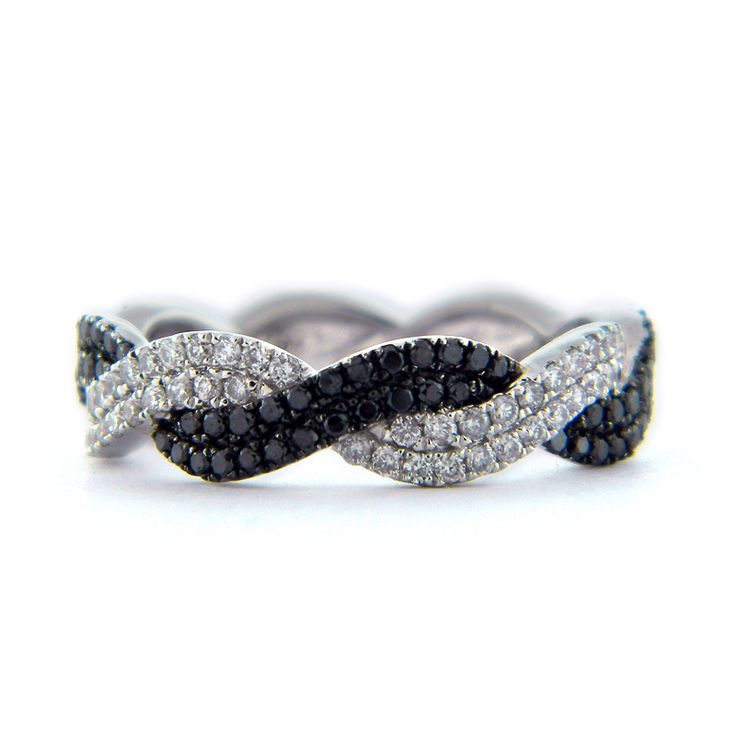 If you're going non-traditional, you may as well go the whole hog. We love this twisted band style with it's double row of diamonds and dramatic contrast of black and white.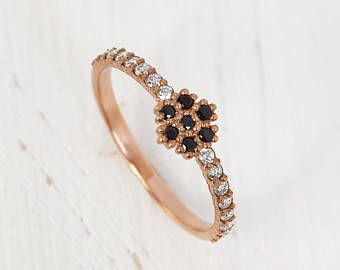 This engagement ring proves that black diamonds can still be elegant. The floral design is super dainty, while the pave band adds a modern, 'new classic' touch.