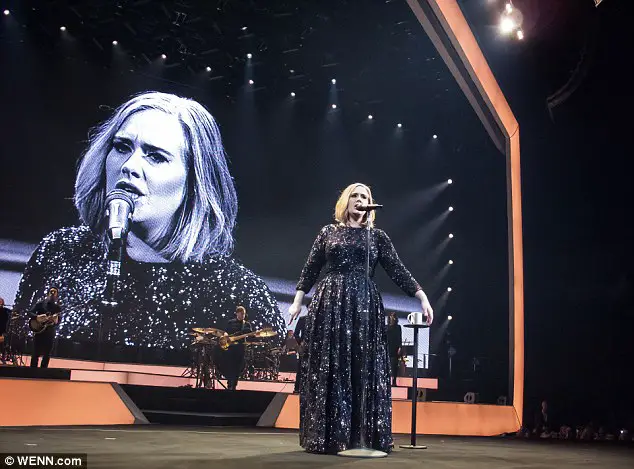 Adele has apparently become the new Ed Sheeran as far as concert proposals go.
The 'Hello' singer is currently on an arena tour stopping off in various cities in the UK, Europe and North America, and has already hit headlines several times. She brought two fans who created a mash-up of her songs on stage to sing for the audience, twerked, and sang a truly heart-felt tribute of 'To Make You Feel My Love' for the victims of the Brussels terror attacks.
But leaving all of those endearing moments aside, a very clear trend is appearing. Just like Ed Sheeran before her, she seems to be the catalyst for plenty of public engagements. On Leap Day (29th February), the first night of the tour, she convinced a man to accept a proposal from a woman after he had already said no earlier that day! Last week however, an altogether more touching incident happened…
At one of her six concerts in London last week, she stopped mid-song to the confusion of most of the crowd. She pointed out to two audience members and asked 'did you just get engaged?!' Amid much excitement, she congratulated the couple and insisted they join her onstage, telling the audience 'I thought there was a fight at first! I saw all of the camera-phone lights and then I saw arms went up and I saw sweet kissing.'
It turns out, 'Make You Feel My Love' is the couple's favourite romantic song, so the groom-to-be Johnny thought it was the perfect moment to ask his girlfriend of 12 years to finally become his wife.  That's a long time to wait, and as remarked by Adele, longer than she's been making music too!
She finished off the romantic moment by telling them 'that's the most beautiful thing I've witnessed at one of my shows.' Somehow, we don't think it will be the last proposal she'll see on this particular tour.
Congratulations to the happy couple!