Every week we pick the best and worst engagement rings to emerge from the land of the rich and famous. In this edition, we have ANOTHER Game of Thrones star up against, well, not a Game of Thrones star…
Engagements happen on a daily basis in showbusiness. Naturally, every bride – whether famous or not – thinks that their own engagement ring is the most beautiful in the world. The rest of us, however, may or may not feel the same. We scour the web every week for the latest celebrity engagement news, and choose what WE feel are the best and worst. It's all done in the spirit of fun, we mean no harm – and of course we wish the best to all of the happy couples! Here are our picks for this week.
The Best: Candice Brown
If you haven't heard of the Great British Bake Off, you're watching TV the wrong way. This BBC TV show is a huge deal all over the UK. It follows amateur home bakers as they prepare and present cakes, pies and desserts under the watchful eyes of the judges. There's always plenty of scandal, innuendo and sometimes even sabotage – in short, it's great TV!
Last season's winner was Candice Brown, a PE teacher from Bedfordshire who has harboured a love of baking since the age of four. She wowed viewers with her impressive 'showstopper' creations, winning the title of 'star baker' three times throughout the series. Her ever changing lipstick colours were also a big source of interest, for some reason!
Before, during and after the show, Candice's devoted boyfriend was cheering her on. It was rumoured that she was engaged to tree surgeon Liam Macaulay back in February, but Candice firmly denied the rumours and said she was just a lover of vintage jewellery. But now it has been confirmed that Liam really has popped the question after all!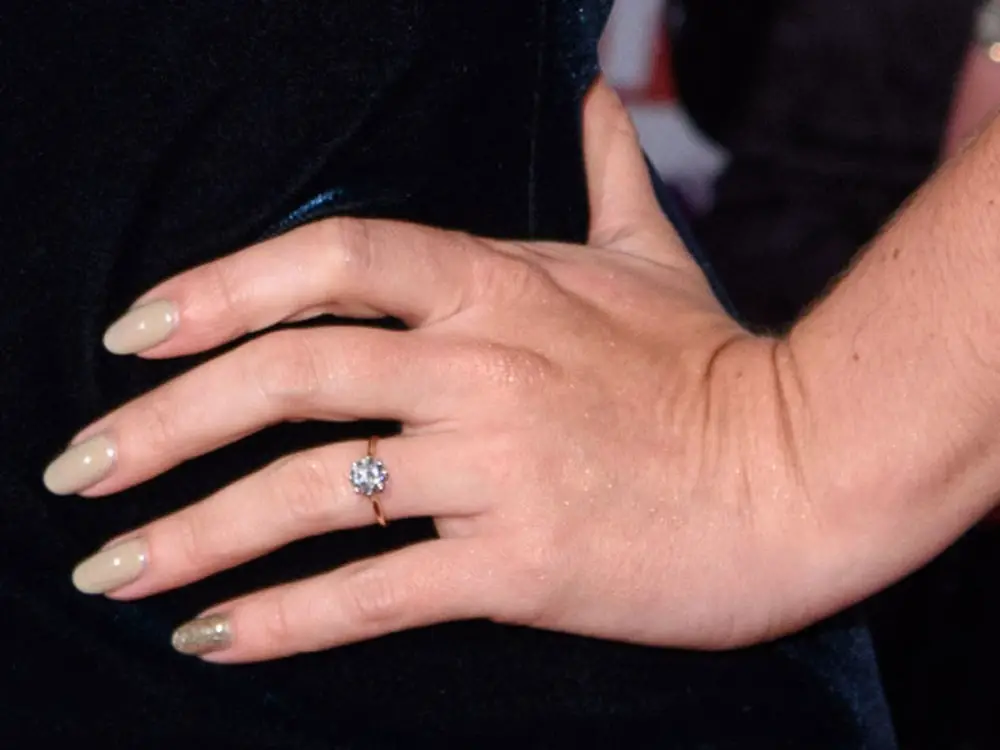 At the Pride of Britain awards in October, Candice walked the red carpet with a beautiful new ring days after confirming the couple's engagement. Unlike her bold lipstick choices however, this is a simple, traditional diamond solitaire ring on a yellow gold band. We're guessing it's around 1 or 2 carats, and it's presented with a simple prong setting.
Our Verdict: Small but beautiful, this ring is full of traditional elegance. We couldn't imagine a more perfect design for the stylish and always classy Candice. We just hope she takes it off to bake those delicious treats she's so famous for.
The Worst: Cardi B
There's no denying that model, media personality and hip hop artist Cardi B has worked hard to get where she is now. Growing up in the Bronx in New York City, she turned to stripping as a teenager to escape poverty, pay for an education and escape an abusive relationship. Stripping eventually transitioned into modelling, and she gained a huge social media following. Then reality TV beckoned, as did her first major label record deal in 2017.
Along with fame and fortune, 2017 was the year that Cardi B found big love too. Early in the year she began dating Offset (real name Kiari Kendrell Cephus), fellow rapper and member of the southern hip hop group Migos. In October during a show at the Wells Fargo Center in Philadelphia, Offset proposed mid-concert as Cardi B was talking to the crowd! Turning around to see her love down on one knee with a ring in hand, she jumped up and down and danced on the spot in excitement.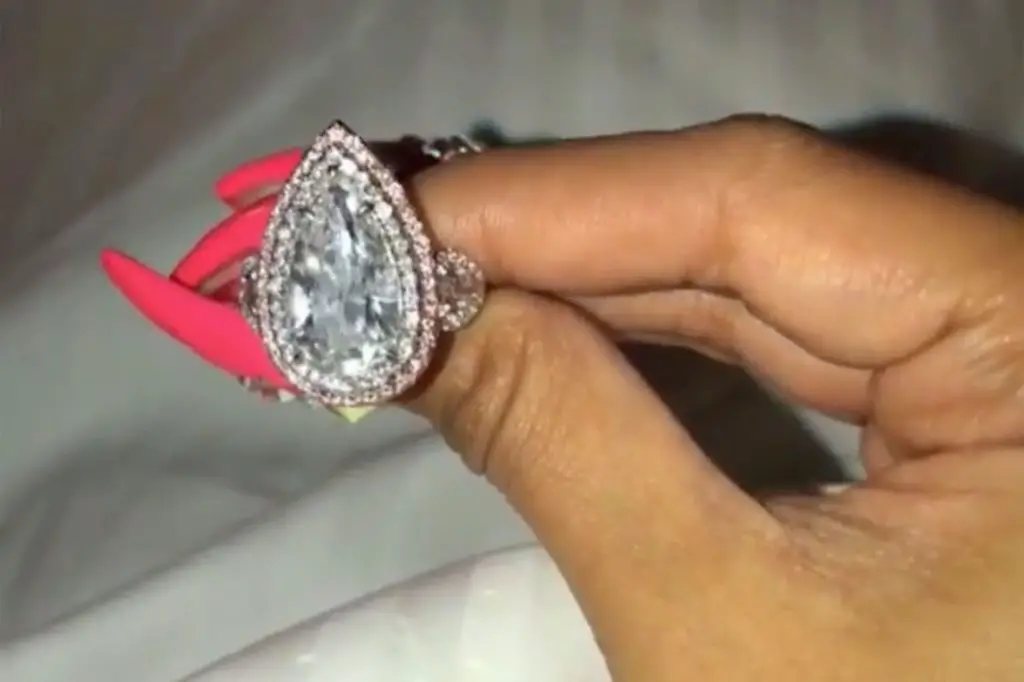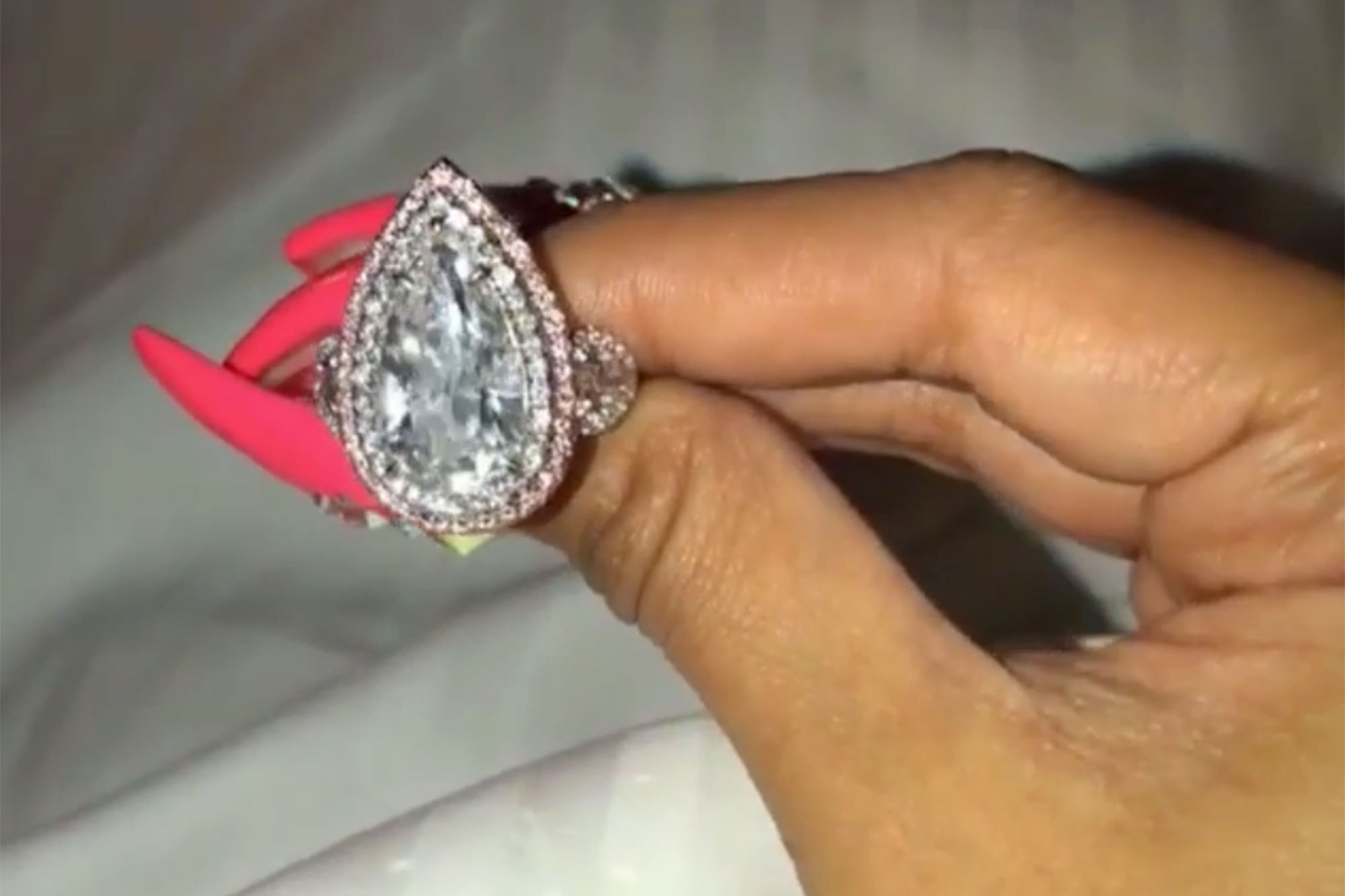 Cardi's engagement ring is so gigantic, every single person in the crowd could probably see it in detail. Weighing in at a massive 8 carats, it's a pear shaped diamond with a double diamond halo and thick pave band. Round diamond accents at the sides are also given the diamond halo treatment. She later officially announced their engagement on Instagram, saying 'thank you for seeing the potential in me since you met me. For giving me advice, moulding me and loving me. You're such an amazing man to me, your family, friends, kids and you are extremely talented. I can't wait to spend forever with you.' How cute.
Our Verdict: This ring is a beautiful monster, there's no doubt about it. If it wasn't quite so gigantic, we'd like it a lot more. Sorry Cardi, but 8 carats is just a little too big and brash for us. But hey, if there's anyone who can rock a ring like this, it's Cardi B.