Did you SEE those diamonds??
Taylor Swift, pop star extraordinaire, has done it once again. Since her '1989' world tour ended in December 2015, her global fan base as well as most of the music industry has been waiting with bated breath to see what she would do next. In between dramas with her so-called enemies Kanye West and Katy Perry as well as a public and bitter break up with former boyfriend Calvin Harris, Taylor was busy recording in the studio.
A few weeks back, without any build-up whatsoever, she announced an impending album and released the first track, Look What You Made Me Do, a few days ago. AT the MTV Video Music Awards she premiered the song's music video, and as lovers of all things diamond and jewellery-related, our jaws dropped to the floor immediately.
The video starts off with a zombie Taylor climbing out of a grave, before quickly switching to a much more regal Taylor sitting in bath. A bath that is full. Of. Diamonds! Seriously, not only is Taylor herself dripping in diamond rings, earrings, necklaces and chokers, she's covered almost up the her shoulders in diamonds too.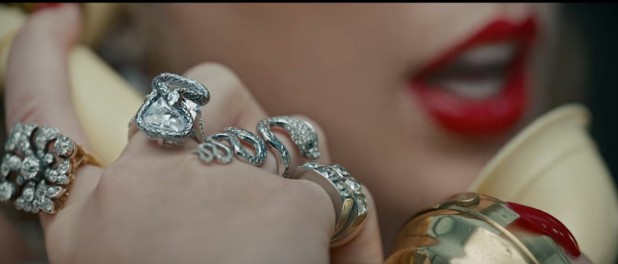 After the video was released, it was revealed that every single one of those sparkling gems was a real diamond, and they were loaned to Taylor and her crew for the video shoot by none other than Neil Lane himself! The celebrity jeweller had this to say on the matter:
"I had to go to the vault for this one. They wanted an over the top, glamorous look so we gave them unprecedented access to my collection. And wow what an amazing turnout, diamonds have never looked better!"
There's some up close shots in the video of the rings Taylor wears, including a diamond encrusted snake, a diamond bow tie and a stunning, vintage-style floral design that we LOVE. Watch the video below and take a look for yourself, while we dream of having Taylor Swift's money, jewellery collection and all round bad ass attitude.