The end of summer is fast approaching. If you're planning on a sunshine-filled proposal before the seasons change, we have some inspiration for you. Everyone gets engaged in winter, so dare to be different with these cute ideas!
The Beach Proposal: Let's face it, there's nothing better than the beach when the sun comes out. Beach proposals may be hugely popular, but they are for a reason. There are plenty of creative ways to propose at the beach; sandcastles, messages in the sand, a romantic campfire, a secret beach hut. Plus, sunsets and wave sounds are always super romantic.
The Garden Party Proposal: Take a wander through a park in full bloom, or arrange for some close friends and family to come over for a garden party in your backyard. Add some cocktails, a bouquet of summer flowers, and a pretty backdrop of trees (perhaps decorated with some romantic fairy lights or candles), and your garden proposal is complete.
The Hike Proposal: If you're an active couple, you'll no doubt hit the hiking trails as soon as the weather heats up. Pick a favourite route or a spot with some stunning scenery, head up there when nobody else is around, and enjoy a beautiful private moment with just you, your spouse to be, and nature.
The Boat Trip Proposal: Hitting the waters is a must on those long summer days. Whether sailing, kayaking, diving or just paddling is your water activity of choice, it's a really fun and unique way to ask someone to marry you. Just don't drop the ring! Our preference would be kayaking across a lake to a secluded spot for the big moment.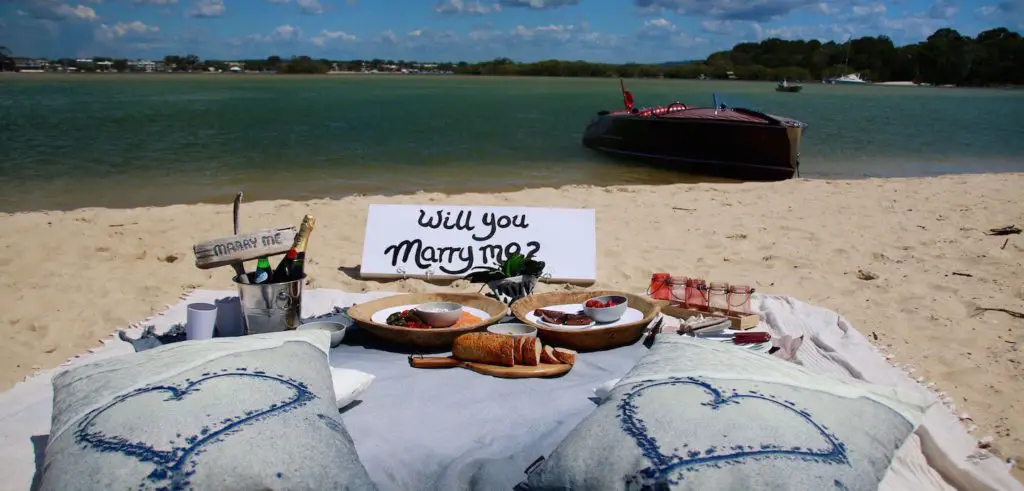 The Vacation Proposal: Jet off to an exotic location and pop the question. It makes for a vacation to remember, and you'll still get some privacy to enjoy before friends and family descend with good wishes once you get back home. Again, make sure to pack the ring carefully and if possible, let customs know discreetly when going through security!
The Secluded City Moment Proposal: The great thing about summers in the city is that they often empty of locals for certain weekends (like Labour Day or public holidays). That means those secret spots that only locals (i.e. not tourists) know about will be nice and quiet. Perfect if you have a favourite spot you both love, but don't want to share it.
The Festival Proposal: Festivals or county fairs are a great way to propose for fun loving couples. What could be better than good music, good food, good beer and good friends? A great moment to remember forever with all the things you love most in the world. For maximum romance points, do it at the top of the ferris wheel!
The Farm Proposal: Summers on a farm are always lots of fun (as well as lots of work, but let's not talk about that part). Climb on top of a bale of hay, take a stroll through some crop fields, or organise a secret barn dance before popping the big question. Great for country loving couples.
The Adventure Proposal: Summer is prime time for adrenalin inducing activities. If you're both active and enjoy hair-raising stuff like sky diving, bungee jumping or paragliding – and you can manage to hold onto a ring while doing any of the above – it's certainly a proposal to remember. Just don't shout 'will you marry me?' when she's about to jump; it may not go down too well, in more ways than one.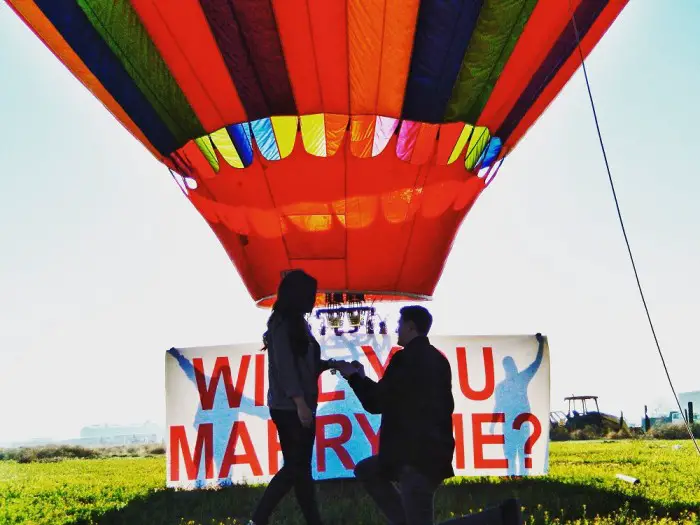 The Hot Air Balloon Proposal: Summer weather means calm conditions that are perfect for hot air ballooning…. One of THE most romantic ways to propose! Kit out your basket with champagne and snacks, and get down on one knee high up in air. Next stop; cloud nine!
The best part about a summer engagement? It means you still have a whole year to plan for a summer wedding!