Did you know winter is the most popular season for couples to get engaged? We bet you did, because you're probably seeing an increase in engagement ring selfies on your social media feeds already. Winter is tailor made for cosy nights in, family gatherings and unforgettably beautiful scenery, so can you blame all those happy couples for choosing the most festive time of year to make that leap?
If you're thinking of springing your own proposal over the next couple of months, here are 10 super romantic ideas for inspiration…
The Christmas Tree Proposal
Christmas is a magical time of year, and Christmas proposals are always extra special. Family and friends are close at hand to help celebrate, there's festive cheer everywhere you look, and there can even be a dusting of snow to make things even more romantic. The classic Christmas Tree proposal never goes out of style. Whether you get down on bended knee with a special gift on Christmas morning, hang a secret bauble on the tree with an important message, or pop the question after your but the angel on top, it's guaranteed to be a moment you'll treasure forever.
The New Year's Eve Proposal
What better way to start off the new year than committing to spending the rest of your lives together? The champagne, fireworks and celebrations are already there, so it's almost rude not to get engaged on New Year's Eve! For best results, find a secluded rooftop where you can see the stars, watch the revelry going on down below, and have a pretty skyline to look at. It's even better if you let family and friends know what's about to happen so you can disappear to the aforementioned roof without question, do your thing, then invite everyone else up to celebrate and ring in the new year at midnight.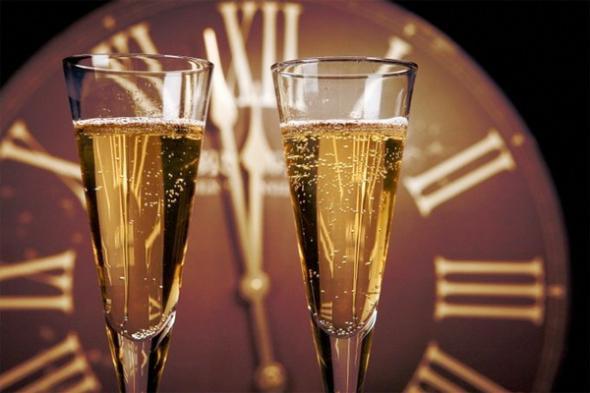 The Surprise Visit Proposal
With Thanksgiving, Christmas and New Year's Eve all taking place in winter, visits home to family are inevitable. A very cute proposal idea that we see a lot is to 'pretend' that you're visiting families separately this year. After a tearful goodbye when your significant other has arrived at his or her family home and you're supposedly long gone, knock on the door and surprise them by getting down on one knee. Once the initial excitement has passed, you can all enjoy a family celebration over turkey, pumpkin pie and a glass or two of eggnog.
The Light Fantastic Proposal
It seems like festive fairy lights are appearing in homes and on streets earlier every year. One advantage to this, however, is that it provides ample opportunity for writing your special message in beautiful twinkling lights. Or if you'd rather say the words out loud, you can create a stunning otherworldly little corner – outdoors or in – to set the backdrop for the big moment with a few dollars worth of fairy lights. Just keep in mind that you'll need your future spouse to disappear for at least an hour or two while you set up (you know how long it takes to untangle those lights).
The Snowy Proposal
The first snow of the year is always an exciting moment. There's no better view to wake up to than opening your curtains and looking out at an endless blanket of pristine white snow. Unless, that is, you wake up before your other half, get snow suited and booted, and make a tiny trail of footprints leading towards a question written in the snow for them to see when they look out the window. This one works even better if you make it back in time for them to see it while you're still in the room. Follow it up with breakfast in bed, naturally. You may need a back garden for this one.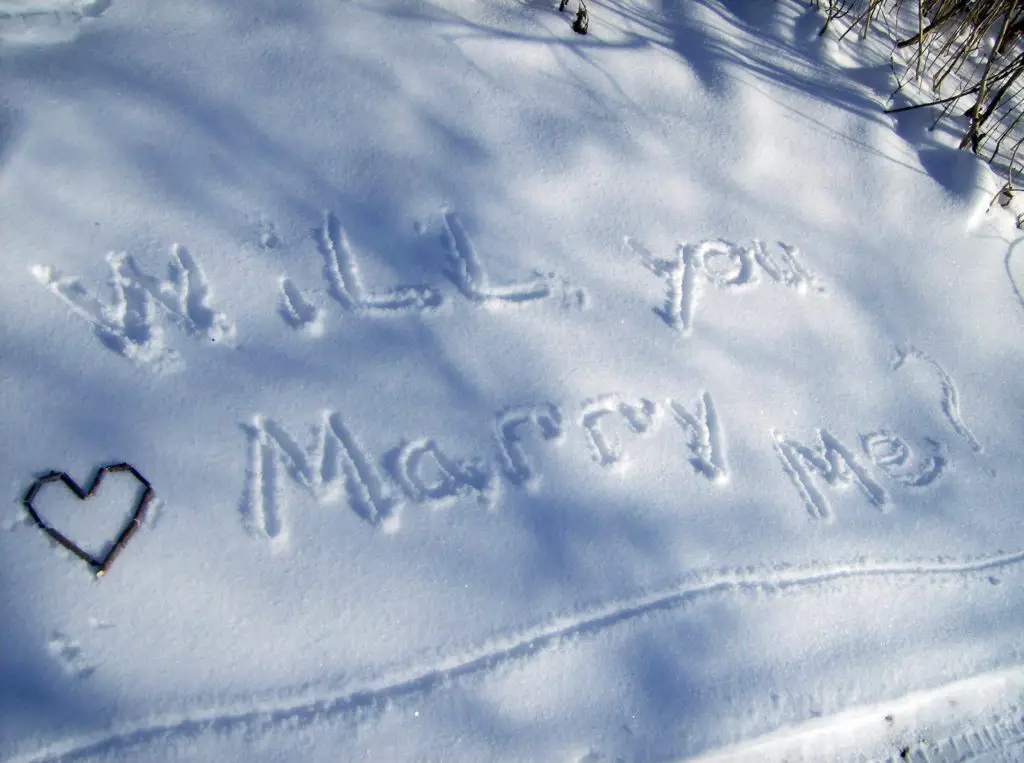 The Hot Chocolate Proposal
Cold weather means warm drinks, and cosy fires, and romantic nights in. Present your bride to be with her hot drink of choice on one such cosy night in by the fire (hot chocolate is always a good choice, but mulled wine works well too), but think ahead and do it with a custom made mug that reads 'will you marry me?'. You'll get to keep the mug as a romantic keepsake afterwards, and it makes for an adorably cute story to tell friends and family. You may want to have an alternative drink (i.e. champagne) on stand by though, just in case she changes her mind!
The Winter Adventure Proposal
If your other half is the adventurous type, winter offers up some great opportunities for adrenalin junkie activities. Whether it's skiing, snowboarding or hiking up a snow-capped mountain, nothing will top the rush that a proposal at the bottom of a ski slope or the top of a summit brings. You'll be surrounded by gorgeous scenery, and since you'll be finished up before dark, you'll still have the whole evening ahead of you to celebrate with a fancy dinner, drinks with friends, or a romantic evening alone getting started on wedding plans.
The Winter Getaway Proposal
Don't live somewhere that gets snowy in winter? Never fear, there are plenty of easily reachable places around the world that do, and they all make for perfect proposal backdrops. Our favourite has to be anywhere in Scandinavia, but anywhere close to the arctic circle means you can have the most magical setting of all for your proposal – namely, the Northern Lights. Imagine getting down on one knee in the snow, with the sky above filled with stars and flowing waves of green and purple light? Definitely worth staying up late and driving into the wilderness, if you ask us.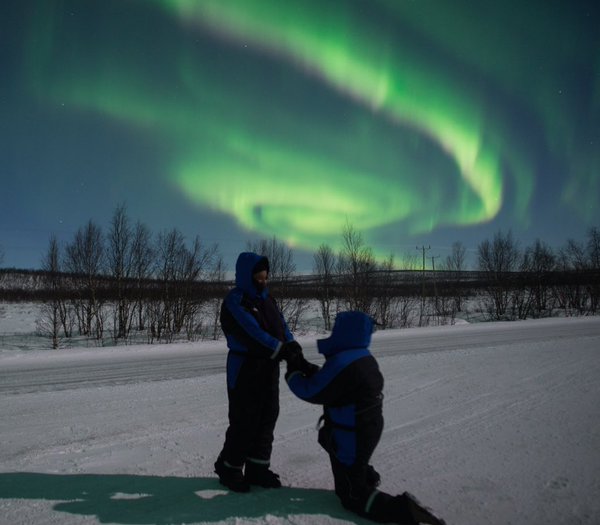 The Ice Skating Proposal
Ice skating is a classic winter time activity, and a classic date night too. If your nerves aren't already shot at the thought of popping the big question to your other half, and if you think you can maintain your balance while getting down on one knee on a giant pool of ice, it's also an adorable way to propose. In fact, wobbling around on the ice may even make it more endearing to your loved one, although it may be an embarrassing moment for you! For a truly romantic moment, splash the cash for a private session on the rink where it's just the two of you, a la Rocky Balboa and Adrienne.
Here is a beautiful engagement moment from JamesAllen.com – The only online jeweller we recommend.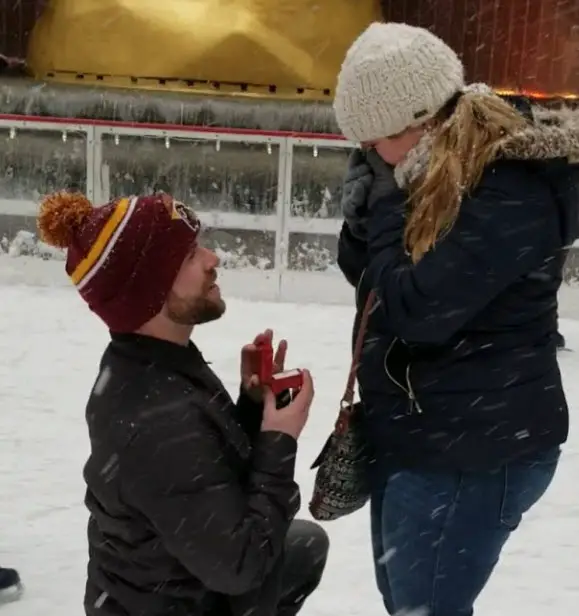 The Outdoor Proposal
Sometimes all you need for a romantic moment is a nice walk on a winter's morning. If there's no snow, frost will still make everything glitter, and if it's a cold morning wherever you go will be more or less deserted. Pick a park, stroll along the sea (but wrap up warm), or just take a sunrise wander through the streets of your neighbourhood before everyone else wakes up. After such a big moment, taking an afternoon nap is a luxurious and necessary treat – you'll need to conserve energy for the influx of congratulations coming your way.