Over the course of their nearly-20 year marriage, David Beckham—whose family name is worth an estimated $1 billion, has gifted his wife with 15 different engagement rings as a token of his love.
From the very first simple design, to the range of rocks she wears now, Victoria Beckham has a veritable diamond carousel of engagement jewellery to pick from. It's not clear whether David always purchases them for her, or whether Victoria also chips in or buys them for herself, but once the ring is in the collection, she cycles through them with consistent regularity.
1998: Victoria Beckham's Original Ring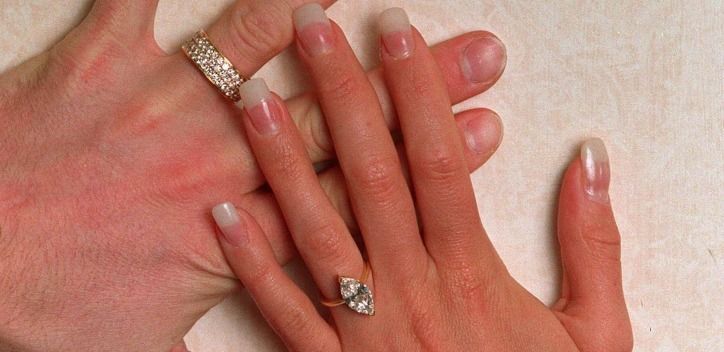 After 10 months of dating, Becks popped the question at the Rookery Hall Hotel in Cheshire, England. The ring in question: a 3-plus-carat marquise-shaped diamond on a gold band from Manchester's jeweler Boodle & Dunthrone.
This was way back when in 1998, but even then, the ring cost around $85,000.
2001: An Eternity Band
A couple of yers after their wedding, Victoria swapped out her engagement ring for a wide pave-set diamond and platinum eternity band for around 18 months. The plain design had a bevelled edge and was the only band she wore. Talk about a statement.
2003: The First Upgrade
In 2003, the rings started getting serious. Victoria debuted a huge emerald cut-diamond with tapered baguette stones set in platinum. The ring was reportedly worth a cool $1.6 million (and we're not surprised!). But he didn't stop there. For Victoria's 30th birthday, David was thinking pink. In 2004, he gifted his wife an oval-shaped pink diamond set in a white diamond halo on a pave band. Did we mention that this ring was also huge? It was reportedly worth $1.1 million at the time.
2005: The Biggest Diamond Yet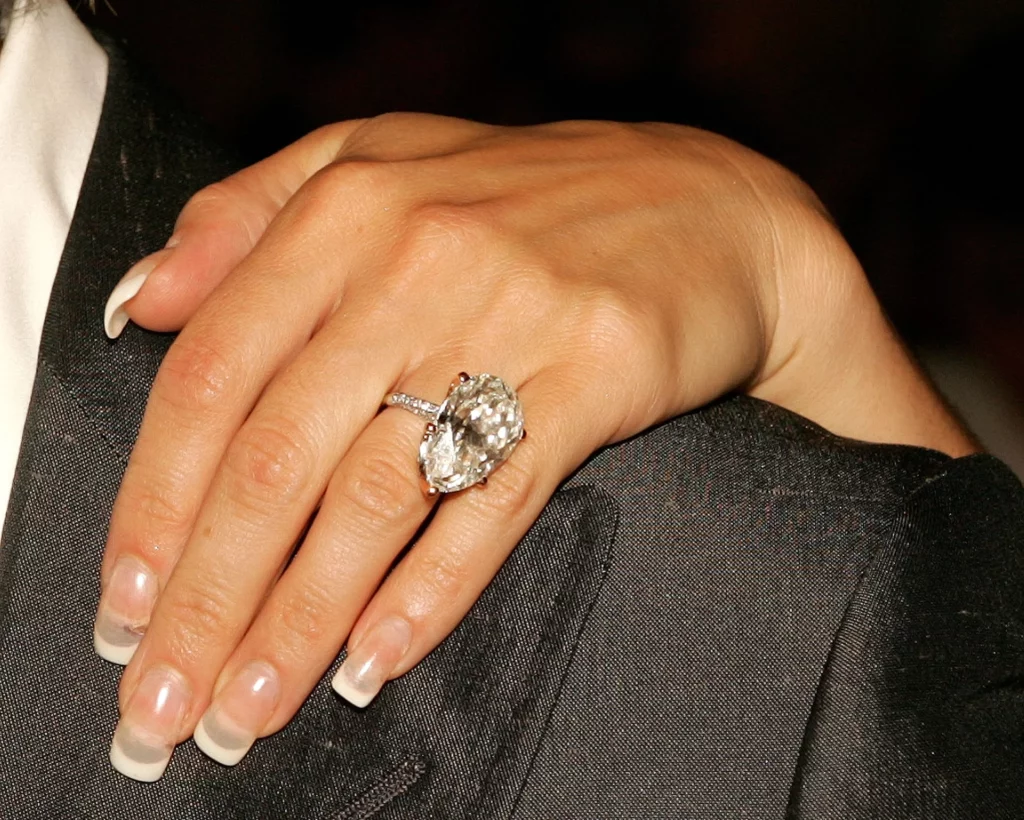 Less than a year later, David went one bigger. In 2005, Victoria was given a pear-cut diamond—perhaps her biggest ring of all 13, coming in at a whopping 17 carats—to replace the pink diamond. It is set on a diamond pave band and we still see her wearing it now nearly two decades later. And it's a good thing she does, as it's said to be worth more than $2.5 million.
Investing in her second coloured diamond, VB next moved onto an emerald-cut below diamond in 2006. The huge stone is set in a yellow-gold pave band to enhance the colour. She regularly wore this ring with two huge eternity bands to flank it.
The following year, she done a 180. Victoria done away with the dazzling diamonds and instead opted for a (equally as flashy) cushion-cut emerald set on a sculptural spiral of diamonds . The ring was worth just short of a $1 million, which was on the lower end of her rings. In the world of the Beckham's, was this a budget option?
2008: Victoria's Chopard Ring
Next up, another emerald cut. This ring came two years later and is again a 180 from her 2006 stone. This one is even bigger than the last, designed by Chopard and comes in at 15 carats.
Moving from emeralds to rubies, VB then picked up an oval cut ruby next set on a diamond halo. This was only seen at a handful of events, but we can't deny it was a beauty.  It was estimated to be worth around $1 million.
2010: Feeling Blue
To complete her precious gemstones set – an emerald, a ruby and a sapphire – the singer turned designer acquired a huge oval-cut sapphire on a skinny pave band. Talk about a combo breaker.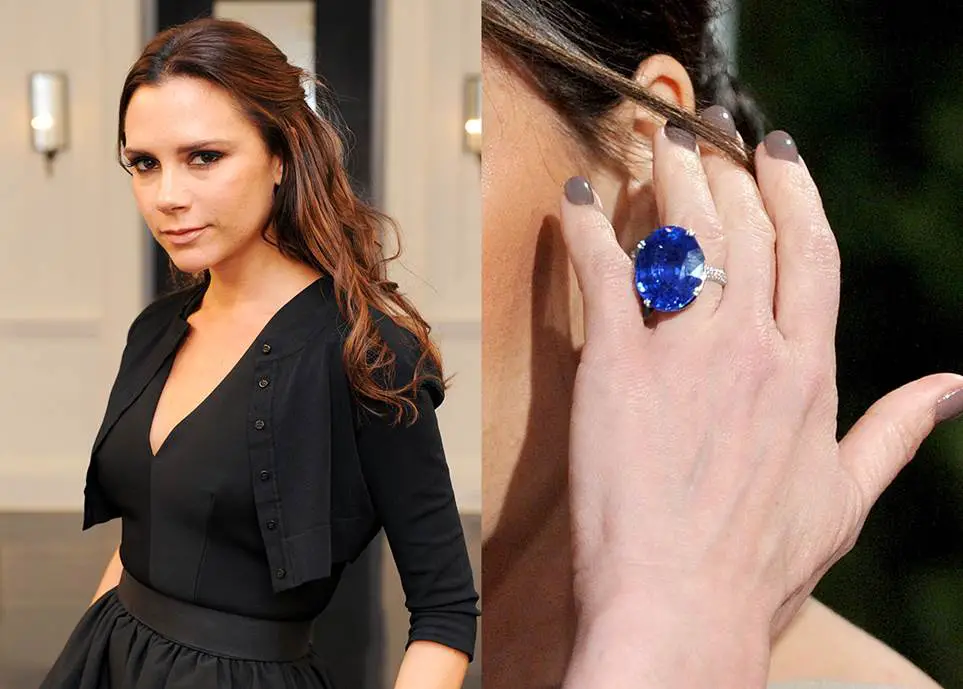 After the 2011 birth of daughter Harper, VB downgraded to a much smaller pink diamond sitting on a yellow band. For the first time in 15 years, Victoria's ring can't be seen from space. But, as you would expect that didn't last long.
2015: The Moonstone
In mid-2015 the fashion designer showed off perhaps her most unique ring to date. A moonstone engagement ring. It didn't get much airtime, as she switched out to an understated square-cut diamond mounted on a platinum pave band shortly after.
In 2018, VB debuted her final ring in New York, a square-cut yellow diamond sits on a pave diamond band.
But let's be real, she's not done – is she? Come on Victoria, don't keep us waiting. Show us the next sparkler!