Do you love pizza so much you'd be willing to marry it? Well that may not be possible, but Domino's Pizza have come up with the next best thing… the pizza engagement ring!
The tasty pizza makers made a 'dough-mantic announcement' (their words) on social media in time for Valentine's Day. They decided to gift one lucky customer who decided to dine in on the day of love with a one of a kind, 22 karat gold, pizza shaped engagement ring!
The ring is adorned with a golden mini pizza slice on top with tiny round diamonds in place of pepperoni. We can't lie – we'd happily wear it, as an engagement ring or otherwise! And judging by the photos, it does actually looks like a well made and, dare we say, actually kind of pretty piece.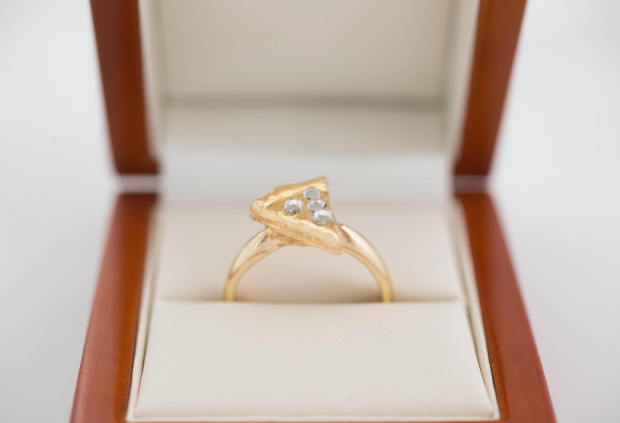 It's not the first time a pizza company has gone all out for Valentine's Day. Back in 2012 Pizza Hut devised a $10,010 dollar Engagement Party Package. For the hefty price tag, the couple recieved; a ruby and diamond engagement ring, limousine pick up, bouquet of her favourite flowers, personal fireworks display, photographer and videographer on hand to capture the moment, and last but not least a $10 dinner box to share (the best part, if you ask us).
Pizza Hut were slightly more generous with their offering, making 10 of the packages available rather than just one Domino's engagement ring. But another 'doughmantic' story made headlines last year too – Vinnie's Pizzeria in Brooklyn designed an innovative and damn tasty pizza engagement ring box. Yes, that's a box made out of pizza, for your engagement ring. Just remember to clean off the grease before you slip the bling on your finger.
We wonder who'll be next up to give us a pizza-related engagement treat?