Take notes: if you want a unique proposal story, you may want to avoid these places.
Whether they admit it or not, most women have a little fantasy somewhere in the back of their minds of a romantic marriage proposal that takes their breath away. And if the internet is anything to go by, plenty of them are getting exactly what they want… in a lot of the same places!
We came across an article from 2015 that lists certain locations that feature in the most proposal videos on YouTube. This research is three years old now, so we'd like to see how much the list has changed since then. But here are the 10 most popular places in the world to get down on one knee. Spoiler alert: the USA, and New York City in particular, is a surprisingly common choice…
#1: Disney World, Florida
We can definitely understand this one. Disney World is a nostalgic, fairy tale, dream come true kind of place for a lot of people… especially Disney fans! It's often a once-in-a-lifetime vacation too, and let's face it… it's really, really fun! Who wouldn't want to watch fireworks light up the night sky over the famous castle, only to turn around and find the person you love down on one knee? HIgh School Musical alum Corbin Bleu did just that when he proposed to his girlfriend, Sasha Clements, back in 2014.
#2: Times Square, New York
Times Square is one of the most popular places to ring in the New Year, and the holiday season is the most popular time for couples to get engaged, so this one adds up nicely. New York City's Times Square, with its lights, its hustle and bustle and its buzzing atmosphere, makes everyone feel like anything is possible. Plus, it's right in the middle of Manhattan. Is there any more iconic backdrop to say 'yes'? We don't think so. Billboard proposals are also pretty popular here, so that may have something to do with it too.
#3: Central Park, New York
NYC does it again, this time with the slightly less crowded but no less dazzling Central Park. This vast expanse of greenery in the heart of the city has so many proposal options; while gently rowing on the water, in the middle of Stawberry Fields, while tucking into a picnic on the Great Lawn, even while checking out some wild animals at the zoo! In winter there's also the option of popping the question while ice skating, and all with the backdrop of the city's famous skyscrapers in the distance.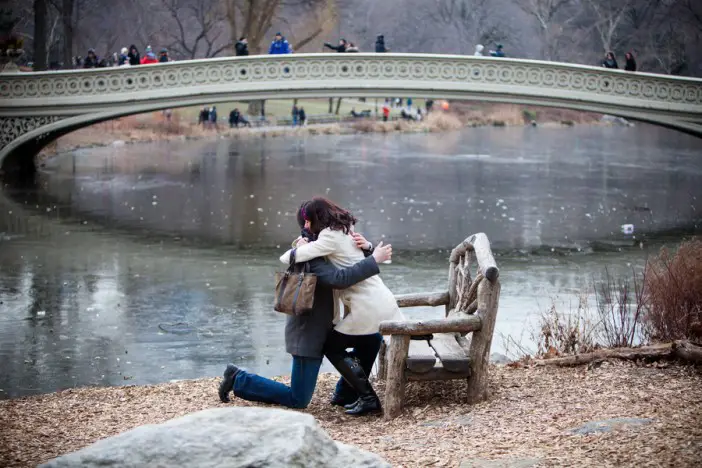 #4: Top of the Rock, New York
Most people head to the top of the Empire State Building for a glorious view of Manhattan. But that particular view is missing something… the Empire State Building! That's probably why Top of the Rock, otherwise known as the observation deck of the Rockefeller Centre, is a more popular choice for asking the big question. Not only is the whole city at your feet, you also have a head-on view of its most famous building to marvel at.
#5: Disneyland, Paris
See #1, but add in some Parisian chic! Disneyland Paris is the European counterpart of Disney World, so it makes sense that this one is pretty high up on the list. All of the same things apply here: iconic status, nostalgia, joy, PLUS it's less than hour from all of the glorious sights and sounds of the City of Light. A Disneyland proposal followed by a trip of the Eiffel Tower, followed by some fine wine and delectable French cuisine? Sounds pretty unforgettable to us.
#6: Universal Studios, Florida
Couples these days really seem to love theme park proposals! Universal Studios already has plenty of adrenaline-inducing rides, but maybe the rush of getting engaged makes them even better? We have to admit, we kind of like the idea of putting a ring on your finger, taking a selfie, then turning around to find some giant minions or characters from The Simpsons waiting to congratulate you! Kudos to anyone who proposes while on a ride and manages to capture the exact moment on camera, too.
#7: Eiffel Tower, Paris
Honestly, we're surprised this isn't higher on the list. The iconic Eiffel Tower is probably one of the most romantic landmarks in the world, in the heart of the most romantic city in the world. It's the ultimate in proposal locations! Always a popular choice for couple's vacations, we think seeing Paris light up at night, watching the boats meander down the Seine, and toasting to love with a glass of champagne at the top of the Tower is hard to beat.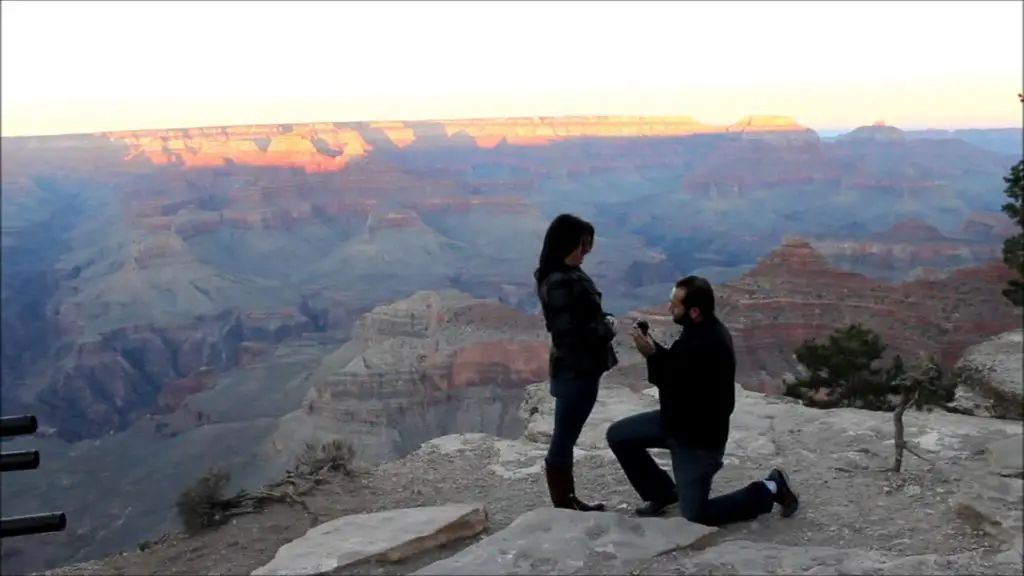 #8: Grand Canyon, Arizona
Helicopter flights and champagne picnics are pretty popular in the Grand Canyon, so seeing this legendary world landmark pop up on this list does not surprise us at all. Not only are the views breathtaking; there are also plenty of secluded spots across this gigantic canyon where it will seem like you're the only two people in the world. Plus once you've said yes, you can hope for a lucky streak in Vegas to get a start on the wedding fund!
#9: The London Eye, London
A giant but gentle ferris wheel that takes in all of London's sights from above, the London Eye is undoubtedly a special place to pop the question. You can see all of the city's icons including Big Ben, Buckingham Palace, Westminster Abbey and more from the cosy confines of your glass pod. You can even make it extra special by splashing out on a VIP experience, with options to enjoy champagne, chocolate or wine while you take in the view.
#10: The Empire State Building, New York
New York makes it onto the list one last time (that's four entries in total!) with the city's most recognisable landmark, the Empire State Building. Sitting right in the middle of Manhattan, a trip to the top of this skyscraper provided views of the whole city. Watching the sun set from the observation deck is unmissable at the best of times; throw in a proposal too, and it's an experience nobody is ever likely to forget. You'll just have to contend with a lot of tourists taking pictures.