This is what they'd look like. According to the company's head designer, anyway.
Designing the best phone in the world just isn't enough these days for Apple's Chief Designer, Jony Ive. He's the guy that puts the beauty into your iPhone, your iPad, and your Macbook. He's responsible for those love 'em or hate 'em AirPods. And now, he's designed his very own diamond ring.
No, wait, we're not sure you understand us here. This ring is made ENTIRELY out of diamond.
Ive teamed up with Marc Newson, another famous name in the design world – industrial design, to be specific – to create the ring in the name of charity. Five years ago the pair curated the (RED) auction, which showcases the very best of design and innovation and donates the proceeds to the Global Fund to fight against AIDS, Tuberculosis and Malaria in Africa. Now they've come together again for the same cause, this time creating an all-diamond ring with Diamond Foundry to be auctioned off at the next (RED) event.
How does one make a diamond ring, exactly? By cutting through a block of diamond with state of the art technology. Ive and Newson's ring will be made to fit the buyer's finger exactly, with between 2,000 – 3,000 facets – some of them measuring mere micrometres (really, really, really tiny, in other words). The interior of the ring will be cylindrically cut using a similarly tiny water jet inside which a laser beam is cast. That's pretty high-tech for a piece of jewellery.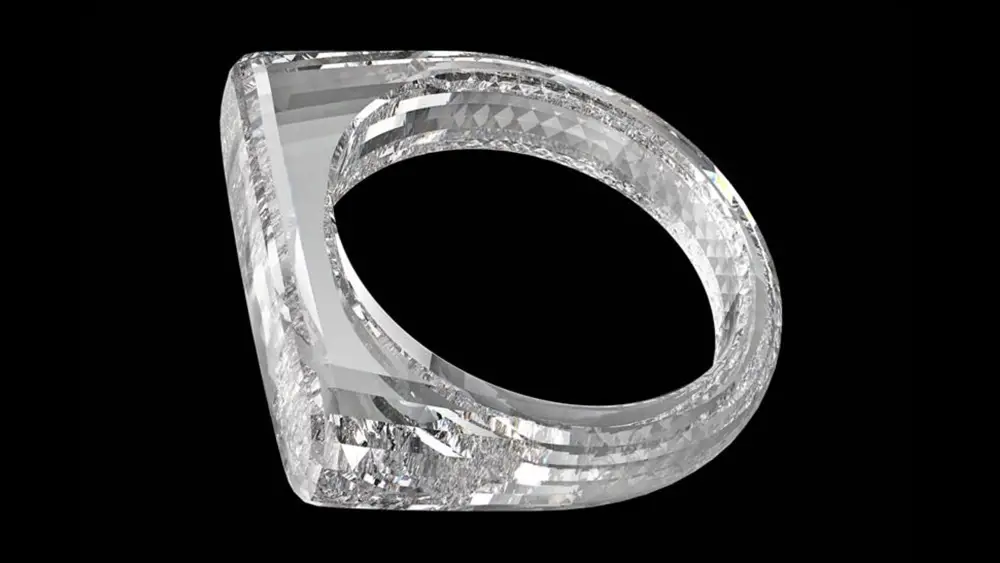 Sotheby's, who are running the (RED) auction, had this to say about it:
"Consistent with their mutual obsession with transforming raw material into objects of value, Ive & Newson's design is singular, clear and un-compromised by the traditional metal settings and bands that have previously been required to create 'diamond rings'. Theirs will be created by removing material rather than adding – an ambition made possible by the extraordinary scale of the stone which will enable the ring to be completely made of this material."
The auction is taking place on December 5th and this ring is expected to fetch between $150,000 and $250,000. Should you have that amount of cash to splash, keep in mind that the ring will only be made up to a size 5. So whoever you give it to needs to have petite little fingers!