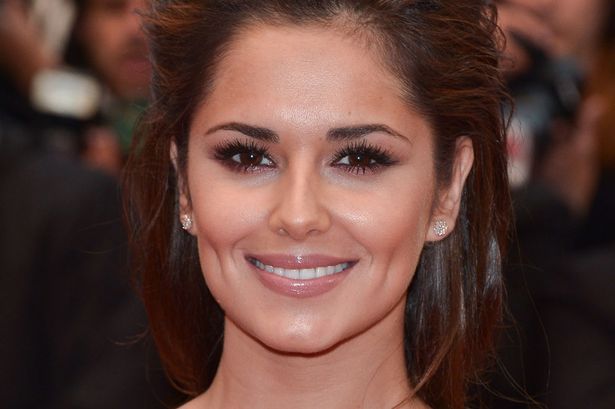 Every week we pick the best and worst engagement rings to emerge from the land of the rich and famous. This week, we've pitted two engagement rings from the same lucky lady against one another. Welcome to the Cheryl Cole edition of Ring Picks!
Engagements happen on a daily basis in showbusiness. Naturally, every bride – whether famous or not – thinks that their own engagement ring is the most beautiful in the world. The rest of us, however, may or may not feel the same. We scour the web every week for the latest celebrity engagement news, and choose what WE feel are the best and worst. It's all done in the spirit of fun, we mean no harm – and of course we wish the best to all of the happy couples! Here are our picks for this week…
The Worst: Cheryl Cole
Cheryl Cole, member of former British pop group Girls Aloud and judge on the X-Factor, has had an eventful love life always subject to intense media scrutiny. Most recently, it has been claimed (although not yet confirmed) that she's pregnant with current boyfriend Liam Payne's baby. That's Liam Payne of One Direction fame, in case you were wondering. Tabloid newspapers are expecting an engagement announcement any day now.
Cheryl has been married twice before however, and both engagement rings are worth a closer look. Her first marriage was to footballer Ashley Cole when she was just 23. It ended in divorce four years later due to Ashley's multiple infidelities, but up until that point they were one of Britain's most talked about celebrity couples.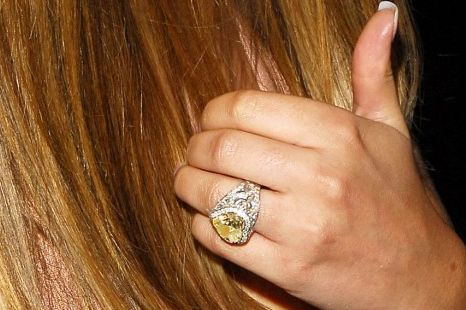 Ashley gifted Cheryl with a yellow heart shaped diamond said to be worth £150,000. It has a halo of white diamonds and is the jewel in the crown of a wide and incredibly detailed band that features more diamonds. This is one that really needs to be seen to be believed.
Our Verdict: Sorry Cheryl, but there's only one word that comes to mind when we look at this bling; ostentatious. It's over the top, and while yellow diamonds are never to be sniffed at, we feel the overly elaborate setting takes away from the covetable stone in this case.
The Best: Cheryl Cole
Cheryl's second marriage was a whirlwind and entirely secret affair. It happened in in July 2014 with a shock announcement that she was both engaged and already married to new boyfriend Jean-Bernard Fernandes Versini. Talk about killing two birds with one stone!
Although now divorced, Cheryl and Jean-Bernard seemed to be very much in love, and Cheryl flaunted her fabulous new engagement ring at every outing. A far cry from her previous bling, experts valued Jean-Bernard's ring choice at a cool £300,000. It's an emerald cut white diamond with wide baguette diamonds on the side and a flat, slightly wider than average platinum band. It's estimated at five or six carats with trapezoid side stones (a pretty rare cut).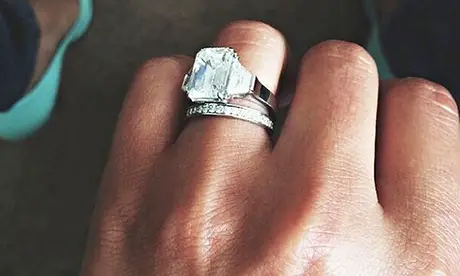 Who knows what kind of ring she'll get from Liam, if the many inches of gossip columns can be believed?
Our Verdict: Cheryl's second engagement ring is a much classier affair than her first. The large diamond with baguette accents is a classic Hollywood design, with legendary stars like Grace Kelly proudly wearing them. It's simple but flawless, and much more appropriate for Cheryl's fashion icon status.