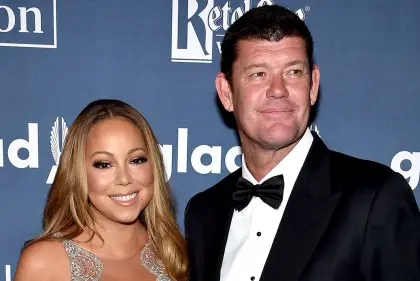 It's never a happy occasion when couples break up, but when celebrity couples break up, there is often a lot more at stake… like a pretty expensive engagement ring for one thing. Here are 9 celebrity couples who never managed to make it down the aisle, and the engagement rings that never got to live out their lives on famous fingers…
Mariah Carey and James Packer
The biggest celebrity split since Brad and Angelina, superstar diva Mariah Carey called time on her relationship with businessman James Packer last month. That means she'll have to give up her $10 million, 35 carat flawless diamond engagement ring, but so far she's still wearing it out and about. We wouldn't be in a hurry to give it up either…
Julia Roberts and Kiefer Sutherland
In one of the most scandalous runaway bride stories of the 1990s, Julia Roberts called off her wedding to Kiefer Sutherland with just three days to go. The pair were in their early twenties and Kiefer later praised Julia for 'seeing that they were too young'. Their rocky relationship is definitely one we would've liked to watch from the sidelines for a while longer, though.
Alanis Morissette and Ryan Reynolds
We never knew they were a couple either! Canadians Alanis and Ryan were together for five years and engaged for three, between 2002 and 2007. He gave her a beautiful cushion cut solitaire engagement ring – delicate and romantic, but a far cry from the giant pink oval diamond he gave his now wife Blake Lively on their engagement.
Kate Moss and Pete Doherty
The epitome of the rock and roll couple, supermodel Kate Moss and musician Pete Doherty's romance has tabloids in at fever pitch in the 2000s. She performed at his shows, and he was well known for his drug problems. She wore a fabulous square cut engagement ring with a wide tapering setting before they called it quits in 2007
Gwyneth Paltrow and Brad Pitt
Think how different Hollywood red carpets would be if Brad Pitt and Gwyneth Paltrow had stayed together. They dated from 1994 and 1997 and were all set to walk down the aisle, but Gwyneth called off the engagement because she realised she wasn't ready for marriage. She later married Coldplay's Chris Martin and he married Jennifer Aniston.
Jennifer Lopez and Ben Affleck
'Bennifer' was one of the first portmanteau celebrity couple names, and Jennifer Lopez's engagement ring from Ben Affleck was one of the first modern day 'bling' rings of the Beyonce and Kim Kardashian contingent. From 2002 to 2004 every move of their whirlwind romance was documented by paparazzi, and so was the 6.1 carat pink diamond engagement ring Jennifer received. It's a shame this one didn't work out, because we'd have really liked to see some more pictures of that baby.