There's one thing that really gives the game away when you're planning a surprise proposal. It's not your sweaty forehead, or your nervous demeanour, or the fact that your clothes are smarter than usual… although all of those can be pretty obvious, too. What we're talking about is that telltale lump in your chest pocket – the ring box!
If you've had this problem you're not alone… far from it. Because over the past few years, more and more 'slimline' ring boxes are popping up all over the internet to help keep that bling undetected. Here's our pick of the bunch.
Ring Stash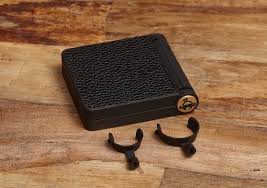 Arguably the 'original' slim engagement ring box (or at least the first one we came across), Ring Stash is the brainchild of MIT graduate and engineer Marvin Velazquez. Like many men, Marvin came up against the problem of the 'bulky box' when he was proposing, and took matters into this own hands. His design incorporates a rotating gear to make the ring rise up when opened, has a secure magnetic closure, and can hold rings up to size 12. It's $64.99 for a box, but we say it's worth it.
Clifton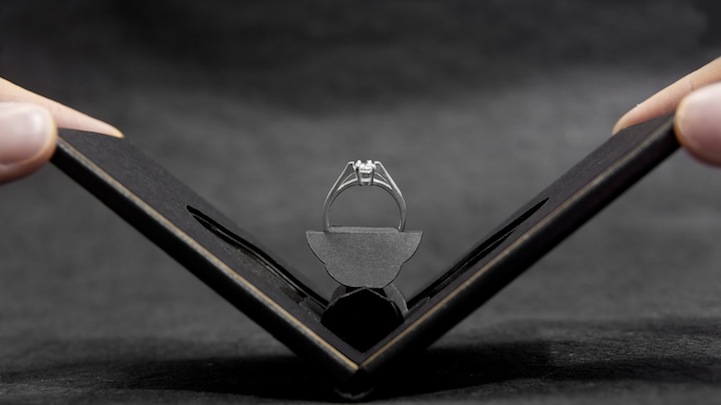 At just 1cm thick, the Clifton ring box is one of the slimmest you'll find. First envisioned by packaging designer Andrew Zo, it's no wonder it works so well. He designed it to 'present the ring with a delightful effect similar to that of a flower slowly blooming', with a similar rotating gear to the Ring Stash box. Each one is handmade in Canada from paper, cotton and genuine leather, and prices start from $99 Canadian dollars. You can even get your box embossed with you and your fiancee-to-be's initials, for an additional cost.
Monarch Box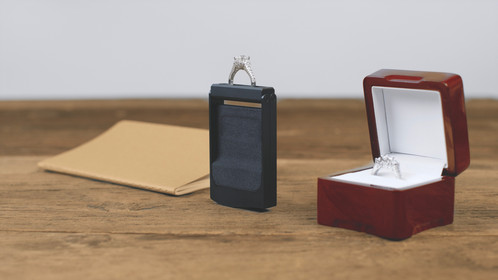 Inspired by Apple's sleek and intuitive designs, the Monarch Box came into being to 'reinvent the engagement ring box'. Cut using precision CNC equipment, lined with 'Bridal Satin', bead blasted and finally anodized in satin black, it brings high tech style to the ring box. The Monarch Box is the most compact of all in this list, weighing 60 grams and standing at 12 mm thick. Magnets keep it securely closed and aluminium means it's 100% protected. Prices start at $129.
Parker Square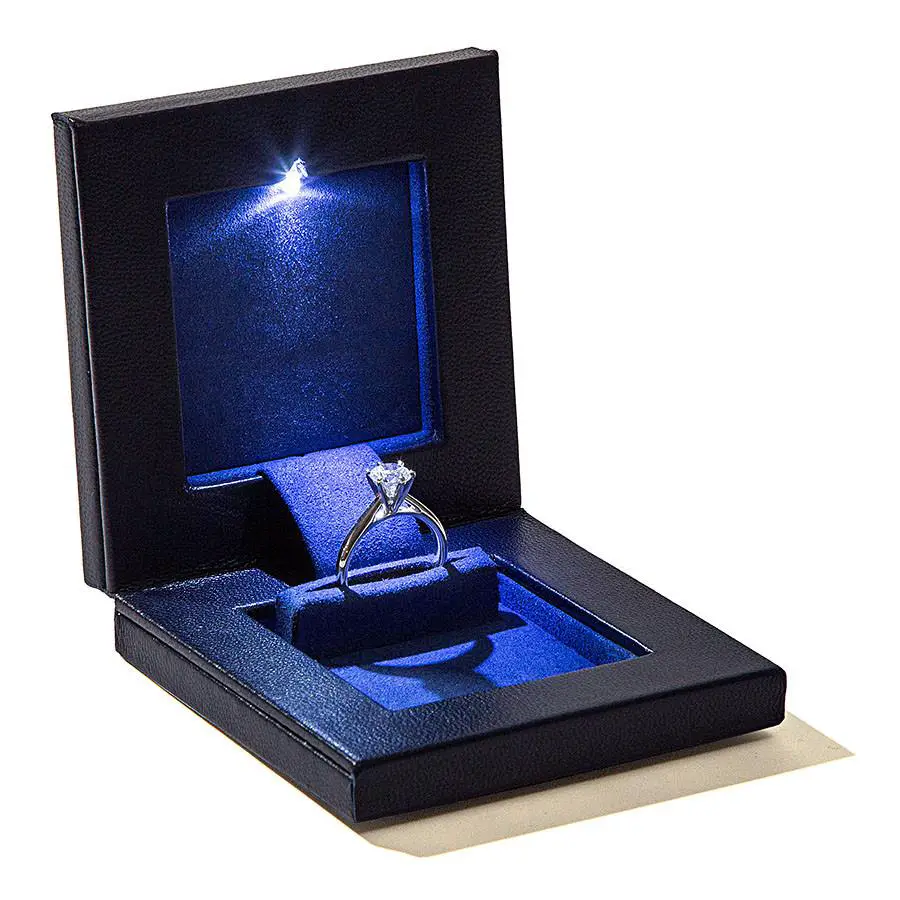 The Parker Square box is more or less the same as the others we've listed, except for one very cool feature. If you're proposing after dark or in romantic, dim lighting, you can opt for the 'Night Box', which comes with a tiny LED light inside to make that diamond shine bright! Handmade with obsessive attention to detail, it even has a frame inside the top lid so you can add a snapshot of your proposal moment. They really have thought of everything here. The Night Box costs $118, and slightly less cool (and light-less) Day Box is $98.