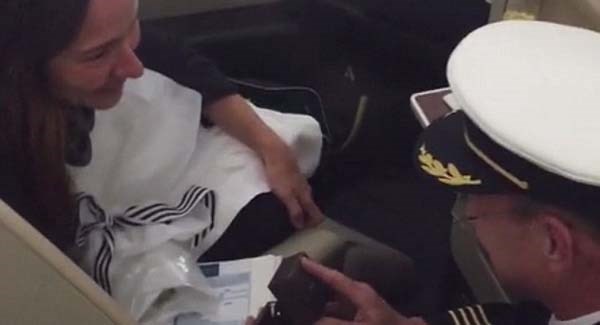 This is one way to get your passengers to pay attention to flight announcements…
Captain Ellis is a seasoned pilot who has been transporting travellers on long-haul flights with Qantas for over 30 years. It seems he's more than capable of keeping his cool in any airborne situation… even when proposing over the in-flight intercom!
Ellis was at the helm of a long-haul flight to South America recently with his girlfriend on board, who was travelling home to visit her family. Once the plane had reached cruising altitude, his voice came over the intercom once again for a surprise announcement.
Ellis told the cabin that 'we have a very special passenger on board today. Her name is Anna. She's travelling back to South America now to her family, and I want to make sure she comes back to me in Australia. So now that I have her complete attention, Anna, quieres casarte conmigo? Will you marry me?'
In a video filmed by one of the cabin crew, Anna can be seen beaming from ear to ear in her seat when she realises what's happening. Ellis then emerges from the cockpit with a bouquet of roses and a ring and gets down on one knee to ask his love the big question face to face.
Clearly she said yes, and the cabin erupts in a warm-hearted round of applause. We bet there wasn't a dry eye in sight after this touching moment. It's just a shame he had to get straight back to work once it was over! Watch the moment unfold below.
On QF93 this weekend, Qantas Pilot, Captain Dooley Ellis had an announcement for a very special passenger… pic.twitter.com/td75rvl7oR

— Qantas (@Qantas) October 31, 2016
Congratulations to Captain Ellis and Anna!