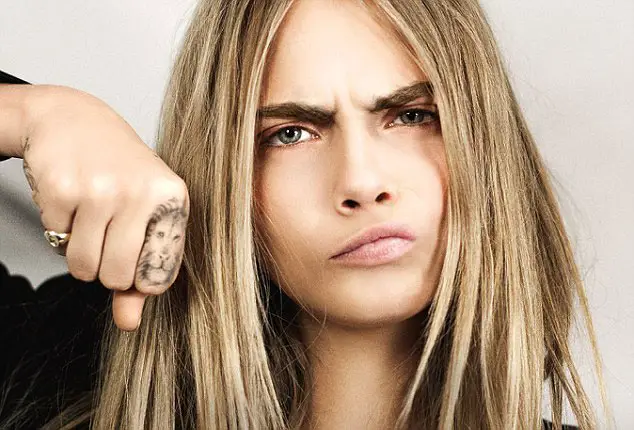 Every week we pick the best and worst engagement rings to emerge from the land of the rich and famous. This week two VERY alternative engagement rings have appeared on the fingers of two showbiz stars…
Engagements happen on a daily basis in showbusiness. Naturally, every bride – whether famous or not – thinks that their own engagement ring is the most beautiful in the world. The rest of us, however, may or may not feel the same. We scour the web every week for the latest celebrity engagement news, and choose what WE feel are the best and worst. It's all done in the spirit of fun, we mean no harm – and of course we wish the best to all of the happy couples! Here are our picks for this week…
The Best: Cara Delevingne
Model turned actress Cara Delevingne is known for her distinctive eyebrows, her bubbly personality and her surprisingly good performances in Suicide Squad and Paper Towns. At the young age of 24 she's already achieved a hell of a lot, not least breaking into Hollywood successfully after modelling for the likes of Burberry, Dolce & Gabbana and Chanel. She's been in a relationship with Annie Clark, better known as musician St. Vincent, for the past year. At recent catwalk shows at Paris Fashion Week, the pair were spotted wearing matching rings on very specific fingers. Could they be engaged?
There has been no confirmation from either side, but the pair do look very much in love. And the rings are just as stylish as you would expect from this chic couple. It's a large elaborate silver/white gold/platinum affair with three sizeable round brilliant diamonds placed vertically in the centre. The setting is very wide and covered in intricate detailing. Think Lord of the Rings or Game of Thrones fantasy-style jewellery with a fashion edge and you're pretty much there.
Our Verdict: Engagement ring or just an ordinary but extraordinary ring, there's no doubt Cara has impeccable style. Only someone as fashion forward as Cara could pull it off, but she does so spectacularly. It may not be for everyone, but we think it's all kinds of awesome.
The Worst: Angela Kinsey
Angela Kinsey was everyone's favourite character on The Office….. Or not. She played the judgemental, unfriendly, party-pooper accountant also called Angela – but we're sure it's no reflection on her real personality! She has one child from a past marriage and her boyfriend has a further two, and he involved all three of them in what is the cutest proposal story we've heard in a while…
The couple were heading out to dinner when Angela's daughter asked her to come look at a fort her and her step-brothers had built in the garden. Angela obliged, made her way out to the garden and was told by the kids to sit on a blanket by the pool. They presented her with hand-made cards and flowers before the man of the moment appeared around the corner with a ring. We're not crying, we swear…
So what about the ring? It definitely bucks the Hollywood trend of a giant diamond on a platinum band. It's a simple yellow gold band with an eye-popping side-set emerald, which is the birthstone of all 3 of Angela and her partner's kids. A low-key bezel setting keeps it all wrapped up.
Our Verdict: Don't get us wrong, we love simplicity when it comes to engagement rings. But this one is just a little too simple for us. There's nothing that makes it really special to look at. It's beautiful and all, but it just seems a little too everyday for an engagement ring. Sorry Ange.