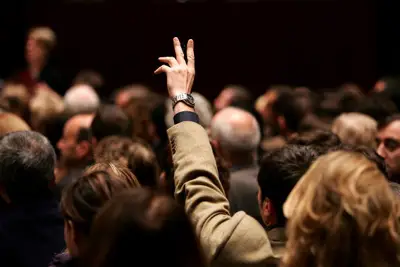 When it comes to buying an engagement ring, most people go down the tried and tested path of visiting a jewellery store, picking out the ring they like the most, and handing over their credit card. Some may be a little more adventurous and get theirs online, or some may even get their hands on an heirloom or vintage piece from a family member. One thing we almost never hear about however is couples purchasing their engagement ring through auction – one exception being Olivier Sarkozy, who presented Mary Kate Olsen with a stunning 1950s Cartier piece. So why should you consider this, and how do you go about it? We'll tell you…
Auction vs. Retail Purchasing
One distinct advantage about buying engagement rings at auction is that your dream bling won't be subjected to retail tax or price mark-up. That means auction rings often have a much lower asking price than store rings. However; other trade tax and the auction house commission is not added on until AFTER the item is sold. So you could end up getting a great deal, or only saving a couple of dollars (but every penny counts). The obvious downside to auction rings however is…. Competition. There's a risk that you'll lose out on your dream ring to someone else because they out-bid you. If you have a very specific vision of what you want, this can also be difficult to find at an auction – you may be better off getting a custom-made ring.
How Do Jewellery Auctions Work?
The process is pretty simple, and quite exciting! The auction itself and some select pieces up for sale will be announced in advance, always on the auction house's website and sometimes in general media too. A viewing will be arranged for interested buyers a few days before the auction. This is your chance to see the jewellery up close, try it on for size, and ask the experts any and every question about it. On the day of the auction, there will be a running order of 'lots' – find out when the items you're interested in will be up. Then it's a matter of placing your bid and seeing what happens. If you're unable to attend the auction itself, you can leave your maximum bid beforehand and hope for the best. It's usually not as dramatic as it looks on TV, but if you're within reach of getting the engagement ring of your dreams it can be pretty thrilling!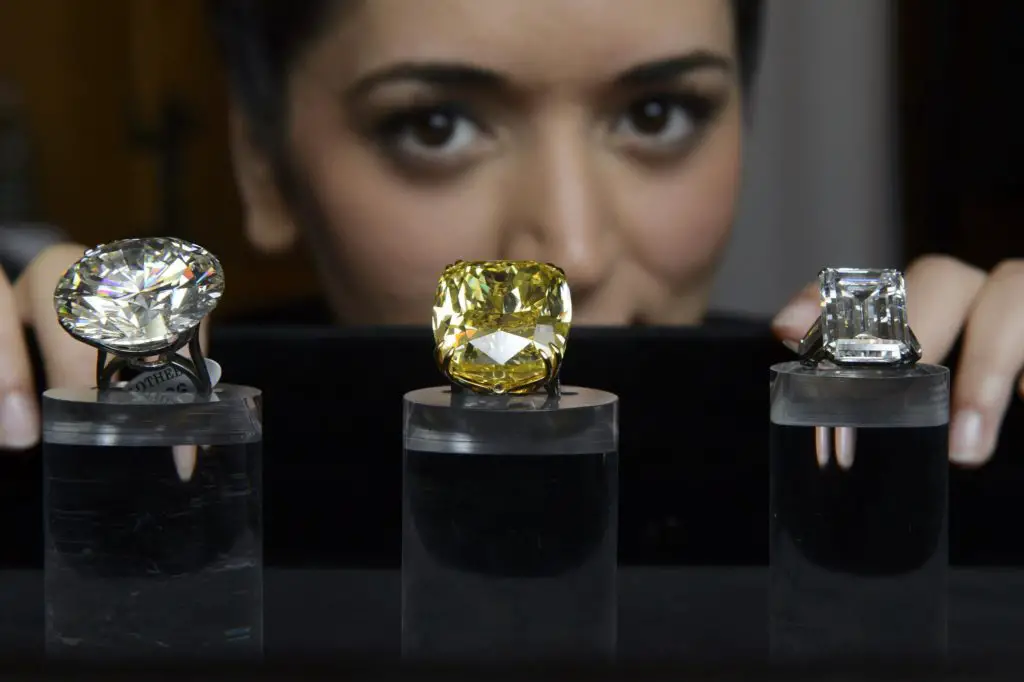 What Kind of Engagement Rings are Auctioned?
This is the really interesting thing about jewellery auctions – you never know what you'll find! In the majority of cases vintage or antique pieces will be on display, but the style, period and backstory always varies greatly. From a retro 1960s statement piece to an elaborate, hand-crafted Edwardian ring set, there is huge variety available at auctions that you'll never find anywhere else. Engagement rings at auctions are usually of very very good quality too, although they may not come with certificates which are a 21st century invention! If you have your heart set on a vintage engagement ring and are open to looking at different styles and eras, an auction is definitely the ideal choice. If you want a guaranteed 100% conflict free gemstone, it may be wise to buy new instead.
Let's Talk Money…
The golden rule of buying an engagement ring at an auction is to decide on your maximum price before you even set foot in the room. And in addition to that, do NOT go above your maximum price when in you're in the room, no matter how much you want the ring. Remember you still have to add tax and commission, and your rival bidder could have a much higher budget than you. If bidding goes past your limit, call it fate and walk away. There will be other auctions and other engagement rings. The starting price is entirely dependent on each individual piece, so it's worth checking out some online auctions just to get a feel for your potential budget before you attend one for real.  
Good luck!