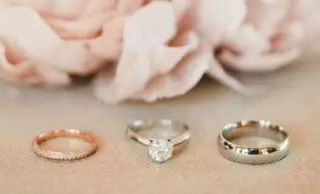 It's a decision every bride has to make. Some can choose without any difficulty, but some find it a little less easy-breezy. Your engagement ring is a beautiful and symbolic piece of jewellery, after all. But is it appropriate to wear it on your wedding day? We weigh up the pros and cons…
Pros
Not that you don't look fabulous every day, but your wedding day is probably the one event in your life where you look a little more fabulous than usual. Beautiful dress, perfect hair, a never-fading smile. What harm is adding a little bling to the ensemble too? It'll make you feel like two million dollars instead of the usual one million!

There is no more perfect accessory to a pristine wedding dress than a sparkling engagement ring. Diamonds seem to shine even brighter against the traditional wedding colours of white and silver. If you're not wearing any other jewellery, it'll draw attention to it even more. It's the ideal outfit to show off your ring.

Wearing your engagement ring on the day and then adding a wedding ring to it when the deed is done has a beautiful 'full circle' kind of symbolism too it. The promise you and your spouse made to one another at the engagement has finally been fulfilled with the second ring joining your finger. Plus there's a cool novelty to seeing the two together for the first time!

Part of the tradition of an engagement ring is that you wear it every day, to announce your commitment to marry your partner to the rest of the world. Why should that stop once the marriage has happened? If anything it's the opposite of what the tradition says. Plus, it would be a shame to trade a plain wedding band for a beautifully crafted engagement ring. Just saying.
Cons
Sticking with the last point above, there's one undeniably good reason for not wearing your engagement ring on your wedding day; because you wear it every other day! Your wedding band, if you even choose to wear it every day, is destined to be forever overshadowed by your much prettier engagement ring. It makes sense to dedicated one day solely to your wedding ring; and your wedding day is the obvious choice.

Before DeBeers made diamond engagement rings the billion dollar business they are today, the tradition was to exchange simple wedding bands on the day to symbolise your official union. If you're a traditionalist at heart, then you should not be wearing an engagement ring on your wedding day anyway.

Your engagement ring naturally draws attention to itself, and that could be attention that was initially given to your dress, or your smile, or your general glow of beauty. If you want the focus to be on you rather than your ring, consider slipping it off for one day and letting your natural beauty shine instead.

Your wedding day is about one thing and one thing only: joining your life with your partner's for the rest of eternity. It's about the future, not the past. And the past involves your engagement ring. The big promise you made before the even bigger promise. With that logic, your wedding band is way more important than your engagement ring, and should be given the focus it deserves.
Still can't make up your mind? There's an easy solution; switch your engagement ring over to another finger, or better yet, another hand, and wear both!