Every week we pick the best and worst engagement rings to emerge from the land of the rich and famous. In this edition, we spotted a seriously gorgeous ring at the Golden Globes…
Engagements happen on a daily basis in showbusiness. Naturally, every bride – whether famous or not – thinks that their own engagement ring is the most beautiful in the world. The rest of us, however, may or may not feel the same. We scour the web every week for the latest celebrity engagement news, and choose what WE feel are the best and worst. It's all done in the spirit of fun, we mean no harm – and of course we wish the best to all of the happy couples! Here are our picks for this week.
The Best: Catriona Balfe
Unlike most people, we love the dreary, dark months of January and February. Why? Because it's Hollywood's awards season! Aside from the beautiful red carpet dresses and the inspiring acceptance speeches, which are of course great, we also get a sneak peek at plenty of brand spanking new celebrity engagement rings. The recent Golden Globes ceremony did not disappoint, and leading the pack was Outlander actress Catriona Balfe.
Catriona plays Claire Randall in the historical time travel TV series (yes, we know, confusing!), a nurse in the Second World War who is transported back to 18th century Scotland and finds herself in the middle of the Jacobite risings. Off screen, she thankfully plays a much more pleasing role; that of newly engaged fiancee! Her boyfriend of two years, Tony McGill, proposed over the holidays, and the Golden Globes was Catriona's first public appearance with her new bling.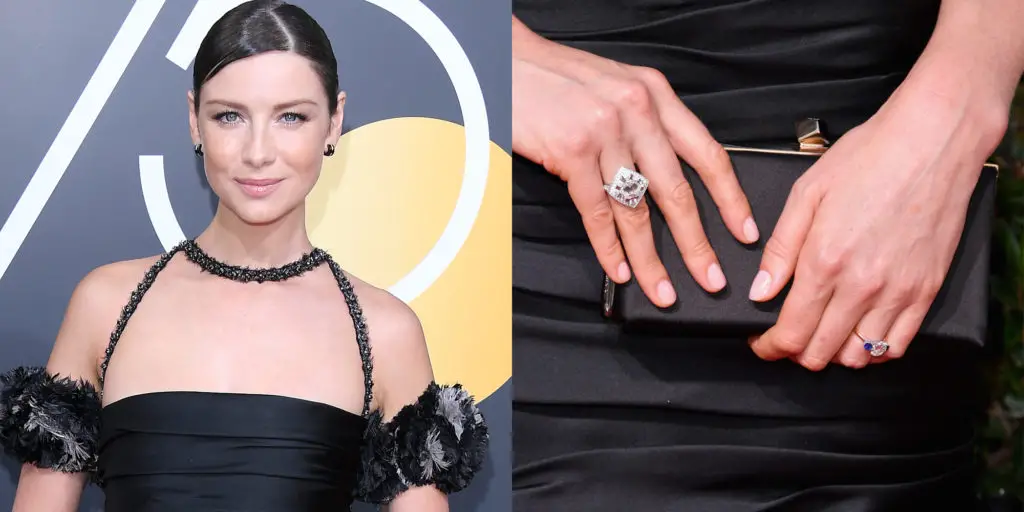 So what's it like? In a word, GORGEOUS. Catriona was wearing a beautiful round brilliant white diamond on a delicate, plain gold band. The centre diamond is accented with two smaller round sapphires, creating a classic, timeless, and definitely eye-catching engagement ring.
Our Verdict: 10/10! We love this engagement ring. The three-stone design is only set to become more and more popular, and the combination of deep blue sapphires, warm yellow gold and bright sparkly diamond is a real treat for the eyes. Excellent choice!
The Worst: Meghan Trainor
'All About That Bass' singer Meghan Trainor not so long ago sang to her 'Dear Future Husband.' Well now it looks like some lucky man will be listening very carefully to that song… because she just got engaged!
Meghan has been dating her Future Husband, Spy Kids star Daryl Sabara, since 2016. According to the starlet herself, knew he was 'the one' after just three months of dating. He certainly pulled out all the stops for the proposal, as the video below proves. He got down on one knee underneath a tunnel of sparkly Christmas lights to pop the question, and once Meghan said yes, surprised her with all of her family and friends hiding in the shadows. Oh, and it was her birthday too!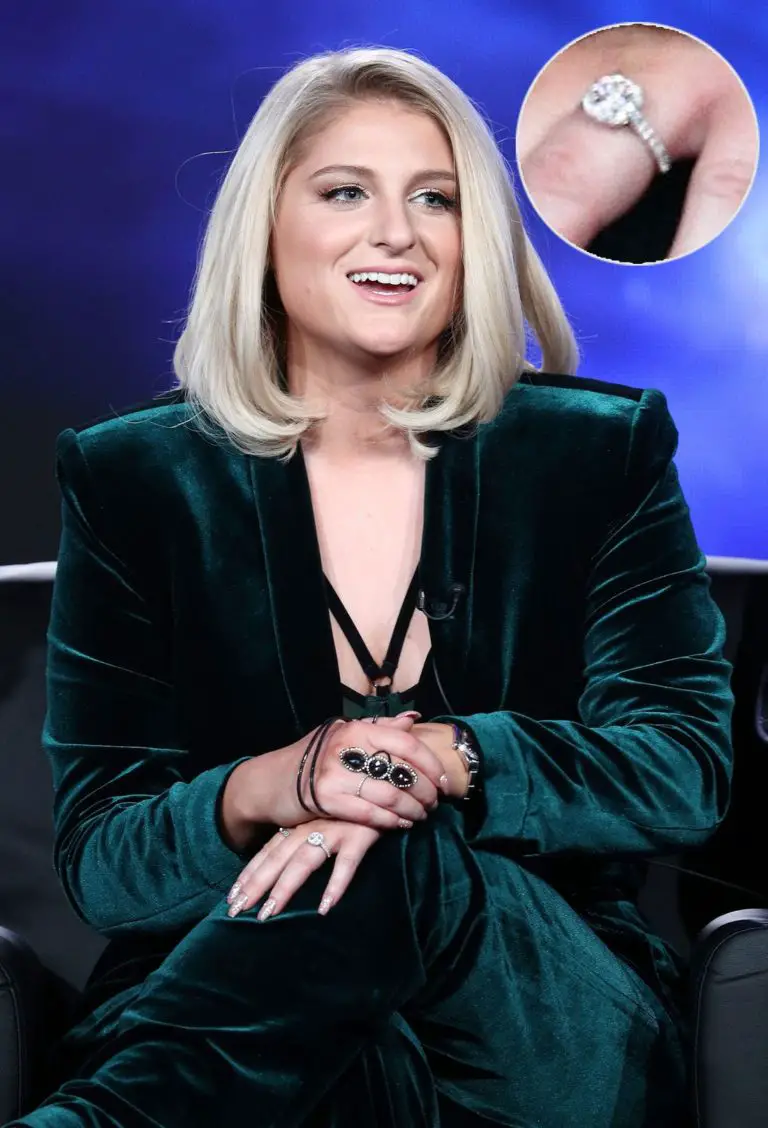 Meghan's and Daryl went down the same route that many modern couples are taking these days; they picked out the ring together. "I just wanted to make it perfect, just in case, you know? It's like 'just so you know, this one's my favourite" said Meghan at a recent event. It's a a classic round diamond with a pave diamond halo and even more diamonds all along the band. Talk about sparkle!
Our Verdict: We're not going to say this ring isn't absolutely stunning, because it is. It has just enough bling to be dazzling, but it's not a huge, tacky rock like plenty of other celebrities have. The only problem is, we don't think this design is really unique. We've just seen it too many times before. Sorry Meghan.