Princesses need their jewels, after all…
When Britain's Prince Harry and actress Meghan Markle announced their engagement last November, the Suits star instantly became a style icon. Since that moment her outfits, accessories, hair and make-up have made headlines every time she's stepped out in public. Eagle eyed fashionistas figure out who designed her shoes or where she bought her dress within minutes, and they subsequently sell out even faster.
Chief among the above is her stunning three-stone engagement ring, which Harry designed himself with help from the Queen's royal jewellers. Set in yellow gold, it features a large, sparkly diamond from Botswana as the centrepiece, with two smaller round diamonds either side from the late Princess Diana's personal collection. It's a one-of-a-kind, custom-made piece, but brides-to-be everywhere are nonetheless on the hunt for similar engagement ring styles.
During the couple's second official outing to a London radio station that trains young aspiring broadcasters, Meghan was spotted wearing ANOTHER diamond ring. A far cry from her classy and mostly traditional royal engagement ring, this piece is contemporary, minimalist, and to die for. Complementing her show-stealing ring from Harry, this piece is also a yellow gold and diamond combination. It's a simple thin band with a line of diamonds set across the top, which is flat.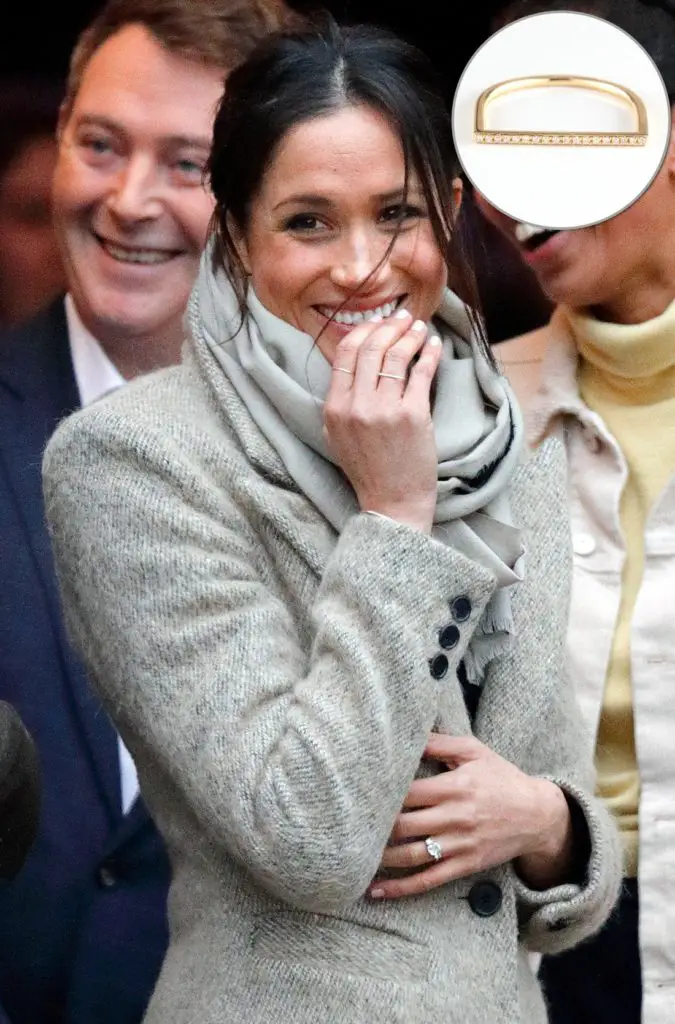 The ring in question is from Zofia Day, a Los Angeles based jewellery company founded by Lisette Polny. It's known as the Bar Stack Ring, it's 14 karat yellow gold, and it retails for $715. That's not exactly bargain pricing, but considering Meghan's new royal status, it's pretty cheap! The ring is designed to be stacked with other rings from Zofia Day's collection, but as Meghan has proven, it looks equally cool when worn alone.
"It's been a wonderful boost for my brand, and I am so grateful for Meghan's support" Lisette told People Magazine after the discovery. "My company is still quite small, so for [Meghan] to select me was really quite an honour. I think it says something about her — I don't think big brand names define her." We agree.
Stacked rings are a modern, understated take on the classic engagement ring style, and we have to admit, Zofia Day's offerings are swoon-worthy. They're also beautifully symbolic – three stacked rings can symbolise the past, present and future of a happy couple, and more can be added with each big milestone that comes along. Maybe Meghan will start a stacked collection of her own to commemorate special moments in her and Harry's marriage?