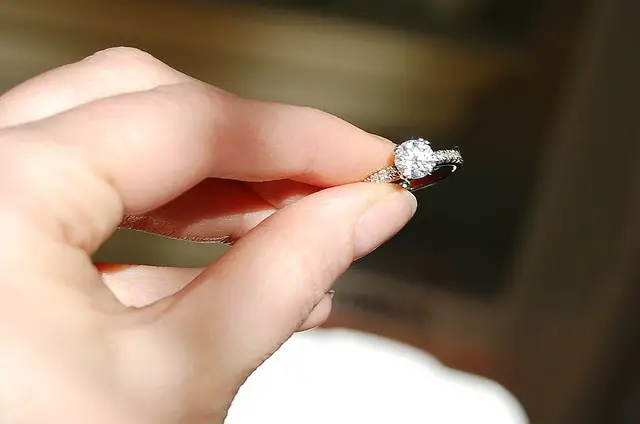 Brides and Grooms are spending more on engagement rings. Does your ring match the national average?
The Knot released their annual Jewellery and Engagement Study, in which they poll over 12,000 brides and grooms in the US on everything from how they plan to proposal to which type of metal they choose for their wedding bands.The most interesting figure from the report however, was how much couples are spending on their special rocks these days.
Drum roll…
The average total spend on an engagement ring in the US stands at $5,978. That's an increase of 11% in just two years. For some people, that may even make the old advertising slogan of a diamond costing '2 months' salary' a reality!
So, what does this average $6k ring look like?  Here's a snapshot:
Halo settings have exploded in popularity. 22% of brides-to-be chose some added bling for their engagement rings, a dramatic rise from 7% 2011.

86% of engagement rings were new purchases rather than vintage pieces or heirlooms.  

The most popular diamond cut is, as ever, the round brilliant at 49% of the vote. Princess (22%) came second while a surprise addition of the cushion cut came third, at 6%.

63% of brides received a clear diamond centre stone with side stones or accents. 21% opted for the traditional single diamond solitaire.

Coloured stones or non-diamond stones continued their rise in stardom, with 8% of couples choosing them – that's a year on year rise of 1%.

The centre diamond weighs between 0.5 and 2 carats in 74% of engagement rings.

45% of grooms shopping for brides chose to add personal details to the ring (this can range from an engraved message to design modifications)

When it comes to wedding bands, 46% of brides planned to have diamonds incorporated into their bands to match or complement their engagement ring.
There are also some interesting statistics regarding the purchase of the engagement ring. Men took an average of 4.8 months to research and 3.6 months to purchase, visiting an average of 5 jewellery store visits and considering 25 rings before handing over cash. Brides are getting more actively involved in the engagement than ever before however, participating in the research, dropping hints about style or even picking out the exact ring themselves.
There has been a definite shift towards quality rather than quantity, with 85% of men saying they would prefer a perfect smaller stone to an imperfect larger one.
One final statistic says it all about modern couples when it comes to getting engaged: 68% of brides know the exact cost of their ring. They probably will after reading this post, at least!