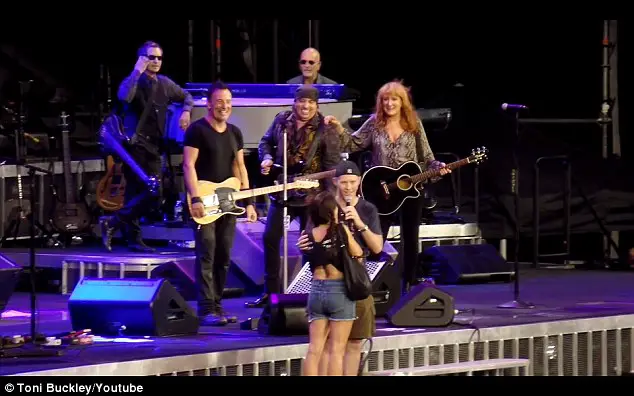 Don't worry, The Boss hasn't left his wife…
Bruce Springsteen is known for his energetic, stadium-packed concerts. They often go on for several hours, start bang on time, and stop for nothing. But at one such concert in New Jersey recently, Bruce stopped his set for a very special reason…
Just after launching into a suitably awesome rendition of one of his best loved hits, 'Jersey Girl', when he noticed a commotion in the audience right in front of the stage. He stopped playing and asked the crowd 'What the hell is going on down there?' before guitarist Steven Van Zandt pointed at his ring finger, informing him that one happy couple in the front row had just gotten engaged.
While engagements are a common occurrence at Bruce Springsteen concerts, it's not often that the boss does what he did next in this particular story. He invited the couple on stage with him and handed the lucky man his microphone, who proceeded to tell Bruce, his wife-to-be and the several thousand other people that 'Jill, you're my best friend. I love you more than anyone else in the world. I love you more than music itself. Hell, I love you more than Bruce!'
Despite the harsh words, Bruce was all smiles as the couple shared their special moment, and invited them to stay on stage as he finished the song. The stadium filled with glittering lights as people held up torches to celebrate along with the happy couple, who slow danced in front of Bruce and the crowd in what is probably the most awesome proposal setting we could possibly imagine.
Well done Bruce, and congratulations to the happy couple!