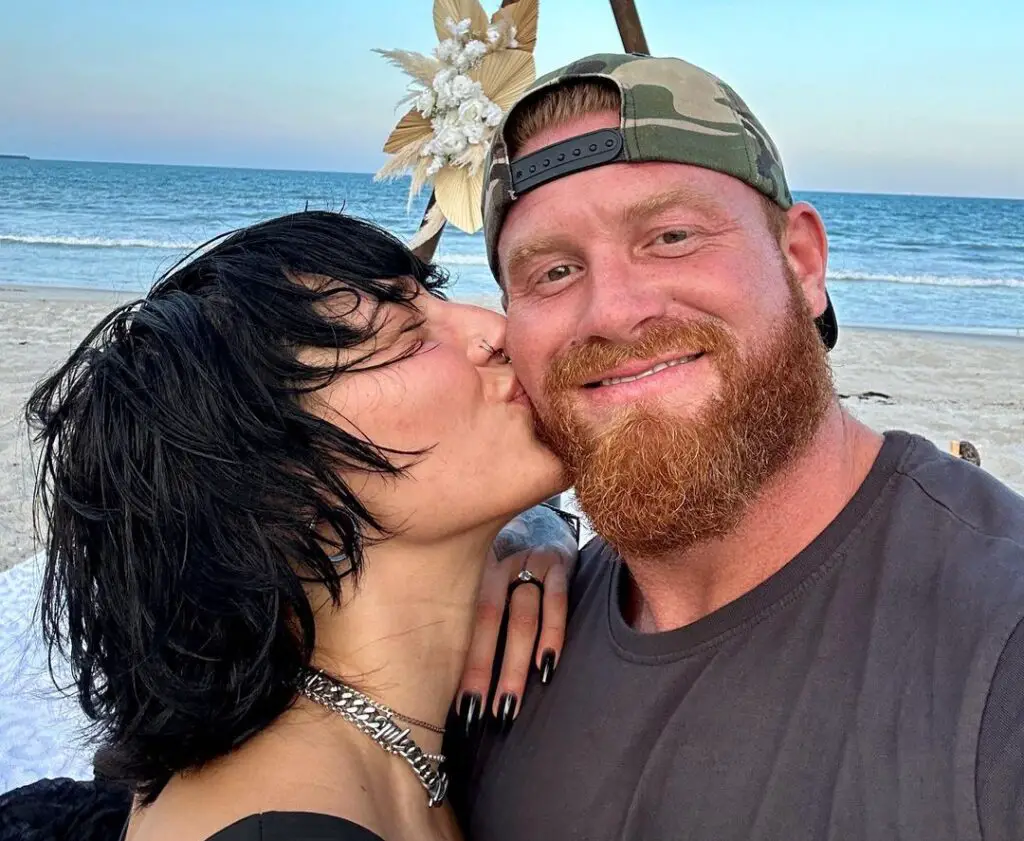 Ok, we need to talk about Rhea Ripley's black engagement ring.
The WWE superstar known for her indomitable spirit and ferocious presence, has found her real-life tag team partner in AEW wrestler Buddy Matthews. This dynamic duo have announced their engagement.
Rhea Ripley took to Instagram to share a snapshot of their beachside engagement, captioned "1000x YES! Pure [F-ing] happiness! ❤️". Buddy, known to WWE fans as Buddy Murphy, exuded sheer happiness, while Rhea's left hand adorned with a stunning ring that gleamed as brightly as her championship belt.
The beautiful ring features a unique black band, unlike anything we've seen before.
What Does Rhea Ripley's Engagement Ring Look Like?
Rhea's engagement ring is exactly what we would expect her to have.
Every bit a simple, understated yet classic engagement ring… with a very big twist. The ring features a round cushion cut solitaire diamond — classic, right? Wrong. The beautiful diamond is set upon a black band. Typically, a black wedding band symbolizes strength, courage, and resilience. It's not often seen at all in engagement rings. 
In this case, the black band is a reminder that even in the darkest of times, love will always find a way to prevail; a sign of hope that love will conquer all. A perfect nod to the couples story.
The Australian power couple, Rhea and Buddy, solidified their romantic connection in May 2022. Beyond the ropes, Rhea Ripley has been the resolute defender of her partner against the trolls and naysayers. Standing steadfast, she faced online taunts and jeers, using her platform to shut down detractors who sought to undermine their love. Her on-screen relationship with fellow wrestler Dominik Mysterio was not to be misconstrued as a reflection of reality — her loyalty and devotion to Buddy Matthews is undeniable.In the symphony of body slams and victory cheers, Rhea Ripley and Buddy Matthews have woven a narrative that transcends the scripted lines of the wrestling world. Their engagement isn't just a moment frozen in time; it's a celebration of love, resilience, and the indomitable spirit that drives them to conquer both the ring and the challenges of life together. We stan!