If we had a dollar for every time we've seen a guy look shocked, confused and/or sad when we told him the average cost of an engagement ring…. Well, we could afford to buy a pretty nice piece of bling of our own. Men of the world, we have news for you. A good quality engagement ring (even if the diamond is tiny) costs more than just a couple of hundred dollars. But don't worry, and certainly don't let it stop you from popping the question. We have several tricks for making the most of your engagement ring budget…
Do your Research!
Plenty of men find shopping for an engagement ring bewildering. Plenty more men find it intimidating. And almost every man on earth has no idea there how complex engagement ring shopping can be. If that sounds familiar, we urge you to go against your gut instinct – DO NOT buy the first ring you see that you think your other half will like. Take some time to read up on all things engagement rings before you even look one in real life. Specifically, learn about the 4Cs, different stone shapes, settings, and ring metals (gold, platinum etc.). You'll have a much better idea of what you can afford and what you can get for your budget if you do.
Shop Online
Once you have a rough budget and some idea of what makes a good engagement ring, it's time to hit the stores… the online stores. By all means visit some physical jewellery stores too – talking to professional jewellers about what you're looking for is never a bad idea. But just keep this in mind; if your budget is restrictive, buying the ring online (from a reputable source, of course) can cost up to 20% less than buying it from a physical store… maybe even more. James Allen is the the best online retailer for engagement rings around, so start there.
Choose Carat Sizes Wisely
Does she have her heart set on a 2 carat diamond? That perfectly even number will cost you extra, simply because it's a desirable number. 1.9 carats doesn't really have the same ring to it, we'll admit. But, the difference in size between a 2 and 1.9 carat diamond is barely noticeable to the average person … especially when surrounded by polished gold and a fancy setting. The difference in price, however, can be significant. We did a quick search on Blue Nile for a 1 carat diamond with a Very Good cut, F colour, and VVS1 clarity – the top result cost $6,633. We then changed the size filter in the search to 0.9 carats – this time, the top result cost $4,702. Need we say more?

Go for Gold… White Gold
Platinum is basically indestructible, never loses its stunning shine, and is the go-to 'must have' for engagement rings. Sadly, it also takes up a big chunk of your budget. We ran another little test on Blue Nile. A basic platinum ring without a diamond (i.e the band and setting, just with the diamond missing) cost $880. The exact same ring in 14 karat white gold was $360. Even when you factor in the added maintenance costs a white gold ring needs – replating once every couple of years and occasional polishing – it's still the much more cost-effective choice of the two.
Clusters are your Friends
Does she want to say 'yes' to a big, big diamond? Does your bank balance say 'no way'? A cluster ring may be the answer. These clever designs are becoming more and more popular. Basically, instead of one big diamond, lots of tiny diamonds are clustered together to give the appearance of one big stone. Because the diamonds are so much smaller, clarity is not of the utmost important like it would be with a single large stone. Believe it or not, the cost of 20+ small, average quality diamonds is still a lot less than one big, excellent quality diamond.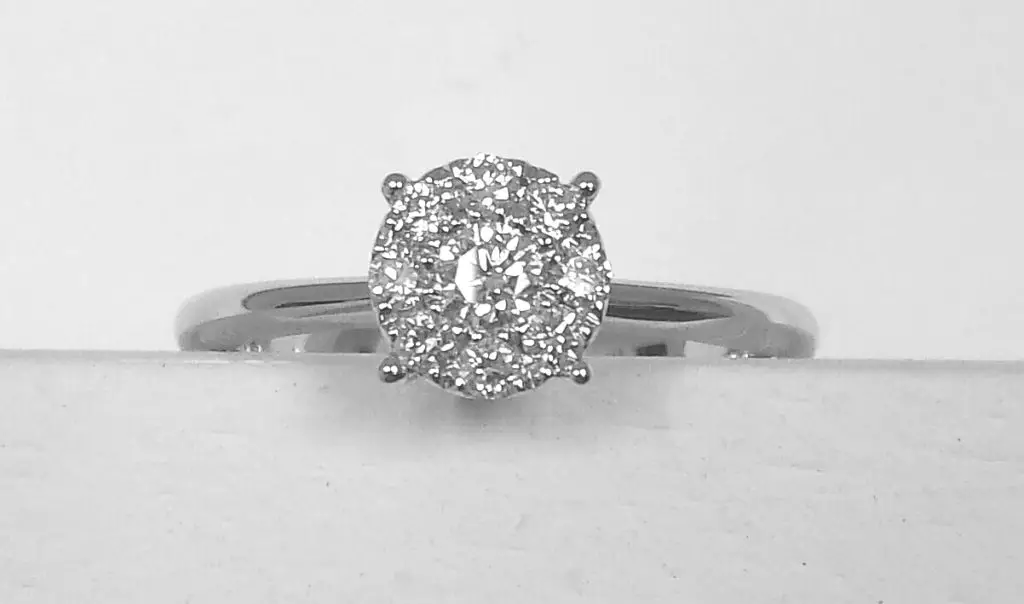 Know Her Ring Size
Knowing her ring size before you place an order for an engagement ring is actually pretty important. Firstly, it means her new ring will fit her perfectly from the moment she says 'yes'. Secondly, it cuts out the cost of resizing it after the proposal. It's not a huge cost saver – on average you'll pay around $20-60 for simple resizing and $100-150 for more complex alterations. But hey, every little helps, right? Here's some tips for finding her ring size without her knowing.
Look for the Little Extras
Another element that comes as a surprise to countless men is the long term cost of an engagement ring. If your wife-to-be wears her ring every day, there will be some wear and tear over time. Engagement rings need to be cleaned and inspected every 6-12 months, and may need to be replated once every couple of years. As time goes on, prongs in the setting may need to be replaced too. BUT. Some really good jewellers out there clean and polish engagement rings purchased from them for free… for life. Many also offer free maintenance and fixes for a certain period, usually one year, sometimes more. Be sure to ask about this when you're shopping around, and reap the benefits over the years to come.
Happy engagement ring shopping!