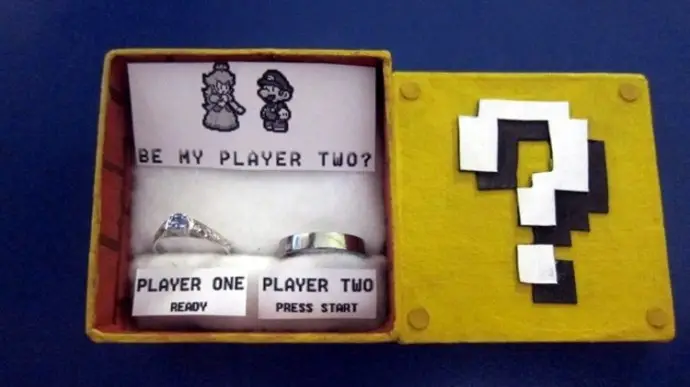 Express your inner geek in the form of an engagement ring…
Whether you're a Game of Thrones fan or a Dungeons and Dragons devotee, we all have a hidden geek inside of us – or a not so hidden geeky side. With that in mind, check out these incredible and totally unique engagement rings.
The Deathly Hallows Ring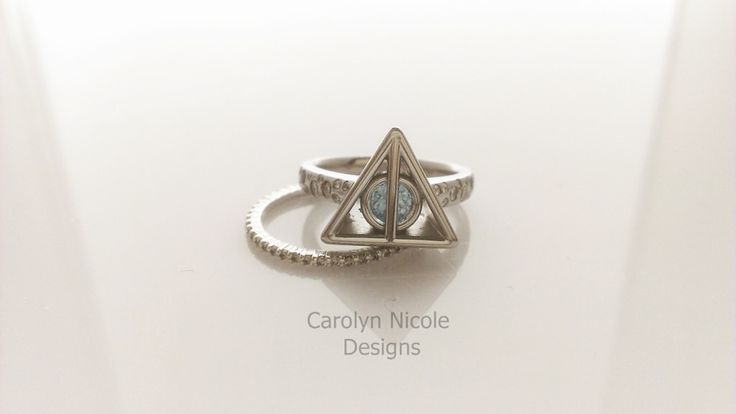 If you stuck with Harry Potter until the very end of the very last book, then you'll be familiar with this unique symbol which represents three special magical items; the Elder Wand (the line in the centre), the Invisibility Cloak (the triangle outline) and the Resurrection Stone (the circle between the two). Harry claims all three and uses their power to defeat the evil Lord Voldemort and restore everlasting peace to the magical world. But besides all that, it's a minimalistic design that hits the simplistic and contemporary style on the head.
The Golden Snitch Ring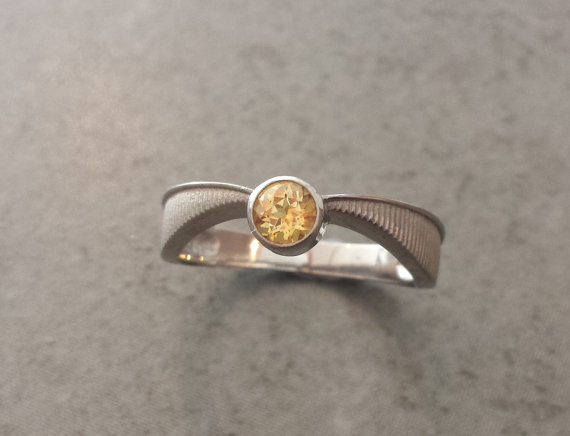 For a more light-hearted Harry Potter themed ring as well as a design that leans more towards the traditional, a Golden Snitch ring is a fun choice. For those who don't know, a golden snitch is a small ball with wings and a mind of its own used in the wizarding sport of Quidditch (which is played in the air on broomsticks just to make things even more odd). Catching the snitch takes time and effort and means the game is won, which has nice metaphorical parallels with an engagement. A yellow diamond makes for a beautiful snitch centre stone.
Pokeball Ring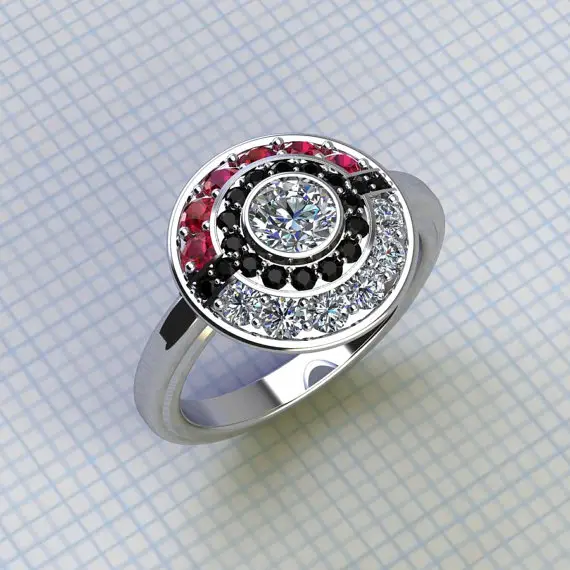 A Pokeball engagement ring won't allow you to catch them all, but it means you've caught the best and most important one! A brief explanation for the unfamiliar: in the Japanese Pokemon franchise, a pokeball (pronounced po-keh-ball) is used to capture fictional creatures called 'Pokemon' which have various different powers and can be used to battle each other for… well, fun and glory. If your budget has no limits, you could get your design in a ruby and diamond combination for maximum bling.  
Batman Ring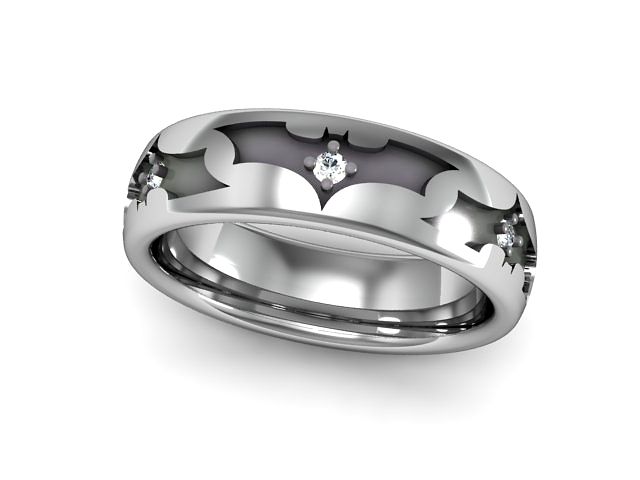 There are endless batman engagement rings out there, but this is the coolest one we've seen. It's only fitting to use black titanium, tungsten or black rhodium plating for that gothic Gotham feel, and the sleek glossy finish of the silver metal (white gold or platinum is great, but sterling silver will get a cool antique tarnished look over time) complements it nicely. The shape of the Bat Signal is ideal for some bold cut-out designs too. If that's not your thing, you could also have a diamond encrusted Bat Signal created through a cluster setting.
R2D2 Ring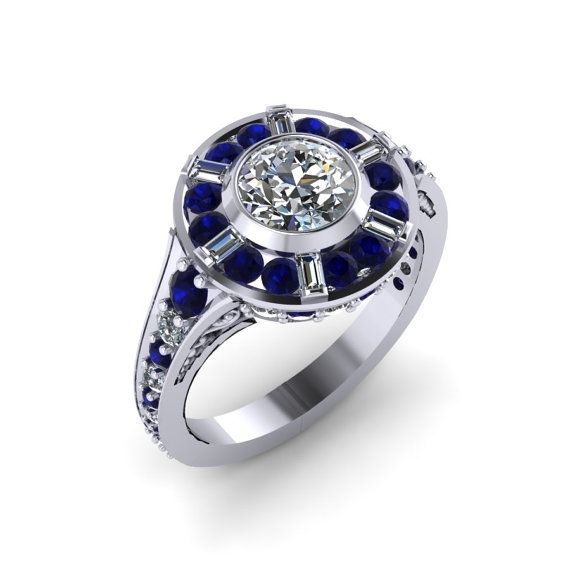 The BB-8 droid (aka robot) from the latest Star Wars franchise is seriously adorable, but our hearts have always belonged to its predecessor from the original 1970s films, R2D2. Sapphires, diamonds and a ruby or two in the right positions make an awesome R2D2 engagement ring that will have Star Wars fans green with envy, we guarantee. As you've probably already guessed, there are already tons of these in existence. This one is our personal favourite.
Han and Leia Rings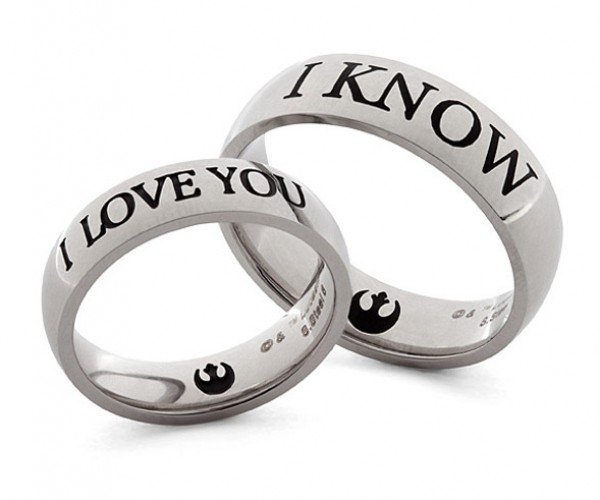 Han and Leia are arguably the best main characters in any and all of the many Star Wars films. Their rollercoaster relationship has many ups and downs, and it took them a pretty long time to admit that they belonged together. When they finally did, it was with this brief but meaningful exchange of words as Han Solo was about to meet a not very pretty end (or so they thought). Before he is ripped away from her by Storm Troopers to be frozen alive by Darth Vader, Leia blurts out 'I love you!' to Han. His reply? 'I know'. Beautiful, and perfect for engagement rings!
Lord of the Rings (Ring)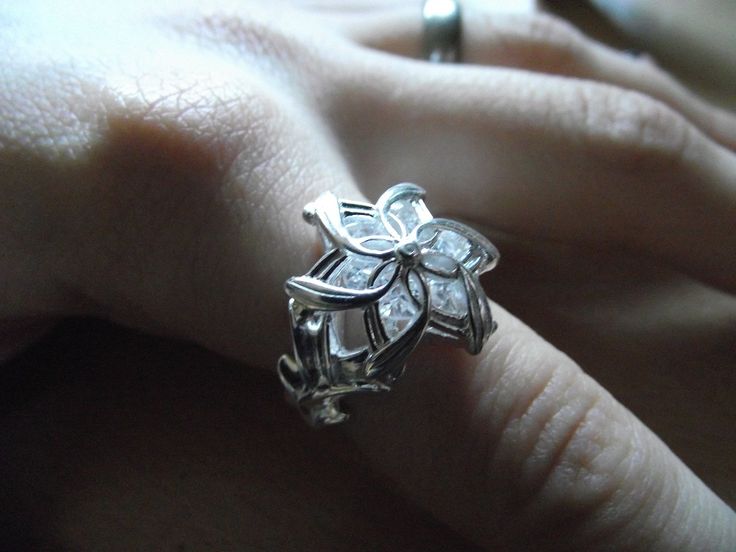 If you have your heart set on a Lord of the Rings themed engagement ring, you're in luck; because you have 9 designs to choose from! From the ethereal Elvish style to the dramatic One Ring to Rule them All, there's something for everyone – male or female. Our personal favourite? Galadriel's 'Nenya' ring, an intricate floral design that's perfect for marquise cut diamonds and plenty of engraving detail. Just don't turn into a terrifying elf queen like she's wont to do at times.
Zelda Triforce Ring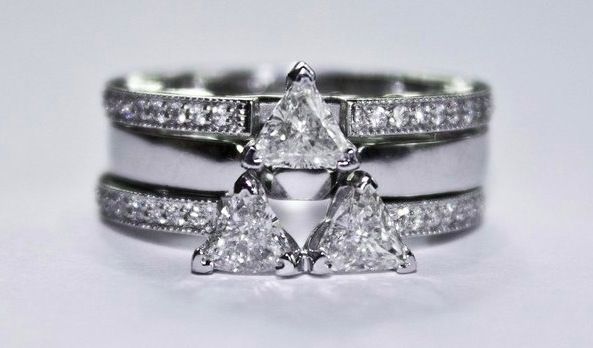 What's a Zelda Triforce, we hear you ask? It's an omnipotent sacred relic from the Zelda franchise that represents the essence of the Golden Goddesses who created the game's realm Hyrule. It consists of three equilateral triangles with an inverted triangular 'empty space' in the middle, and each shape represents wisdom, power and courage respectively.
Playstation Ring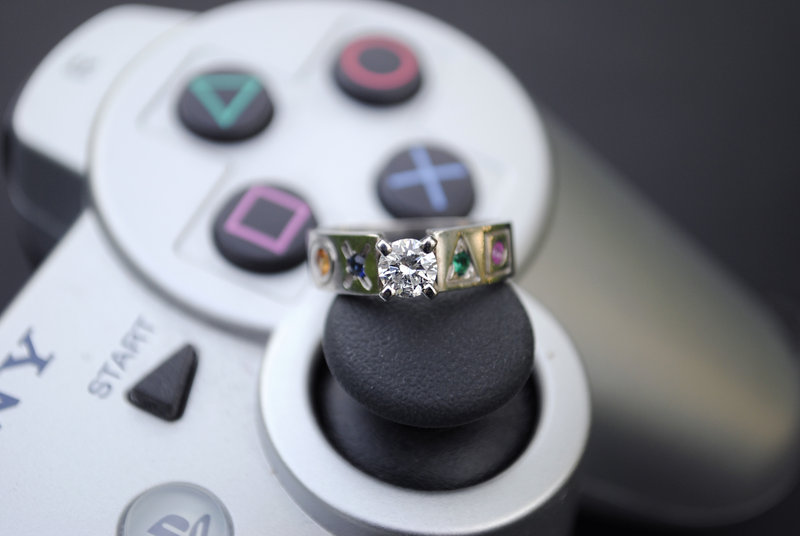 Are you a gaming couple? This Playstation themed engagement ring should be right up your street. Not only does it incorporate the trend of the moment – colour, colour and more colour – it has not one, not two, but FOUR different coloured accent stones, plus a central round brilliant diamond in keeping with traditional designs. And the best part? It's relatively low set so it won't interfere with your dexterity when you're using the console's controller.  
Super Mario Ring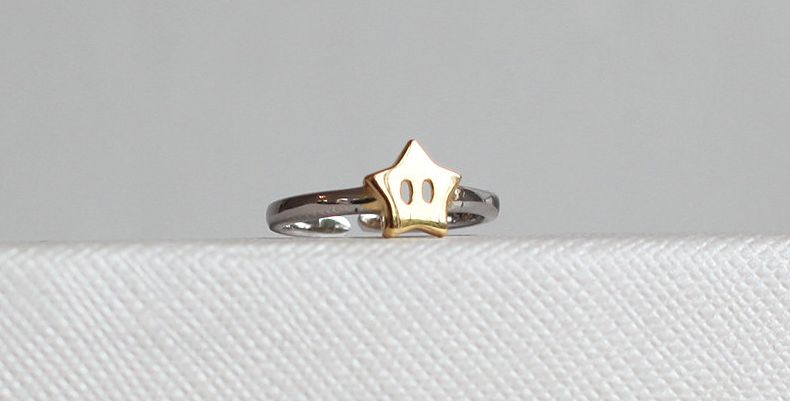 Mario, Luigi, Yoshi and Toad are easily the cutest video game characters ever. So what could be cuter than a Super Mario engagement ring? Luckily many of the Mario games are filled with imagery suited to such a romantic piece of jewellery, including hearts and flowers (even if they are man-eating flowers) and the beautiful Princess Peach herself. Our favourite has got to be cute gold star however.