Are you a future bride on a budget? Prepare to spend a lot of time browsing this site…
If you're in the market for an engagement ring, you'll know all too well that shopping for that 'I do' bling isn't always as fun as it first appears. You have big dreams and bigger ideas about the kind of ring you want, only to realise that your expectations don't quite match up with your bank balance. Not at all, in fact. And then you quickly fall from cloud nine to reality with a painful thump.
Don't worry – all is not lost. It is in fact possible to get some gorgeous, breathtaking, dreamy engagement rings for less than $1000. Where? Carried Jewels. This essential website was set up by friends and peers, Alexis Nido-Russo of Local Eclectic and CIndy Kaiser of Kaiser Jewelry. Why? Because, in their own words, 'an engagement ring should last a lifetime, but it shouldn't take a lifetime to pay off'. We like what we're hearing so far…
Carried Jewels focuses on engagement rings and wedding day essentials for the modern bride, with each piece made to order and sold online directly to the customer. This means they bypass many of the costs that physical jewellery stores have like rent, individual sales staff, and various other overheads. They claim to have also dropped the 'traditional retail mark-up' that they claim makes most jewellery stores over priced.
Their premier collection is perfect for brides who want a unique ring that reflects their personality. Or as Kaiser puts it, they're for "The girl who doesn't feel the need to conform to conventional norms & who seeks out originality and practicality in her day to day life."
Using moonstones, opals, morganite and of course white diamonds, all designs are set in 14 karat gold be it yellow, white and rose. Oh, and the best part? Pretty much all of the designs are under $1000. Yep. Amazing. "Women are shopping for engagement rings differently today than they were 5 and 10 years ago. It's no longer just about the 4 C's. And the idea that an engagement ring should cost 3 months salary is unrealistic for most of us" says Kaiser. We couldn't agree more.
Need some more specific details? All diamonds used by Carried Jewels are SI quality, natural white diamonds. They are also all sustainably sourced and certified conflict-free, and are compliant with the Kimberley Process Certification Scheme. Other gemstones also come from natural sources.
They may be an irresistible bargain, but these rings definitely do not look cheap. Here's a few of our favourites from Carried Jewel's collection.
Celestial Wonder Ring
Three rounded Ethiopian opals and six tiny white Indian diamonds form a cluster-esque design that's elegant, feminine and endlessly beautiful. Check out how awesome it looks with a v-shaped diamond wedding band.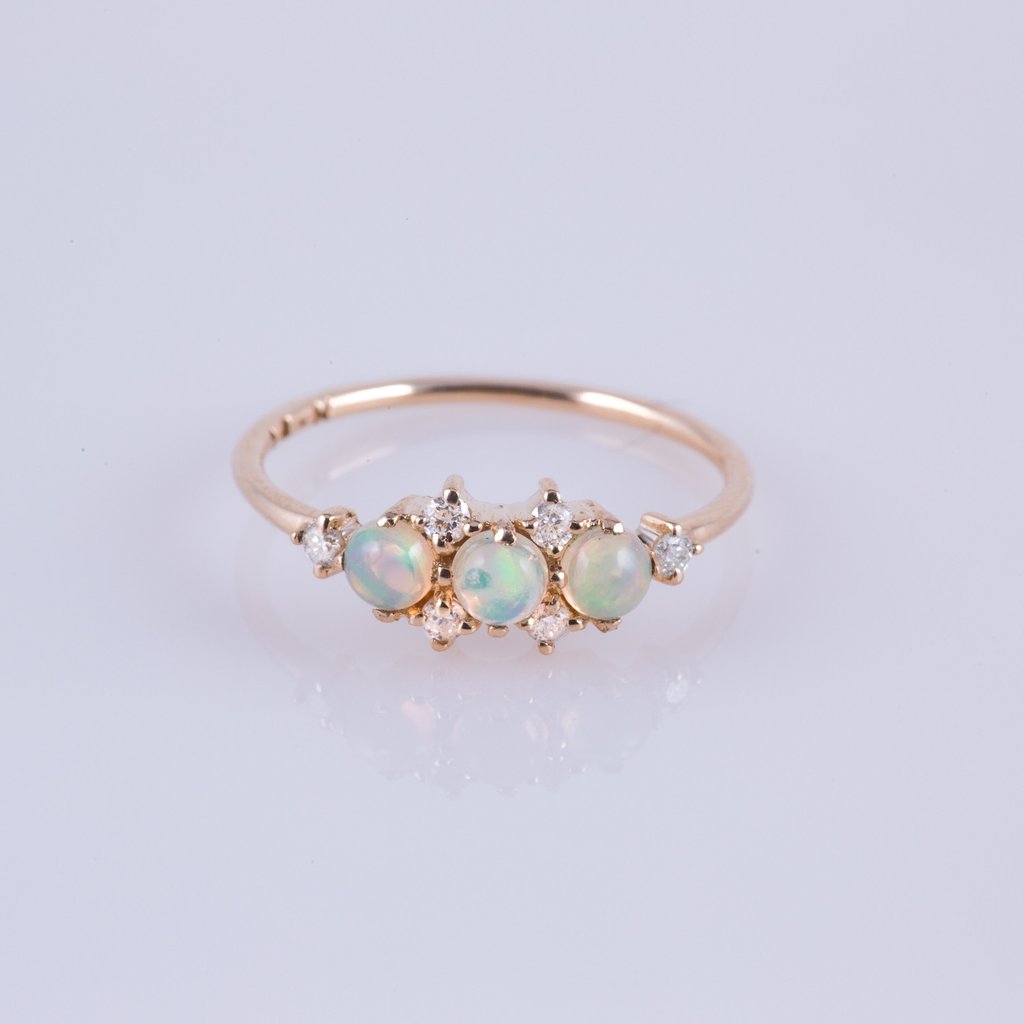 https://carriedjewels.com/products/opal-diamond-celestial-wonder-ring
Pink Lady Ring
An oval shaped morganite gem takes centre stage in this piece, surrounded by four marquise white sapphires and eight round white diamonds. A stunning vintage-inspired piece certain to make you swoon.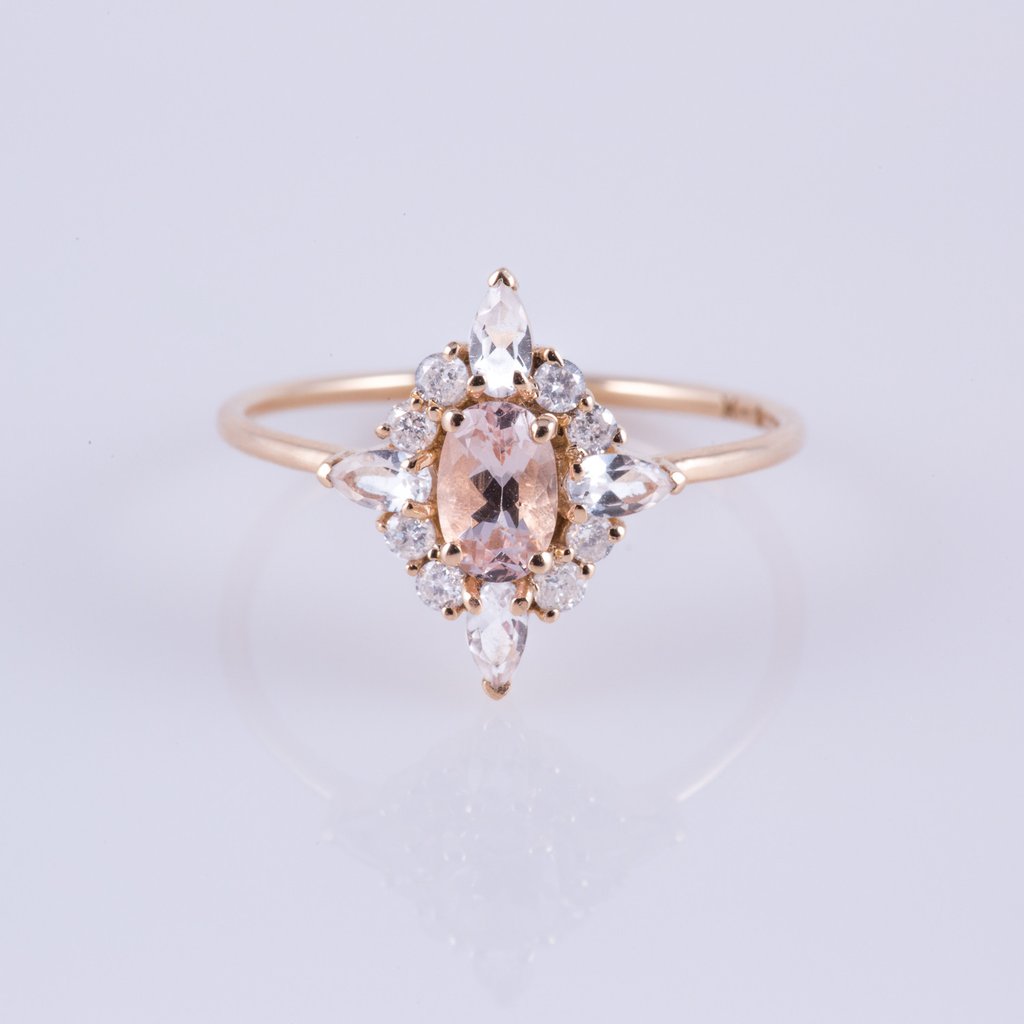 https://carriedjewels.com/products/morganite-white-sapphire-diamond-pink-lady-ring
Darling Cluster Ring
A pear shaped Australian opal, a pink hued morganite stone and three accent diamonds give this truly unique ring a contrasting yet balanced appearance. Perfect for fashion forward brides in search of something one-of-a-kind.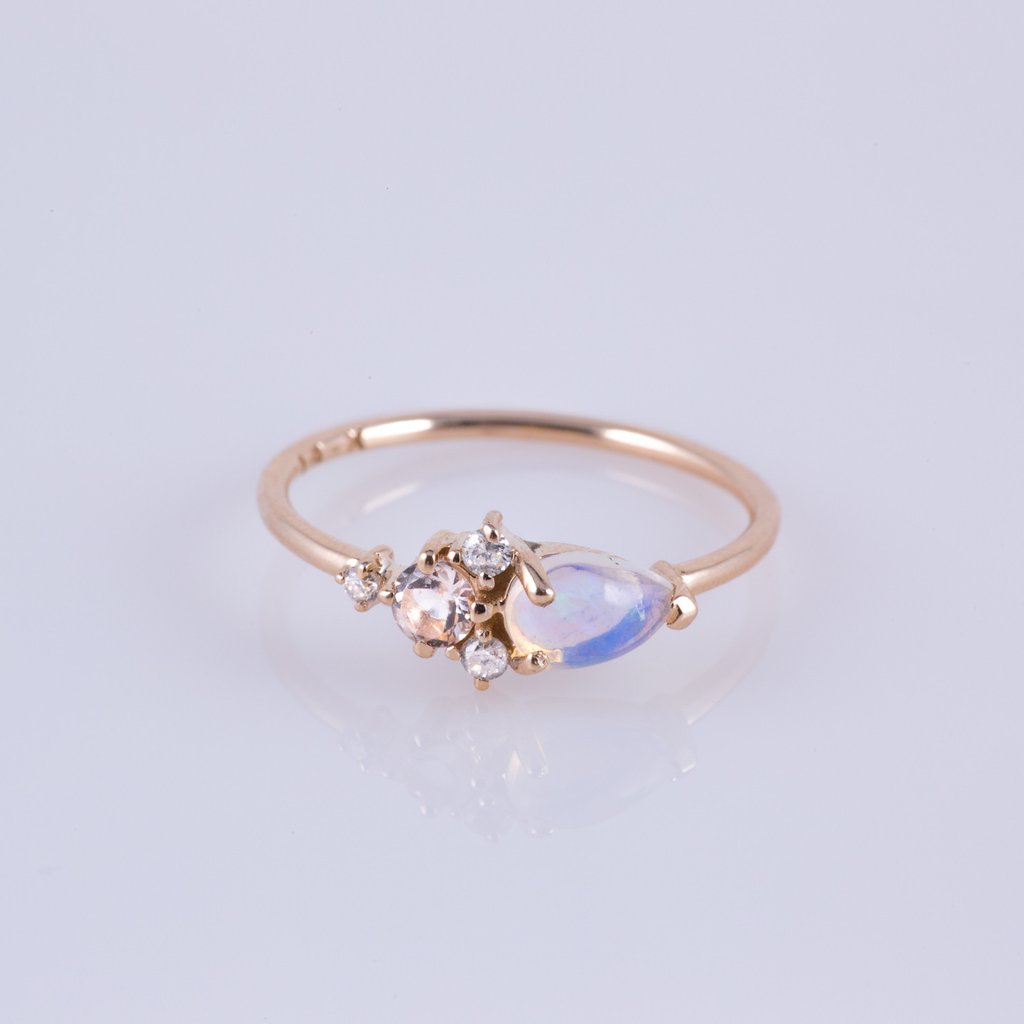 https://carriedjewels.com/products/opal-morganite-diamond-darling-cluster-ring
Empress Ring
A bezel set, faceted rainbow moonstone is offset with a pave diamond halo, lending a modern yet timeless look to this ring. The slightly opaque moonstone also provides an ethereal twist.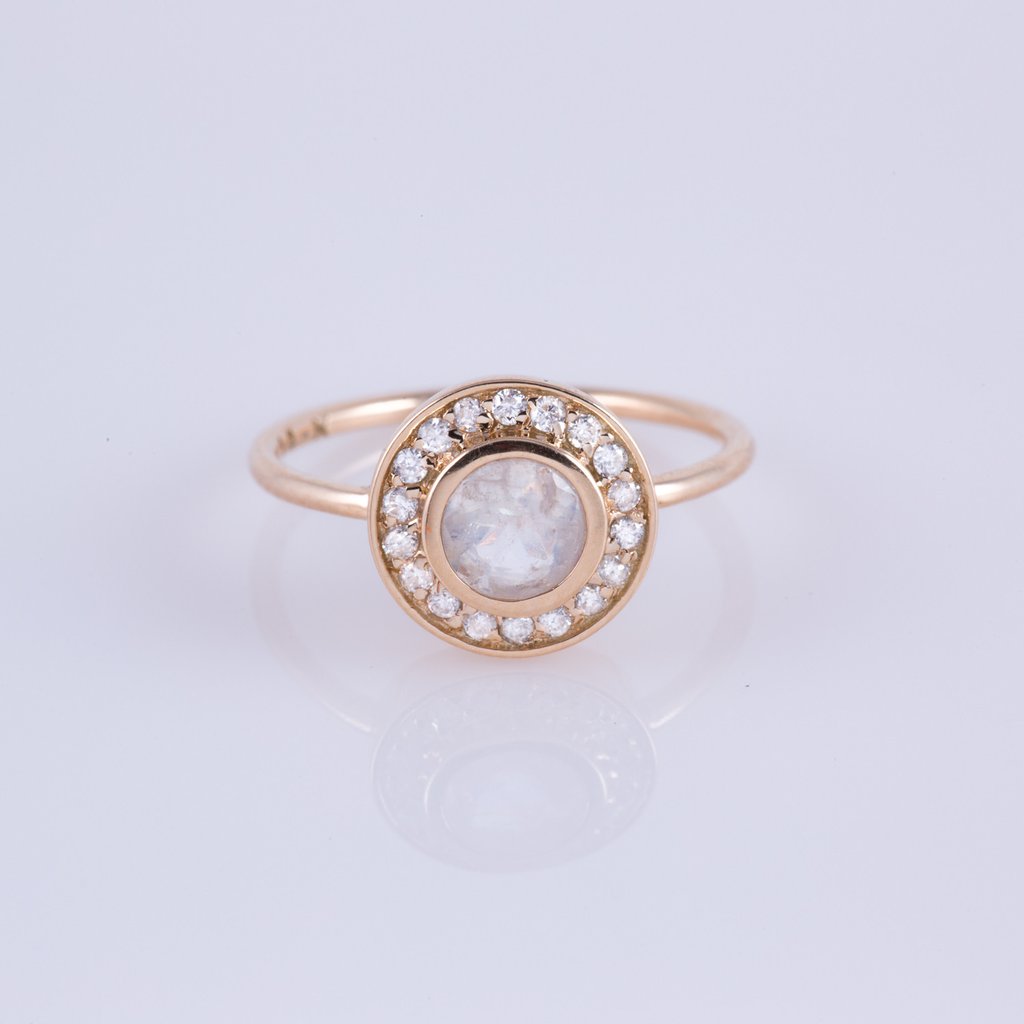 https://carriedjewels.com/products/rainbow-moonstone-diamond-empress-ring
French Kiss Ring
An all white number for those in search of an engagement ring with a touch of tradition. This ring features a marquise shaped white moissanite stone in the centre with three prong set white sapphires on either side.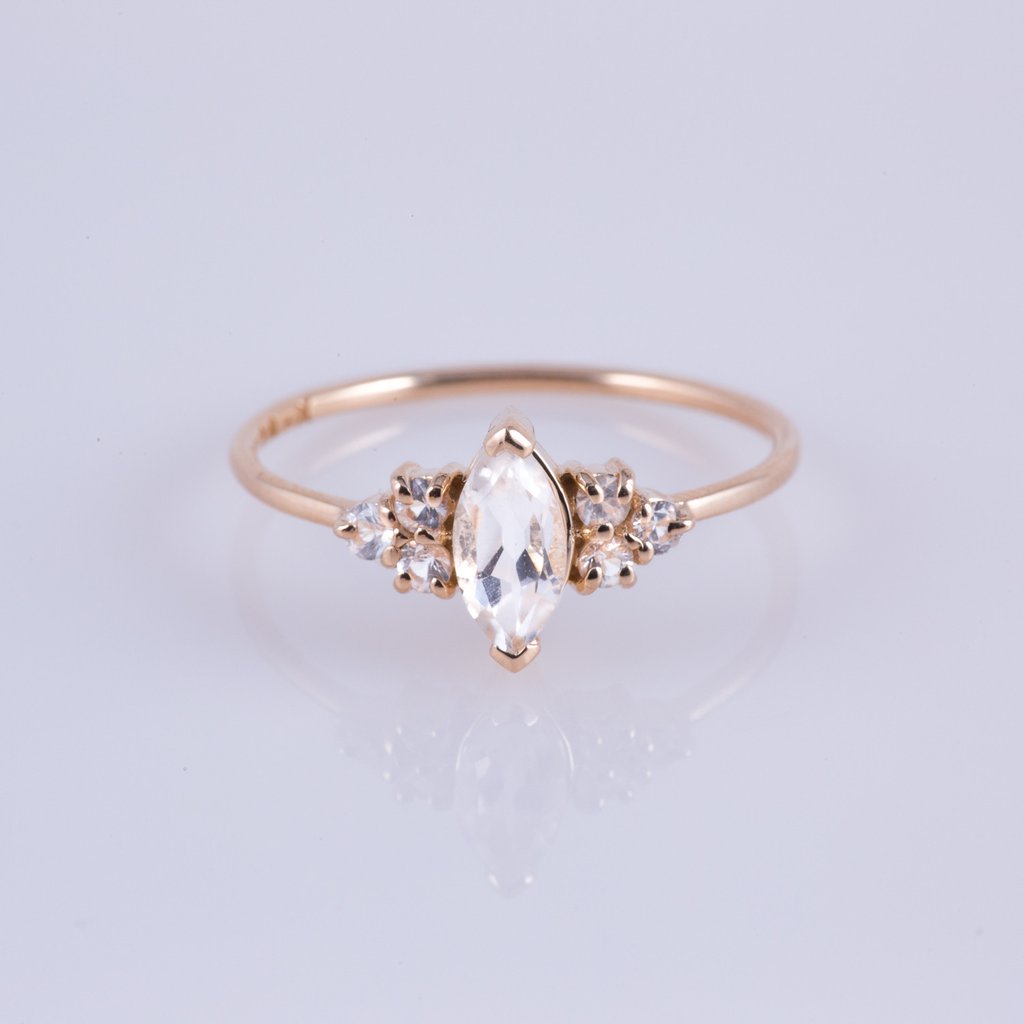 https://carriedjewels.com/products/white-sapphire-french-kiss-ring