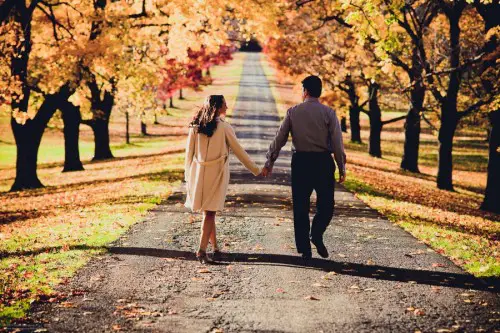 As they say on Game of Thrones, 'winter is coming'. But not just yet; first we have the beautiful autumn season to look forward to! This not too warm, not too cold time of year is full of vibrant colours and unique opportunities for romance… making it perfect for that special proposal! Here are 10 great proposal ideas that all have a fall theme…
1. The Forest Proposal
This one is pretty obvious. Autumn is the time of year when leaves turn all kinds of orange, red and yellow shades and fall from the trees, creating a beautiful, multicoloured forest carpet. What could be a more stunning setting to pop the question in? Take a romantic stroll in the woods, find the perfect secluded clearing, and get down on one knee! Some tips: find somewhere with dry ground to avoid slips and damp knees, and don't stray too far from the official trail. Also, wait until mid-to-late Autumn for maximum fallen leaves.
2. The Beach Proposal
Wait, hear us out! Beaches are a summer thing, we know. But beaches in summer are crowded. Beaches in fall are pretty secluded, and not as cold and windy as beaches in winter. If you want to feel like you're the only two people in the world and if you don't want strangers looking on during your big moment, an autumnal beach proposal is the way to go. Preferably in early morning or late afternoon. Don't forget to check the high/low tide times, especially if you're planning on writing a romantic message in the sand!  
3. The Fireside Proposal
With chilly, darkening evenings comes romantic nights at home. Cook a seasonal dinner for two, get a cozy fire going, then when you're both resting comfortably, break out the engagement ring. Leave dessert and a bottle of champagne aside to celebrate afterwards. The at home proposal can be ruined by distractions like unexpected phone calls and other humdrum household tasks. Put in some time to clean up your home beforehand – put away laundry, clear away clutter, and maybe go the extra mile with some fancy candles. If necessary, tell people you'll be out all evening or disconnect the phones to avoid interruptions!  
4. The Pumpkin Proposal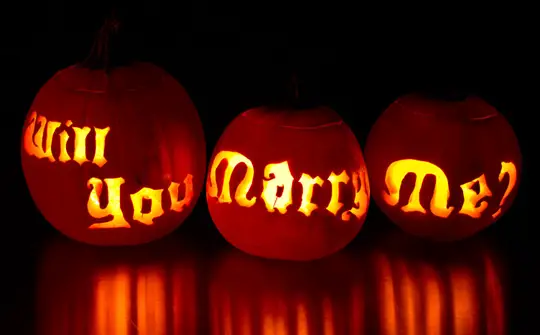 Autumn means a lot of different foods come into season, and everyone's favourite is pumpkin! This isn't exactly an original idea, in fact it's the first thing that comes up when you google 'autumn proposal', but it's still a good one. Carve your proposal message into a pumpkin (or multiple pumpkins if you have several hours on your hands!) and light it up. Then turn off the lights and show your future spouse into the room for the big reveal. Again, dotting other candles around the place (and maybe some pretty leaves!) will make it all the more romantic.
5. The Halloween Proposal
If a lone pumpkin just isn't enough, why not go for an all-out Halloween themed proposal? This is an especially good choice for the fun-loving bride-to-be who always has a great costume. There are so many different ways to approach a Halloween proposal; hide the ring box in the candy bowl, incorporate it into your costume, or use a tradition associated with the ancient Celtic origins of the holiday. In Ireland, families will bake a 'barm brack' (sweet bread with sultanas) and hide various small objects inside, one of which is always a ring. Whoever gets the ring in their slice is destined to get married within a year!
6. The S'more Proposal
S'mores are a great treat anytime, but there's just something special about enjoying them around a campfire in autumn. And guess what? Marshmallows are squishy but firm – perfect for holding a ring! Don't push it all the way inside – not only will it be difficult to clean, but it could be a choking hazard too – and make sure your bride sees it before holding it over the fire or you could have a disastrous proposal on your hands! After she says yes (and who could say no to a chocolatey marshmallowy treat AND a proposal from your one true love?), you have a tasty snack to enjoy together and a romantic fire to enjoy.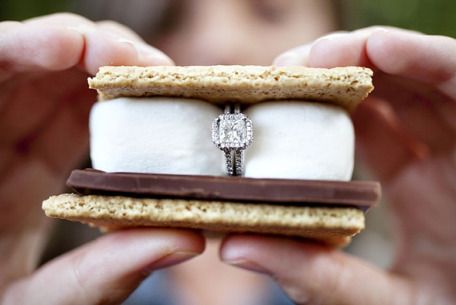 7. The Sunset Proposal
We firmly believe that autumn sunsets are more spectacular than any other kind of sunset. It's the sun being that bit lower in the sky, the clouds adding to the beautiful colours, and the fact that it's not yet too chilly to stay outside once that big ball of light dips below the horizon. So find a nice open space to enjoy it (like a rooftop, the top of a hill or by the sea), have a blanket and warm beverage to hand in case one of you gets the shivers, and wait until the view is right at its most spectacular. We promise you'll both remember it forever!  
8. The Fruity Proposal
We've already covered pumpkins, but there are tons of other fruit ready to be harvested come September/October. Think blackberries if you like hiking through the countryside, or apples for a beautiful setting. Pick what you need, then sit down for a picnic and pull out your ring box from the picnic basket. Just make sure you're not trespassing on anyone's property or stealing someone's fruit! When you get back home once the excitement has passed, you can use your surplus pickings to make celebratory dessert.
9. The Winery Proposal
Another thing that comes into harvest around autumn time is wine! A weekend winery tour – especially a private one – is a fun, romantic and very interactive stage for a proposal. For best results, pick your other half's favourite grape variety (or better yet, their favourite wine) and visit a vineyard that specialises in it. If you give the winery enough advance notice, they should be more than happy to help you make the moment extra special… and extra private if you so wish. You can bike through the vines, enjoy a bespoke wine tasting, or even make some wine yourself. Something for every kind of wine lover!
10. The Watery Proposal
No, we don't mean starting a water fight or proposing under water (although both would be pretty cool). Any kind of waterside proposal in fall is always magical, be it on a lake, by a river, watching the ocean or underneath a waterfall. Sunlight sparkles on the water, it's less crowded than the summer months, and if you can get your hands on a boat it becomes even more romantic. You may even get lucky and get temperatures warm enough to take a quick dip to calm your nerves before or after the big event.