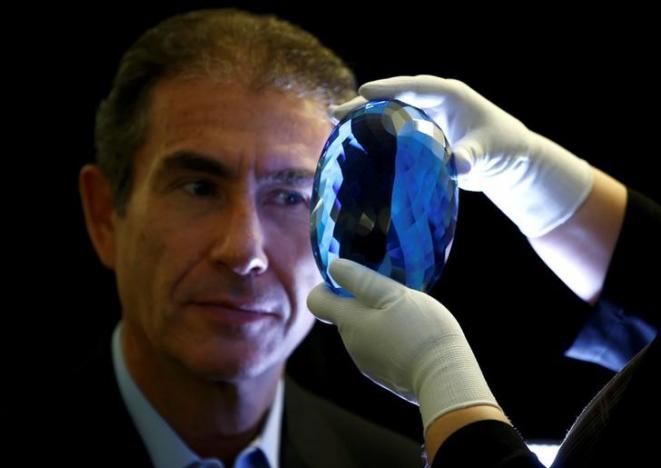 It's the largest blue topaz gemstone in the world, and you need to see it…
London's Natural History Museum is about to get a new jewel in its crown… literally. The Ostro stone, otherwise known as the biggest blue topaz in the world, has just gone on show as a permanent exhibit. If you're in the city, you really ought to check it out.
Why? For one thing, it weighs 9,381 carats and is absolutely, 100% flawless. That's over 2kg in other words, and around the size of an ostrich egg or rugby ball. It's on permanent loan from Maurice Ostro, the entrepreneur and philanthropist who owns the stone.
The aptly named Ostro stone was discovered by Maurice's father Max Ostro over 30 years ago, and it's the story of this man's life that makes this jewel so special. Max and his family lived in Poland during Nazi occupation, and were sent to a death camp in 1943. Max and his brother jumped off the train in an effort to escape; the brother died, but Max survived.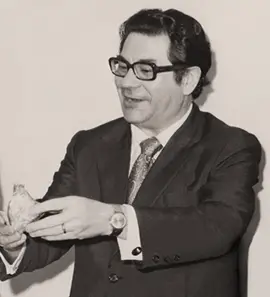 Nonetheless, he ended up in labour camp for 18 months but escaped just before he was due to be sent to Auschwitz. With the help of a family friend, he hid in a grave for weeks during a harsh winter, surviving on potatoes. When the war ended, he travelled back to his family home only to find that he was the only survivor, and another family had already moved in.
Instead, Max went into business with the few possessions he had, and eventually emigrated to South America to escape the communist regime in Poland. He travelled all over the continent in search of gemstones, surviving malaria, piranha attacks, and a host of other Indiana Jones-esque adventures. It all proved to be worth it however, as one of Max's most prized discoveries was the Ostro stone, which he found deep in the Amazon rain forest of Brazil in the 1980s.
Even in his eighties, his love of travel and adventure didn't stop, and his family often joke that even when they bought him an office, he still couldn't sit in one place for long. When Max passed away six years ago, his son Maurice decided to use the stone in his charity work to promote the artistic potential of gemstones – something his late father was very passionate about. Now it has a final home in one of Britain's finest museums, which Maurice chose specifically because of his father's strong affinity for Britain.
How much is it worth? Somewhere in the region of millions of dollars, although specialists say it is essentially priceless since it's by far the largest stone of its kind.
Seriously, go and check it out next time you're in London. You won't be disappointed.