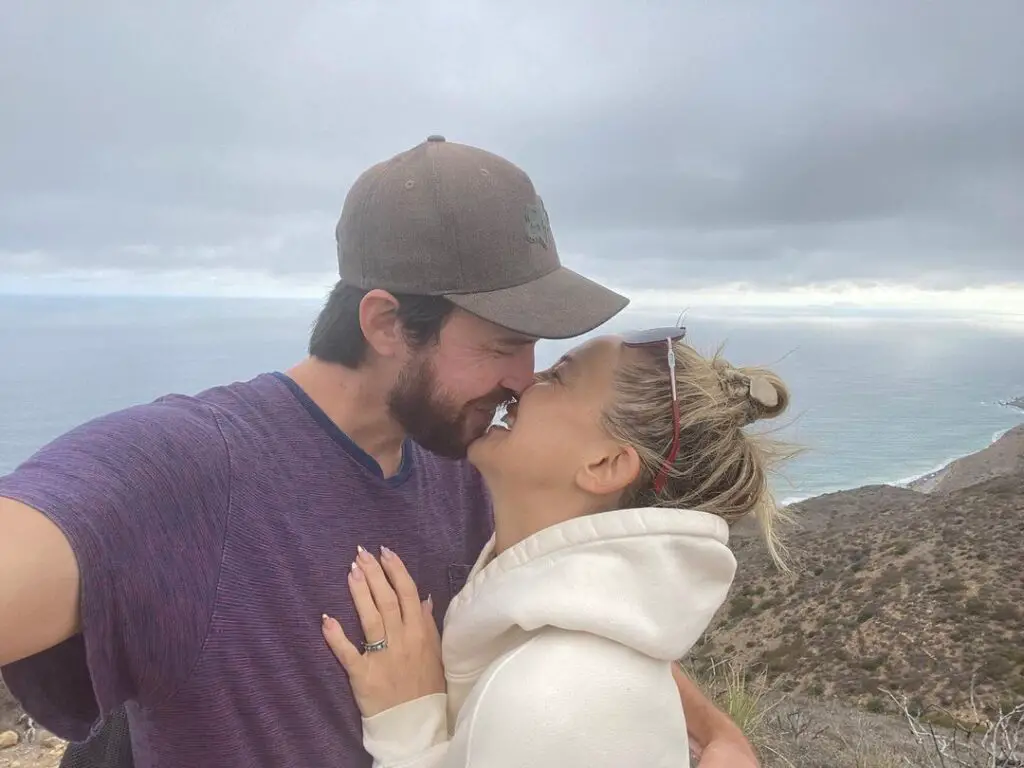 Kate Hudson is a talented actress known for her roles in cult classic movies such as "Almost Famous" and "How to Lose a Guy in 10 Days." Now, she's definitely famous and she's not lost her guy. In fact, she's engaged to her long-time boyfriend, Danny Fujikawa, who is a musician and co-founder of Lightwave Records.
The couple got engaged in 2021, and Kate Hudson took to Instagram to announce the news to her fans. She posted a photo of herself and Danny with a close-up of her stunning engagement ring. Accompanying the picture was the caption "Let's go!" followed by a variation of wedding-related emojis.

Let's take a closer look at everything you need to know about Kate Hudson's engagement ring.  
What does Kate Hudson's engagement ring look like?
Kate Hudson's engagement ring is a classic design with a unique twist. She debuted her gorgeous new bling at the Met Gala in 2021, giving all of us the first glimpse at the rock.
It's safe to say, the sparkler stole the show. The elongated cushion-cut, set east-west style on a rose gold band. The stone has a warm, golden brown hue and is adorned with smaller diamonds.
What is a cushion cut?
The cushion cut has been around for over a century, and is often referred to as a "pillow cut" due to its soft, cushion-like appearance. This cut is designed to maximize the diamond's brilliance, and it typically has larger facets than other diamond cuts, such as the round brilliant cut.
They've become a popular choice for engagement rings due to their unique and eye-catching appearance. They are known for their ability to reflect light beautifully, and they often have a softer, more romantic look than other diamond cuts.
The band of the ring is also noteworthy. It is a delicate, narrow band made of rose gold, which complements the diamond perfectly. The diamond is also adorned by smaller diamonds, which add a modern twist to the classic design, making the ring both timeless and fashionable.
Who designed Kate's engagement ring?
Although the identity of the designer behind Kate Hudson's stunning diamond engagement ring has yet to be officially confirmed, there is a strong possibility that it was crafted by renowned designer to the stars, Lorraine Schwartz. 
The gorgeous light brown color of the diamond is a popular choice for Schwartz, who has even coined the term "nude" to describe this specific shade of diamond. 
The ring's minimalist setting is also reminiscent of Schwartz's signature style, and Hudson has been known to wear the designer's jewelry in the past. In fact, she was even spotted wearing pieces from Schwartz's collection on the same Met Gala red carpet where she unveiled her beautiful ring.
How much did Kate Hudson's engagement ring cost?
While the cost of Kate Hudson's engagement ring has not been publicly disclosed, experts estimate that the diamond is likely between six and eight carats and that it could be worth around $175,000 to $225,000, depending on the characteristics of the center and side stones.
Kate Hudson's engagement ring is a beautiful and unique piece of jewelry that combines classic design with modern elements. The ring is a symbol of love and commitment between Kate Hudson and Danny Fujikawa and has captured the attention of many jewelry enthusiasts worldwide.