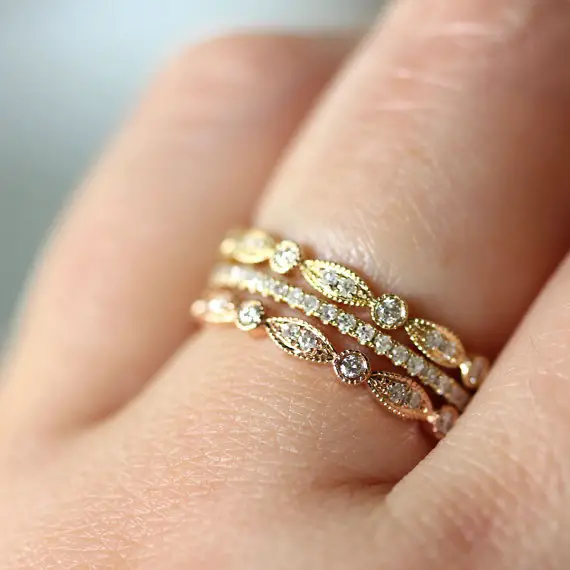 This is one trend we can really get on board with. Stacked rings have been around for a long time, but it's only in the very recent past that they've become especially popular. Can't decide on a metal, or a stone, or a setting, or a style? Stacked rings are the solution – just get a little bit of everything you fancy and put it all together!
It's traditional in many parts of the world for the bride to wear her engagement ring as well as her wedding band on the same finger, which was more than likely the beginning of the 'stacked' look. Nowadays people are building on this tradition by adding a third ring on the other side of the engagement ring for symmetry – or even to mark another milestone in the relationship such as the birth of a child.
Stacked rings come with endless benefits. First and foremost, it offers an irresistible opportunity to unleash your creativity. Create a ring that perfectly reflects your style and your personality, choose the metals, stones, settings and styles you want, and combine them in whatever way you wish for a one of a kind ring that's yours and yours alone.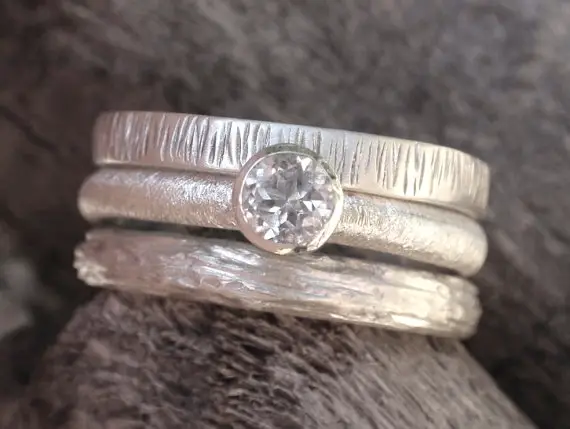 Stacked rings make a big impact, and are an unforgettable style statement. The majority of brides have a simple solitaire diamond ring, or maybe a three-stone ring at most. By stacking more rings on either side, you're creating a layered, and more importantly, an individual look.
There's plenty of flexibility too. A stacked ring doesn't mean your entire finger will be covered in metal; three or four thin bands won't take up too much space and make for a delicate, ethereal look when some sparkly stones and unique designs are thrown in. And if you get tired of your design in years to come, you can always switch it up by changing around your stackable bands and adding to your collection.
Finally, if you choose your overall design strategically, it can be used to accentuate your original engagement ring, either by making your diamond appear bigger or adding to the impact of the ring as a whole. Create contrast or add interest to an otherwise standard ring to make it stand out more; once you experiment with different looks, you'll soon see how easy this is to do.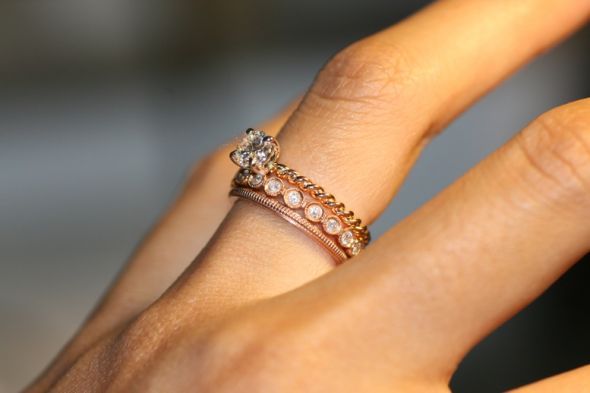 How to Wear Stacked Rings
Mix and match metals:

A popular choice is three bands, one each of the three metals of the moment; rose gold, white gold (or platinum) and yellow gold. Pairing two metals together also makes for an interesting look, or for something more uniform matching metals work well too.

Mix and match stones:

The stones of your stackable rings – if you choose to have stones on every band – is another great way to express your style. Try adding in different gemstones or stones of different hues for a unique look. If you want your original engagement ring to stand out, use smaller stones on your other bands.

Misaligned stones:

This is an on-trend look that we're seeing a lot. Position your bands so that the stones aren't in a vertical line for some wow factor. As well as looking great, it will make your stacked ring more comfortable to wear and reduce potential damage from rubbing and bumping together.

Bands only:

An increasing number of brides are foregoing their engagement rings entirely in favour of two, three or even four plain stacked bands. A good option if your ring is too delicate for everyday wear, or if you want it to have a finger of its own but still want to to jump on the stacked rings bandwagon.

Pave bands:

For extra sparkle, there's nothing like a line of small stones surrounding your big diamond. If pave stones on your actual ring is a little too much bling for your tastes, a separate pave band could be just the ticket.

Twists and curves:

Add another level of style to your stacked rings with a twisted band, or if your stone is a big one, curved bands on either side create a 'platform' of sorts and make its impact all the more show-stopping.