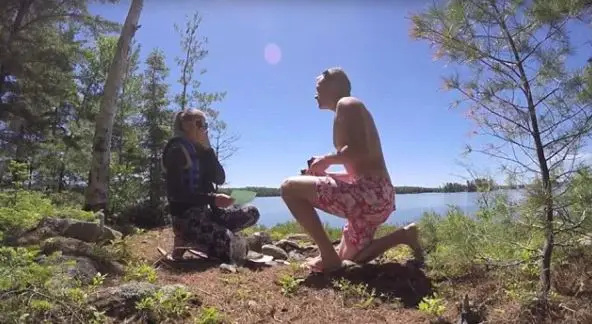 The song 'I Would Walk 500 miles' comes to mind…
Canadian couple Jennifer Storrar and Troy Reddington having been dating for a long time – over 5 years, in fact. When Troy decided he wanted to pop the question back in November 2015, he knew he wanted to make it special and personal to the two of them.
Troy and Jennifer are both outdoorsy types and go on an annual camping trip. On one of their first such trips they decided to bury a time capsule filled with memories of their time together, vowing to return to the same spot in 5 years to dig it up and reminisce on another camping trip.
5 years passed, they (thankfully) stayed together, and Troy came up with one of the most romantic proposal ideas we've ever seen. He decided to return to the site of the capsule, a little early and without his better half, to place a ring inside and surprise Jennifer with a proposal on their camping trip that summer.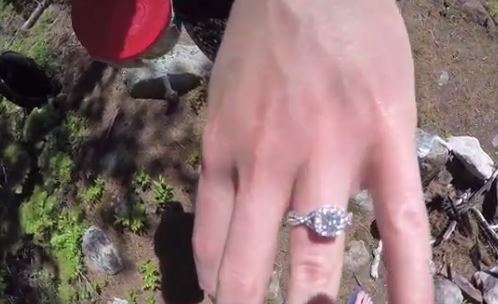 But it doesn't end there. Troy took the romanticism one step further and didn't just shove a ring box inside the original capsule – he created a special new 'proposal capsule' instead and buried it in the exact same spot. AND, that spot just so happened to be an island in the middle of a lake.
That means he had to wait all winter for the snow and ice to thaw, then get up in the middle of the night to drive for 3 hours to the lake, then kayak over to the island, bury the new capsule, and repeat the whole process. Then he had to make sure they dug up the proposal capsule first rather than the original one, and also convince his girlfriend to film the whole camping trip a few weeks later.
Luckily everything went according to plan – including the filming – and the happy couple are all set to walk down the aisle. If you have 12 minutes to spare you should watch Troy and Jennifer's video from start to finish… there's some beautiful scenery in there! If you'd rather just skip to the proposal instead of watching them kayak and dig, skip to 8 minutes in. Troy, we salute you for your impossibly romantic proposal AND your stunning choice of engagement ring.