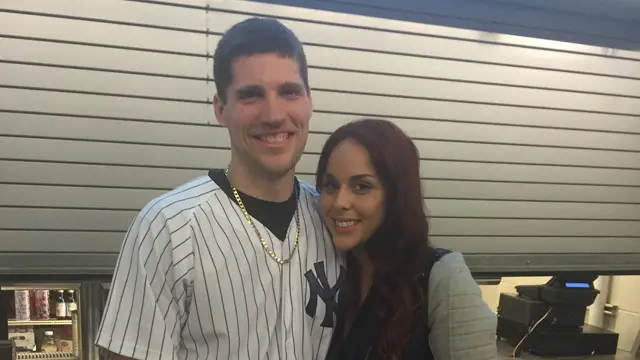 We're guessing it didn't go according to plan then…
When the New York Yankees face off against the Botson Red Sox it's always a night filled with tension and emotion. But one Yankees fan took it to a whole new level when he decided to propose in front of the entire stadium. Keep in mind that this was broadcast on the big screen for everyone in the arena to watch, and on live TV too.
Obviously a little nervous, Andrew Fox was about to get down on bended knee in front of his beautiful wife-to-be, Heather Terwilliger, when he realised the ring box was empty. The couple, along with everyone else in their row of seats, started frantically searching for the missing bling on the ground and in between seats while a heartbroken Andrew tried not to break down in tears (or so it looks like anyway). Oh, and the announcers were commenting on the entire thing too. Eep.
After what seemed like an agonising amount of time the ring was found. A cheer erupted around the stadium as Andrew started over and got down on one knee again, WITH the ring this time. Thankfully the second take was much more successful, and Heather very happily said 'yes'.
We really feel for this guy. Imagine psyching yourself up for one of the biggest moments in your life only to have it almost ruined by fumbling hands. We hope the heart attack subsided, and congrats!