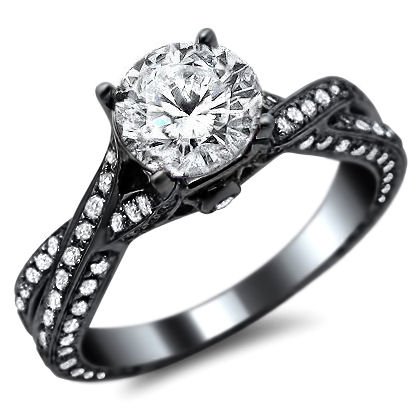 It's that time of year again. Before you've even finished your Thanksgiving dinner, stores are throwing open their doors offering all kinds of crazy discounts on just about everything. Black Friday has become the biggest shopping day of the year in countries all over the world, and is the official start of most people's Christmas shopping. If you're planning on picking up a bargain engagement ring in the madness this year however, you'll need to know a few things first…
Let's get the bad news out of the way. Traditional jewellery stores – we're talking about both independent, boutique, small retailers as well as big brand names like Tiffany's – generally don't 'do' Black Friday. Or at least, not to the same extent as other kinds of retailers do. This is because:
1) most people don't just rush out and buy an engagement ring because there's a sale on. They want to choose the perfect ring rather than the ring that's got the biggest discount, so the process requires some careful consideration. Although if you don't fit into that category, there's nothing wrong with you!
2) Jewellery stores have – dare we say it – a somewhat excessive mark-up on their pieces anyway. There's no real need for them to participate in Black Friday, which was dreamed up by retailers to push their businesses 'into the black' in time for the end of the year. That said, more and more luxury goods are popping up in Black Friday promotions nowadays. It's largely confined to department stores – Macy's are offering 30% off diamond engagement rings this year, for example – but look out for smaller operators jumping on the bandwagon in the coming years.
3) Lastly, the holiday season is a romantic time for a lot of couples, and many grooms-to-be choose to pop the question around Thanksgiving, Christmas or New Year's Eve. There isn't really a 'busy' season in the engagement ring business per se, but there is usually an increase in sales around this time of year. For that reason, many jewellers actually increase their prices rather than slashing them!
But don't worry, all is not lost. If you're still intent on hunting down your dream ring amid the Black Friday chaos, here are a few insider tips and tricks…
Wait it Out
Rather than trudging around the streets on Black Friday, wait until after the weekend for the other big shopping event of the Christmas Season: Cyber Monday. This takes place the Monday after Thanksgiving and is the internet's version of Black Friday. Online retailers offer hefty discounts, and unlike physical jewellery stores, online jewellery retailers do usually have some Cyber Monday deals going on. If you choose to go down this route, we suggest thoroughly researching the site before purchasing – there are plenty of fraudsters out there.
Time it Right
If you've already begun the process of working with a jeweller to find your perfect engagement ring, you could play a game of tactics and time one of your visits to their store to coincide with Black Friday. If you've got a good relationship with your jeweller, there's no harm in asking for a special Black Friday discount, even if there's no official sale going on in the store. They may shave a few dollars off the overall cost of the ring, or they may throw in a free extra like a professional cleaning after 1 year, or a free engraving. There's nothing to lose by asking!
Go Further Afield
Black Friday has been a fixture of the US retail industry for at least the past decade, but it has only spread to other countries in the last couple of years – and it's spreading like wildfire. In the UK in particular the hype around Black Friday is so huge that virtually every kind of medium to large sized retail store has jumped on the bandwagon – from TVs to toys and, that's right, jewellery! It's worth doing some research into jewellery stores in countries where Black Friday is really gaining momentum – you could still find that perfect ring at a bargain price!
Happy Shopping!