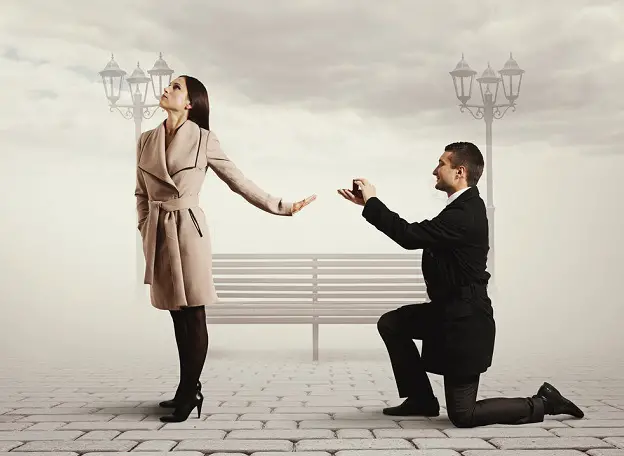 By default, proposals tend to be pretty special no matter when they occur. What could be more beautiful than the person you love asking you to spend the rest of your life with them? Over the festive period however, we noticed a lot of happy couples were getting engaged. It turns out, Christmas and New Year's Eve are the most popular days of the year for proposals. But we think there's some distinct advantages and disadvantages to getting engaged on special occasions, be it a birthday, anniversary or certain time of year. Here's our take on the matter…
Yes, Do It!
On the one hand, using a special occasion as the setting for a proposal makes both the occasion and the proposal itself even more memorable. At Christmas, you'll most likely be visiting plenty of family members and catching up with a lot of your friends. This means all the people closest to you can be part of one of the happiest moments of your life, not to mention they make the celebrations more fun too!
On New Year's Eve there's always some champagne flowing and a party happening somewhere, plus it's a great symbolic gesture to start off the New Year. Obviously, we all have birthdays every year, and they have a tendency to all blur into one (hopefully happy) memory. A birthday engagement is certainly one to remember, and an engagement ring is possibly the best birthday gift anyone could get!
Vacations are great if you want to enjoy your special moment together, away from your usual everyday life, away from sometimes overly enthusiastic friends and family and in some unique and stunning surroundings. Of all the special occasion proposal options, we reckon this one is the best bet.
So if you want to share your proposal with the people you love most, in some unique settings or tie it in with another milestone moment, waiting for a special event is the way to go.
No, Steer Clear
There are some instances where proposing on a special occasion is a big no-no, despite what we said above.The biggest and most important of these is if it's someone else's event! We're talking a friend or family member's special birthday, another wedding, a funeral (yes, we've heard stories about that believe it or not!), or anything else where your proposal will attract attention and take the focus away from the person's event.
Some couples are of the opinion that an occasion such as an engagement deserves to be unique, instead of shoved in along with something else like an anniversary or birthday. We can definitely see their point. You probably wouldn't want to celebrate Christmas on Valentine's Day, so why should you want to share your engagement with another special day? It's a once in a lifetime event, and it should be as special as it can.
So. While we can definitely see the benefits of proposing on a special occasion, there's a lot to be said for picking a unique day all on its own. Our verdict: if you want the best of both, choose an unremarkable day and make it special, but pick a day that's close enough to another special occasion so you can share your joy with the people you love most.