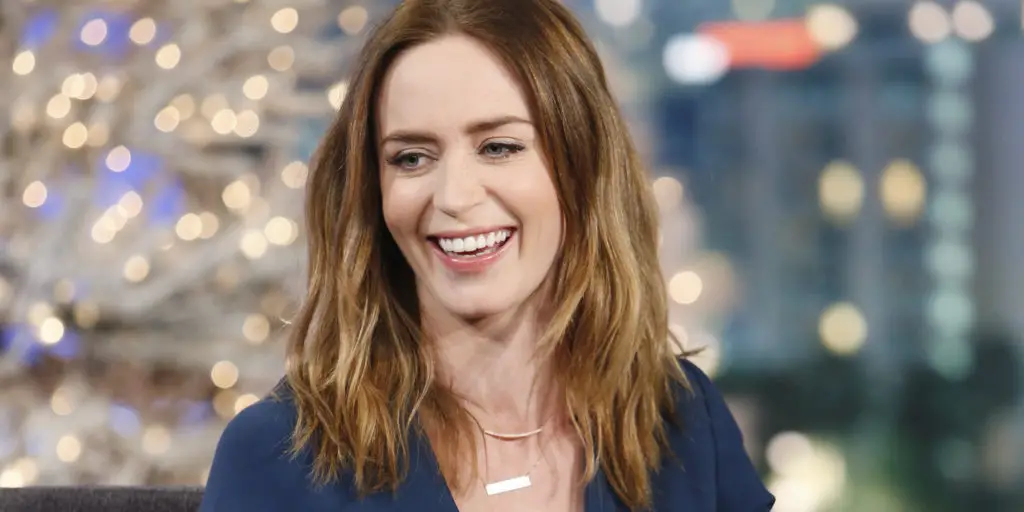 You can always count on the rich and famous to have exquisitely beautiful, outrageously expensive engagement rings. Some have diamonds so big and so dazzling that they'll make you blind if you look directly at them. And some celebrities take a more down to earth approach by choosing an antique engagement ring…
Whether they went down the vintage route because of environmental concerns, because of a family heritage or because they simply like the style, there are plenty of celebrities sporting antique rocks on their fingers. Here's ten of favourites along with the stories behind the bling.
Alicia Silverstone
Clueless star Alicia Silverstone wed her long-term boyfriend, musician Christopher Jarecki, back in 2005. The couple are strict vegans and advocates of animal rights as well as environmentalists. They're also a pretty romantic and family-oriented pair by anyone's guess, because Jarecki proposed with a magnificent engagement ring once owned by his grandmother. It's an emerald diamond with a pave diamond halo, a diamond encrusted band, and all set in rose gold. Surprisingly on-trend, proving that rose gold is really is timeless.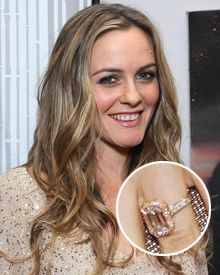 Mary Kate Olsen
Mary Kate's engagement ring from husband Olivier Sarkozy (brother of the former French president, Nicolas Sarkozy) is one of the most stunning antique pieces we've seen on any celebrity. Olivier allegedly proposed to Mary Kate twice, but she turned him down the first time. The second time, he presented her with this enchanting 1953 Cartier combination of diamonds, sapphires and yellow gold that cost a not too shabby $81,250. The centre diamond is a 4-carat round cut, surrounded by 16 sapphires. A high setting is inset with diamonds on the sides placed to look like petals, and accented with a twisted yellow gold band. In a word; fabulous.
Emily Blunt
Emily Blunt and John Krasinksi are one of the most adorable couples in Hollywood. Married since 2010 and now with two beautiful daughters, they continue to become one of showbusiness' power couples. When they got engaged in 2009, only the finest engagement ring would do for John to give to Emily. Naturally, celebrity jeweller Neil Lane stepped up. Using an Edwardian era diamond weighing 3 carats, Lane created a masterpiece full of intricate Edwardian-style detail. The platinum setting features a wide mounting with filigree work and  small diamonds accents, plus diamond accented shoulders. It's pretty breathtaking.
Mila Jovovich
Model and actress Mila Jovovich has had a long and successful career in the limelight. She has never shied away from the spotlight and is known for her many 'butt kicking' movie roles. As you can imagine, her engagement ring is bright and bold too (although smaller than most Hollywood rings by comparison). Another Neil Lane creation, it's a 19th century vintage gold piece featuring coloured pink, yellow and white diamonds in a unique vertical design. The band features pave diamonds and leaf-shaped diamond accents. It's one of those rings that really just has be seen to be believed, so we'll let this picture do the talking.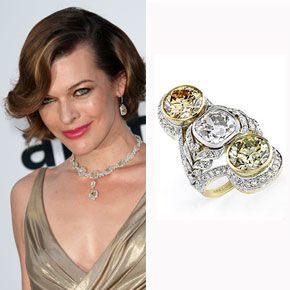 Olivia Wilde
Actress Olivia Wilde and her beau Jason Sudeikis are doing the whole engaged-married-babies thing according to their own schedule, which so far has been engaged-baby-another baby. The pair say they feel no pressure to tie the knot, and we salute them. Besides, Olivia has a pretty sweet engagement ring to work with in the meantime. Jason chose a vintage piece that dates back to 1920s Paris; a round diamond with a halo of emeralds, which he said reminded him of the colour of his love's eyes. Olivia says she loves imagining the story of her ring and who owned it before her. It's simple, colourful and oh so beautiful.
Penelope Cruz
We don't know very many details about the beautiful Penelope Cruz's engagement ring, other than the fact that it's stunning and almost certainly a vintage piece. Her fellow actor husband Javier Bardem chose a gorgeous ring to match his gorgeous wife; a deep blue oval sapphire surrounded by 12 round cut white diamonds, arranged in a white gold or platinum setting to resemble a pretty flower. The band is yellow gold. It's a more down to earth version of the most famous engagement ring in the world; Kate Middleton's. In fact, we kind of wonder if William and Kate took inspiration from Penelope and Javier?
Ashlee Simpson
Ashlee Simpson's engagement ring from Evan Ross is most definitely a one-of-a-kind, truly unique piece. Ross initially wanted a custom made ring and began working with jeweller Neil Lane, until he spotted an attention grabbing piece from Lane's vintage collection. The pair then used that design, added some contemporary modifications, and created a new-but-old engagement ring for Ashlee. The result is a marquise diamond surrounded by rubies, with a fabulous art deco feel and 'elongated navette style'. Another piece that no description could ever do justice; just look at it!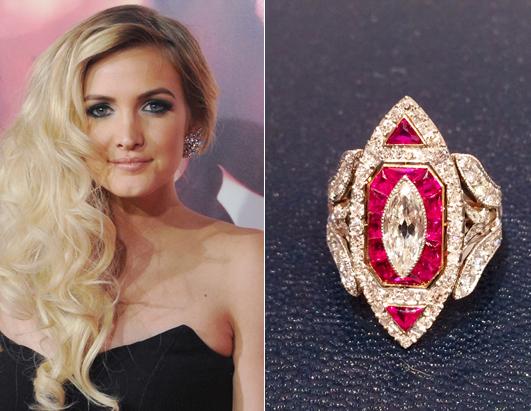 Scarlett Johansson
Apparently celebrities love their vintage art deco rings, because Scarlett Johansson is the proud owner of another one. Her husband Romain Dauriac proposed back in 2013 with the most stunning art deco piece we've ever seen. The centrepiece is a round brilliant diamond, accented with two smaller round diamonds aligned vertically. But it's the setting that really steals the show, a three-tiered rectangular platinum plate dotted with even more tiny white diamonds. It's angular but elegant, antique yet modern, feminine yet edgy. In short, we absolutely love it.
Alexis Bledel
For Alexis Bledel and Vincent Kartheiser, it was love at first sight. The pair met in 2012 as co-stars on Mad Men, where Vincent played the snake-ish Pete and Alexis played an unhappy housewife he had an affair with. Their romance continued off-screen (although not in an illicit manner) and the pair were engaged by 2013. Vincent picked out the ring, which is a highly unusual octagonal cut diamond set in platinum. Offset with scrollwork along the high bezel setting and shoulders, this is probably our favourite pick of the entire bunch. However, it's 'vintage-inspired' rather than a bonafide antique. But still, it's too pretty not to include.