Whether you want to create a proposal that's sweet and intimate, full of fun, a grand romantic gesture or somewhere in between, these stories should provide that little spark of inspiration. We've rounded up some of our favourite viral proposal stories from around the web, from wow-worthy flash mobs to super thoughtful, private moments. Okay, so you may not be able to rent out an entire movie theatre or create a spectacular fireworks display – but plenty of these proposals are, in fact, very achievable. Enjoy!
The Log Flume Proposal
This picture cracks us up every time we see it. Definitely a funny story to tell everyone for years to come, Chris (the guy holding the picture of the ring) proposed to Lindsay (the terrified girl in the front seat!) in the middle of a log flume theme park ride. He enlisted four friends to hold up signs behind her as the photo was taken, and one of them took to Reddit later on to tell the story:
"I carried a backpack around all day with the signs folded up in the laptop sleeve, along with snacks and jackets so she wouldn't suspect anything. We practiced holding the signs the day before so they wouldn't block each other from view. As soon as we were far enough on the ride, I passed out the signs (which were numbered so we had them in the right order) one by one and we hid them until we started going up the hill to the drop. As soon as we hit the peak, we all pulled out the signs and held them up until the picture was taken, then immediately passed them to the back of the log where I re-hid them in my backpack. She didn't see what happened until they posted the picture on the screen at the end of the ride! The actual ring was hidden in the backpack as well to keep it safe. As soon as we got off the ride he gave her the ring and we purchased the pics!"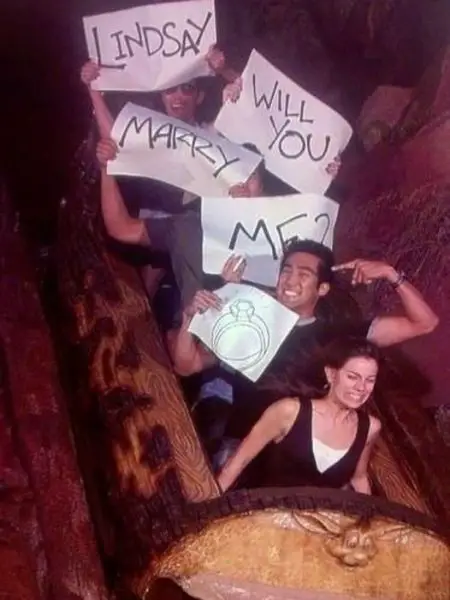 The Trick Photo Proposal
This one is a little bit cheesy… okay, it's really cheesy. Tyne Owen got his girlfriend Jamie's entire family involved for the perfect photo-op proposal on Christmas Eve. She thought they were all posing in Santa suits and lettered t-shirts that read 'Merry Xmas', but they flawlessly switched around mid-photoshoot, rearranging themselves to read 'Marry Me?' instead. The photographer then called Jamie over to check out the photo – meanwhile, Tyne was down on bended knee behind her as the whole family waited for the penny to drop. How cute! Watch the magic unfold below, but beware, there is some loud crying!
The Disney Proposal
Is your wife-to-be a DIsney fan? If you don't incorporate her passion into your proposal somehow, you're waaay off track. Mat, the groom-to-be in this particular case, edited scenes from fiancee Kylie's favourite Disney films to create heart-felt montage about falling in love and living happily ever after. Oh, and this was after a secluded picnic with a beautiful view, and a walk through the forest to a clearing decked out with romantic fairy lights. We challenge you not to shed a tear once Kylie figures out what's going on. This is honestly one of the cutest proposals we've ever seen.
Read the background to this super cute story here: https://howheasked.com/epic-and-magical-proposal/
The Helicopter Proposal
No, this one isn't what you think it is. And it's also pretty difficult to pull off unless you're a helicopter pilot or know somebody who is. But still, it's so epic we just had to include it in this list. Robin and Rezel met at an airport in Sweden, where he works as a firefighter and she as a helicopter pilot. He felt it was only right to propose there, too – but with a twist. As Rezel flies in to land, he comes over the radio, pops the question, then tells her to land on a painted 'yes' or 'no' on the runway to give her answer. That girl must have nerves of steel to get such a perfect landing after that surprise! Watch below.
The Proposal With Added Puppy
What could be better than saying 'yes' to the love of your life? Doing it with a cuddly puppy in your arms, obviously. Robert and Quinn decided they wanted to take the next step in their relationship – raising a little furry friend together (not a baby, a bulldog). So Robert picked up the puppy and thought it would be fun to surprise Quinn at work with their new fur-baby. Oh, and he also decided to propose too. He filmed the whole thing with a camera strapped to his head, as you do, and Quinn later made this fun video of the day. It's guaranteed to make you giggle. Plus, there's a really cute puppy!
This Simple But Beautiful Proposal
Sometimes keeping this simple is the best way. Jarod Lucas is known for always having a camera, and his girlfriend Rebekah is used to having it pointed her way – sometimes to the point of annoyance. Little did she know that the footage Jarod had filmed over their 15 years of knowing each other would one day become this super sweet proposal video. Jarod says:
"This is a short film I made to propose to my girlfriend. Friends for 15 years, together for 3 and a half. This is a recollection of our lives together. I took her up to our favourite headland over looking the ocean for a surprise picnic. After some time I told her I had something to show her and pulled out my laptop (and my Bose headphones), the rest is history…"
Granted he does this professionally so the video is awesome, but still. It's a sweet and simple idea, done perfectly.
We're not crying, you're crying.