​​Oh, how we love a good celebrity engagement! And when it comes to engagement rings, there's no shortage of stunning pieces to fawn over. Case in point: the gorgeous ring that Made in Chelsea's Jamie Laing gave to his longtime girlfriend, Sophie Habboo. 
The king and queen of UK reality TV — who also host the incredible Nearly Weds podcast — tied the knot last week at the Chelsea registry office ahead of their stunning Spanish 'big' wedding. The internet hasn't even had a chance to get over Sophie's hen do, and now they're back at front of mind – and our Instagram feeds. While we're still swooning over Sophie's short Vivenne Westwood number, it's also got us thinking about her engagement ring (again). 
With its unique design and stunning diamond, the ring is a true showstopper that's sure to have you swooning. In this post, we'll take a closer look at Sophie Habboo's engagement ring from Jamie Laing, breaking down all the details that make this ring truly special. So grab a glass of bubbly and let's dive in!
What does Sophie Habboo's engagement ring look like?
Sophie Habboo's engagement ring from Jamie Laing is a true masterpiece. The ring features a stunning emerald-cut diamond that is estimated to be between 3 and 4 carats in size. The diamond is set in a classic four-prong setting that allows the stone to shine and sparkle from every angle.
One of the most unique features of Sophie's engagement ring is the diamond-studded gallery, or the area beneath the diamond that is visible from the side. The gallery of the ring is set with small round diamonds that add an extra layer of sparkle and glamor to the piece. This detail not only adds to the overall beauty of the ring, but also makes it a truly one-of-a-kind piece of jewelry.
What is a gallery?
In an engagement ring, the gallery refers to the part of the ring that sits below the center stone and is visible from the side. It is also known as the "basket" or "undercarriage". The gallery can be made up of different elements such as metalwork, filigree, or in Sophie Habboo's case, small round diamonds that add extra sparkle and beauty to the ring.
The gallery serves both a functional and an aesthetic purpose. Functionally, it supports the center stone and keeps it secure in place. Aesthetically, it provides an additional area for designers to add intricate details and extra sparkle to the ring.
The band of the ring is made from platinum, thin and delicate, which helps to highlight the beauty of the diamond and give the ring an overall elegant and timeless look.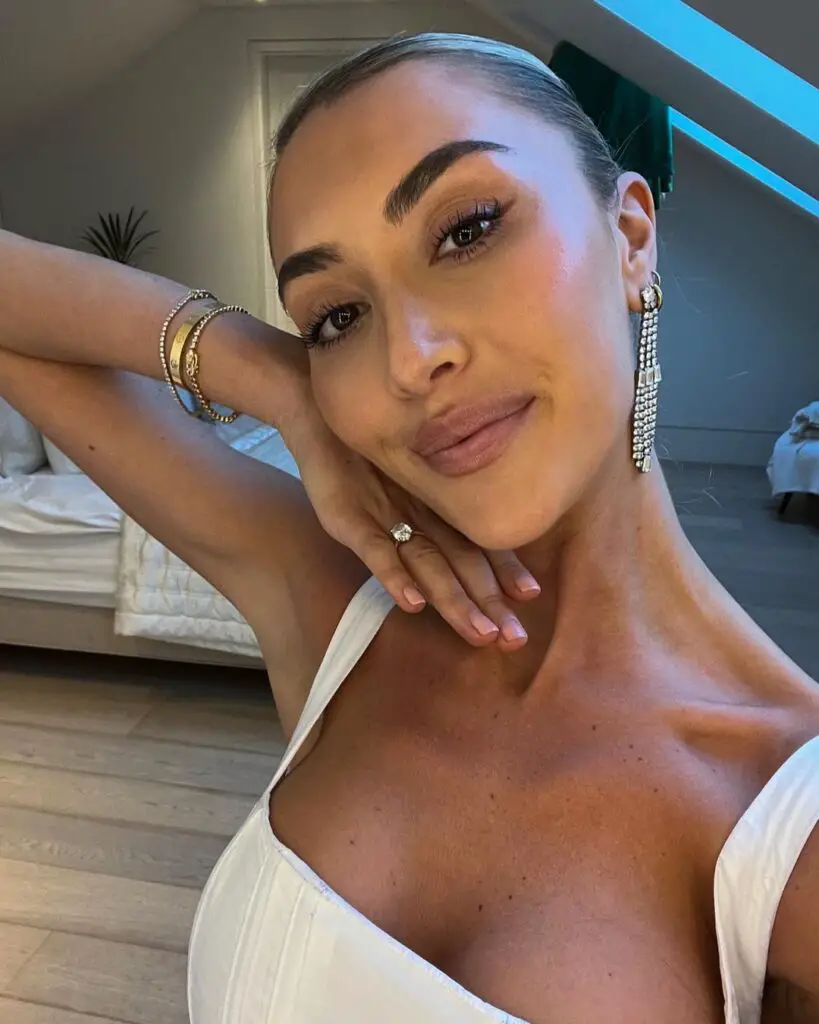 Who designed Sophie's engagement ring?
The designer of Sophie Habboo's engagement ring from Jamie Laing has not been publicly disclosed. However, Jamie Laing has revealed that he was closely involved in the design process, stating in an interview with Hello! magazine that he worked with a jeweler to create a custom ring that was perfect for Sophie.
Jamie has spoken about the importance of getting the ring just right, stating that he wanted it to be "perfect" and "something that she would love forever". Based on the stunning design and intricate details of the ring, it's clear that a lot of thought and care went into its creation.
Unfortunately, the same can't be said for her wedding ring…
On one of their recent podcast episodes, Jamie confessed that he had in fact completely forgotten that he was responsible for her wedding ring until the day before they were due to tie the knot. When he picked up his own band, he asked where Sophie's was, only to be told he'd not arranged one.
Massive oversight. Luckily, his jeweler was able to turn something around within 24 hours. Talk about cutting it fine.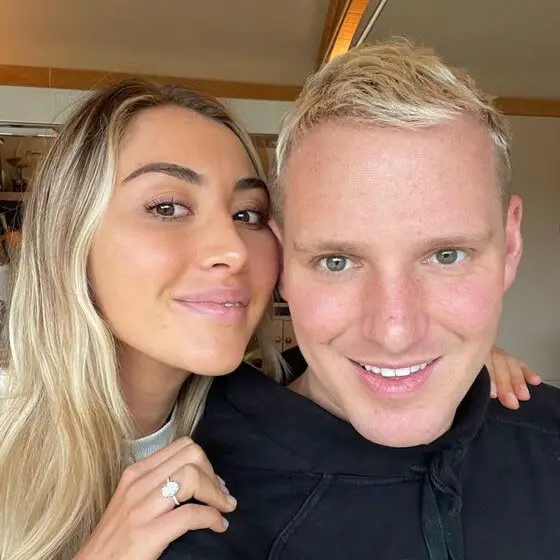 How much did Sophie's ring cost?
Based on the ring's estimated size, quality, and design, we're going to say that it likely cost a significant amount. Emerald-cut diamonds tend to be more expensive than other diamond shapes due to the amount of rough diamond that is lost during the cutting and polishing process. Additionally, the use of small diamonds in the gallery would have added to the overall cost of the ring.
Ultimately, the cost of an engagement ring is a personal decision that depends on factors such as budget, style preferences, and sentimental value. For Jamie and Sophie, the most important thing was likely finding a ring that was perfect for them and symbolized their love and commitment to each other. Jamie may be known for getting it wrong, but when it comes to Sophie's engagement ring, he got it perfectly right.